Fotolia
Google Cloud Partners hopeful on new program, but seek advances
Google's bid to sort its partner initiative is viewed as a positive development among the company's partners, some of which are heavily focusing on the cloud provider's platform.
Google is one of the world's most recognized brands and influential tech companies. Yet, the technology giant has had a relatively small presence in the channel. Recently, it has been laying the foundation for a major surge. On July 1, Google brought together numerous channel initiatives under the Google Cloud Partner Advantage Program.
"During the last few years, Google invested substantial resources and people with the goal of significantly growing its channel programs," said Steve White, program vice president, channels and alliances at IDC.
While Google has been a top player in many markets, its reseller programs have been relatively modest. Microsoft has more than 300,000 partners worldwide, AWS about 70,000 and Google less than 20,000, White noted.
Partner program consolidation
Historically, Google has seemingly treated the channel as an afterthought -- at best. "Google got rid of the Google Search Appliance without providing a path forward for partners or their customers," said Aric Bandy, president at Agosto Inc., a Google Cloud Premier Partner based in Minneapolis. Google disclosed its plan to phase out the appliance in 2016.
Working with the company was challenging. "Historically, like many vendors, Google had many products, and each had its own distinct partner program," White said.
Such confusion frustrates channel partners. They want one clear path into the company and a consistent set of metrics that determine how they will be compensated.
In response, Google Cloud Partner Advantage Program consolidates 16 autonomous, organically developed partner agreements into one consistent suite.
Becoming a specialist
In addition, the vendor created areas of specialization for Google Cloud partners. Those specializations range from cloud migration and enterprise collaboration to machine learning and security. Each area is associated with one or a few Google products. For instance, enterprise collaboration features the G Suite office productivity package.
As a result, Google Cloud partners can now develop niche expertise. Partners with specialization status have undergone a technical assessment, employ certified personnel, demonstrate repeatable customer success and plan to invest in their particular specialization, according to Google.
Better partner support is another change. Navigating the $136.8 billion vendor's hierarchy can be challenging for an outsider. Previously, Google support staff was called upon depending on what type of solution the partner was selling to a potential client. Now, the partner has a dedicated advisor, someone who checks in with them on a regular basis and acts as a guide helping them ferret out needed Google resources.
Partners go all-in with Google
Google Cloud partners are optimistic about the changes. "Google has said that, moving forward, it will be 100% channel-focused in serving its business customers," noted Jason Lee, a partner and founder at Maven Wave, a Chicago-based company that launched in 2008. The 320-employee company is a Google Cloud Premier Partner.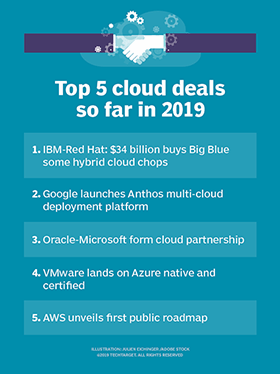 Some partners have gone all-in with Google. SADA Systems Inc., a Los Angeles-based Google Cloud Premier Partner, began working with Google in 2006. "Our Nicky Parseghian, [SADA's G Suite practice director], was one of the first individuals to receive Google certification and helped them create the content for other certification programs," said Narine Galstian, chief marketing officer at SADA.
The relationship has been expanding. SADA started out focusing on small and midmarket companies. "During the last three to four years, we've grown to serve enterprise customers, like Colgate, Citrix and the TVG Network," Galstian said. The work has been so successful that SADA sold its Microsoft practice to Core BTS in March 2019 to focus on Google.
Agosto, which launched in 2001, has worked with AWS, Cisco, IBM, Microsoft and NetApp, and operated a managed service provider division. The channel partner teamed up with Google in 2007 and divested itself of all other partner programs in December 2014.
Google Cloud partners cite room for improvement
While Google is making progress with its partners, more improvements would be helpful. First, the company could enhance its market position. "We would like to see the Google Cloud Platform climb up a few spots in the enterprise public cloud market," Galstian said.
The cloud provider also needs to expand its technical community. "AWS and Microsoft have spent much longer times developing certified engineers, so they have a deeper bench of individuals who understand how to manage their solutions," Agosto's Bandy explained.
The reality is that the size and scale of the program that Google hopes to attain is going to demand that they add more channels partners.

Jason LeePartner and founder, Maven Wave
Purchasing and supporting programs tailored to high-end enterprises would also be beneficial. "Today, Google does not have an enterprise buying agreement, but I would expect the company to move in that direction in the future," Bandy added.
While the evolution of Google's channel initiative continues, Google Cloud partners can expect to see more companies following their footsteps. An emphasis on building up the channel may create more competition.
"The reality is that the size and scale of the program that Google hopes to attain is going to demand that they add more channels partners," Maven Wave's Lee concluded. "Current Google partners need to accept that reality because with it also comes opportunities for them to close more deals."