Petya Petrova - Fotolia
Google adds advanced analytics to G Suite Enterprise
Google has released a tool for tracking adoption of G Suite Enterprise. The program also gives businesses insight into use of Microsoft apps.
Google has released a program to let enterprises more closely track the use and adoption of cloud-based collaboration and productivity apps in G Suite Enterprise. The addition of an advanced analytics tool comes as Google doubles down on efforts to compete with Microsoft Office 365.
Work Insights, released in limited beta last fall, lets businesses track how often users are accessing G Suite apps, as well as which features employees are most commonly using. The visual tool gives IT administrators the ability to view usage by department or lines of business.
"Work Insights can be a valuable tool for admins looking to understand and foster adoption of G Suite in their organizations," said Raúl Castañón-Martinez, analyst at 451 Research. "This will gain Google extra points with IT."
The program includes the ability to track the use of what Google calls "legacy non-G Suite applications" -- Microsoft Word, Excel and PowerPoint. In a direct swipe at Microsoft, Google suggested it included that function so businesses could see how infrequently workers were using those products.
"Seeing how these applications are used can help organizations identify opportunities where remaining legacy licenses no longer need to be renewed as users transition to G Suite," the company wrote in a blog.
Large businesses generally regard analytics tools like Work Insights as necessary to ensure their investments in productivity and collaboration apps are generating value for users. Work Insights is available only to businesses subscribed to G Suite Enterprise, the most expensive tier at $25 per user, per month.
"Supporting admins with tools that provide details on the deployment of G Suite can help Google further expand its market footprint," Castañón-Martinez said. "Perhaps, more importantly, it provides admins and team leaders with information on how employees are using G Suite to get work done and collaborate."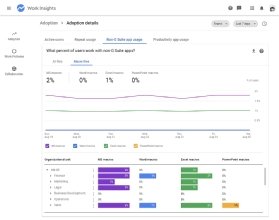 Google provides less detailed analytics through the G Suite admin console. Google this week said it fixed an issue with the data in that console that had been causing discrepancies in usage data for Gmail, Calendar, Hangouts Chat and Hangouts Meet.
Over the past couple of years, Google has enhanced G Suite with an online meetings app, a team collaboration app, and, most recently, a basic businesses phone system. The tech giant is attempting to chip away at Microsoft's stronghold on the productivity market as organizations move to the cloud.
The release in April of Google Voice for G Suite closed the final significant gap in Google's business portfolio, although the offering is still many features away from being a full-fledged PBX suitable for use as the primary phone system of an enterprise.
In late May, Google announced a crucial new capability of Google Voice for G Suite -- the ability to connect desk phones to the system. The Polycom VVX 250, 350 and 450 Obi Edition devices are the only phones certified for Google's service.