Melpomene - Fotolia
Google Cloud growth fuels partner opportunities
Amid solid Google Cloud growth, MSP partners such as SADA Systems, Onix and Pythian say their alliance with the public cloud provider gives them a competitive edge.
Life is good if you're a Google Cloud partner.
Partners' revenue from Google Cloud-based opportunities will more than triple by 2025, to an accumulated net new partner revenue of $341 billion, according to a recent IDC study. Additionally, the market research firm found that for every $1 of Google Cloud technology sold in 2020, partners will generate $5.32 through their own offerings, services and IP globally.
On average, IDC found that Google Cloud partners are growing their businesses at a rate of 35% year over year, with one in five doing so at an even faster clip of 75%-plus year over year. This growth is helping partners differentiate themselves from the competition and develop new offerings.
Google Cloud partners that focus not only on delivering offerings, but also on ensuring that products are embraced and meet customers' needs will benefit from close strategic relationships with clients, the IDC report noted.
"The approach of being close to customers should serve partners well through any challenges that may arise, even one as big as COVID-19,'' according to the report's authors Paul Edwards, research director of software channels and ecosystems at IDC, and Steve White, the analyst firm's program vice president of channels and alliances. "In fact, a customer success model, where partners engage for the long term to help shape customer strategy, can go hand in hand with a cloud focus and recurring revenue model."
That ongoing cycle of engagement can lead to both customer satisfaction and Google Cloud partner economic health, the study explained.
Drivers behind Google Cloud growth
MSPs cite a number of reasons why they are bullish on partnering with Google Cloud.
Google offers "unique opportunities" for its partners to create value for customers through a blend of empowerment, philosophy and technological edge in key areas, said Joe Kosco, senior vice president of sales at SADA Systems, which signed a $500 million multiyear agreement with Google Cloud in February 2020. SADA is headquartered in Los Angeles.
"Google Cloud empowers partners in ways that foster creativity during the sales cycle, more so than other public cloud providers,'' Kosco said. "One example is Google's managed services provider program, [which] gives partners the wherewithal to invest heavily during the presales process."
This program enables SADA to provide high-level engineering and development support for potential customers at minimal cost, he said. "Using this support, customers can better evaluate the benefits of Google Cloud compared with competing clouds, using evaluation tools such as ROI analyses and proofs of concept."
Another way Google Cloud distinguishes itself from competitors is a commitment to public standards that make switching from one cloud to another much easier, according to Kosco. Examples of this include Kubernetes, which is now the de facto standard for containerization, he said, and Google Cloud Anthos, "which is well on the way to becoming the vehicle for managing the distribution of workloads across any public cloud -- or data center for that matter."
Kosco added that "an entire industry of technology and service partners leveraging these platforms is blooming right before our eyes."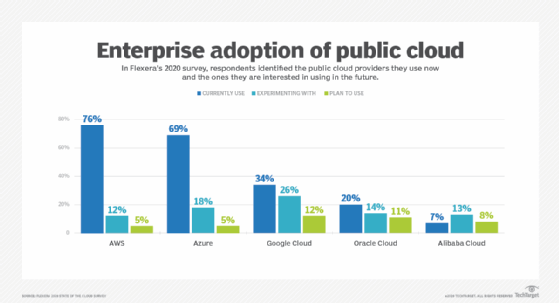 Google Cloud also differentiates itself through its preparation for the next battlefield in the cloud wars: big data and machine learning, Kosco said. "Any technology company that plays in big data or [machine learning] needs to strongly consider making big bets on the strongest horse, which I believe is Google Cloud. It's no surprise that we are now witnessing a rapidly expanding ecosystem centered around what Google Cloud has to offer in these areas."
Although business problems are the same regardless of cloud environment, Tony Bianco, president of cloud computing at Onix, a cloud solution provider headquartered in Lakewood, Ohio, said, "Google has unique market conditions and advantages that have enabled its growth and, by extension, an explosion in growth for partners."
One such factor driving Google Cloud growth is the state of multi-cloud, he said. "Every customer we talk with today wants a multi-cloud strategy. Most already have multiple clouds, and those that don't or are not balanced in their cloud approach are looking at Google as not only a great alternative, but one that can supplant the incumbent [cloud vendor]."
Google Cloud empowers partners in ways that foster creativity during the sales cycle, more so than other public cloud providers.

Joe KoscoSenior vice president of sales, SADA Systems
Like Kosco, Bianco said he believes Google Cloud's use of data and machine learning are other advantages it has in the market. "Most customers we talk with recognize the deep roots Google has in this space, and the engineering talent, products and experience they bring to the table. This tilts some customers toward the Google platform if they have those sorts of needs."
Even before 2020, Bianco said Onix saw tremendous cloud growth due to the digital transformation organizations are undertaking. When the pandemic hit, Onix saw many companies accelerate that growth and, in some cases, become forced into a digital transformation.
"Organizations with a cloud strategy before 2020 were able to accelerate those plans to meet customer demands in an increasingly digital, non-touch world,'' Bianco said. "The ability to migrate, modernize and manage their environments from anywhere in the world became a business imperative in 2020."
In addition, he said, many needed a transformational way to collaborate in a remote, work-from-home world, "and G Suite offered a perfect solution to that problem."
Remote work has created many opportunities to explore Google collaboration tools such as G Suite and Chrome to foster a connected, collaborative environment, as well as a seamless virtual experience for clients, employees and ecosystems, agreed Vanessa Simmons, vice president of business development at Pythian Services, an Ottawa-based MSP and IT consulting firm.
Many industries such as healthcare and retail had to quickly scale up their businesses in response to the pandemic, Simmons added. "Google Cloud provides the platform to do this while laying a solid foundation for future innovation."
Increased competition has meant organizations need to be more responsive, agile and efficient, Simmons said.
SADA is capitalizing on opportunities through its own value creation within the Google Cloud partner ecosystem, Kosco said. The MSP is expanding rapidly and doing business now with large multinational organizations, which typically need around-the-clock support, he added. "SADA is capitalizing on a new paradigm for how support and managed services are delivered for large corporations interested in leveraging the scale and capabilities offered by Google Cloud."
How Google Cloud meshes with the MSP model
All the MSPs we spoke to said Google Cloud has enabled partners to define and redefine managed services for the cloud.
"SADA is hard at work developing new solutions built atop Google Cloud that will give customers new capabilities to streamline operations, cut costs and optimize, enhance security, capitalize on new opportunities," Kosco said.
Bianco said it is a natural progression for companies to offload the care and feeding of their workloads to partners that offer managed services.
"Automation and security are part of the DNA of a cloud platform, and [Google Cloud] partners have been able to commoditize things like monitoring, logging, alerting, patch management, security and even more sophisticated needs like AI-enabled support of data pipelines," he noted.
Google Cloud partners gain a competitive edge
Most customers are interested in reducing the cost of maintaining their environments and speeding up their feature release process, Bianco added.
"We help them realize this objective through automation and deep experience in migrating application components to containers and managed Kubernetes platforms,'' he said.
Onix also developed collaboration and productivity offerings around G Suite. One offering called Elevate helps customers understand their current workflows and total cost of ownership with their existing collaboration suite, Bianco said.
Pythian is facilitating success for its customers throughout the entire cloud journey, Simmons said. "What used to be a simple 'lift and shift' to solve short-term problems is now a more strategic conversation about long-term solutions, starting with data strategy,'' she said. "We're also seeing a surge in organizations looking to move away from traditional workloads on premises (such as Oracle or SQL Server) and converting those workloads to more cloud-native managed services offerings, such as Cloud SQL, that offer more options to modernize and extend their capabilities."
Bianco noted that Onix isn't just focusing solely on technical solutions. The MSP also offers end-to-end cloud consulting to customers' business and technology teams to help achieve business outcomes.
"As we listen to our customers, it is obvious they all face challenges with digital innovation and have made tackling it the No. 1 priority,'' he explained. "By reducing the time to value in all of our customer engagements, we can align and execute against our customer's problem statements."
The Google Cloud partners program has helped MSPs do all that and more.