ArchMen - Fotolia
G Suite users glad to finally get unified collaboration interface
Google has added team project channels and video conferencing to the G Suite app Gmail. The move provides G Suite with its first unified interface for collaboration.
Users welcomed the news that Google planned to update its Gmail interface to include business messaging, team channels and video conferencing.
The move will bring Google more in line with the rest of the market. The search giant's lack of a unified interface for workplace collaboration has likely hindered its ability to compete with the all-in-one app Microsoft Teams.
In the coming weeks, Google will update its web and mobile apps for Gmail to include sidebars and tabs for Google Chat and Google Meet. The former is a Slack-like collaboration tool, while the latter is a video conferencing service.
"I'm excited to have Gmail as a hub for my work," said Chris Pirkl, a teacher at King Middle School in Portland, Me.
The new interface should help teachers and students feel more comfortable using apps like Chat and Meet, which are still relatively new, Pirkl said. At the same time, the pandemic could complicate plans to educate users about the latest tools.
Luke Starczak said students at his secondary school in Australia should be able to use the new team chatrooms in Gmail to share files and work on projects. Users will be able to co-edit Google Docs without leaving the email interface, for example.
"This will enable them to not be working in multiple tabs, hopefully streamlining a lot of what they do," Starczak, a senior teacher at the school, said.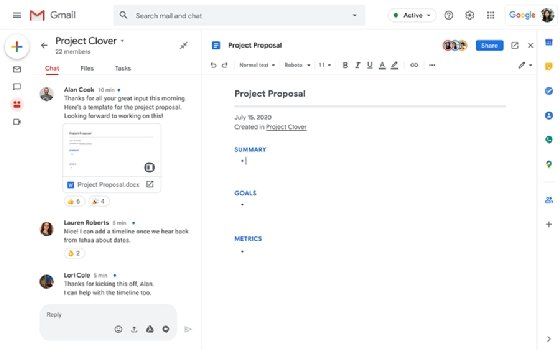 Google trails Microsoft in the market for business productivity and communications tools. The new Gmail interface could help the company counter the growth of Office 365, which includes Microsoft Teams.
Google's interface will be unique because it includes email. Some users may find it beneficial to have access to email in the same interface as their project channels. For example, thousands of Teams users have asked Microsoft to include an Outlook tab in Teams.
Collaboration vendors trying to replace email, such as Slack, have derided it as an outdated way to communicate. The criticism has convinced Microsoft to make Teams, not Outlook, the center of its collaboration strategy.
In contrast, Google has doubled down on email, attempting to make Gmail more user-friendly with features like suggested replies and advanced inbox filtering.
Google said the changes would launch soon but did not specify a date.
Dig Deeper on Team collaboration software