Google Cloud Next enlists partner ecosystem for AI push
Google Cloud Next rallied consultancies, systems integrators and other service provider partners to help customers effectively deploy generative AI in the enterprise.
The Google Cloud partner ecosystem stands to play a key role in Google's digital transformation vision, which now revolves around AI.
That recognition starts at the top of the organization: Thomas Kurian, Google Cloud's CEO, identified the "broad partner ecosystem" as one of three components in the "next chapter of digital transformation." The other parts are Google Cloud's infrastructure for building AI and its generative AI assistant for Workspace applications, Duet AI.
Google Cloud's ecosystem encompasses ISVs, SaaS vendors, data providers and infrastructure companies. But the organization plans to tap consultancies, systems integrators and other service partners to help customers effectively deploy generative AI in the enterprise. To that end, Google Cloud partners have embarked on a massive training regimen.
"Our systems integrator partners are investing to build dedicated practices and train more than 150,000 people on Google Cloud generative AI," Kurian said, speaking at Google Cloud Next, which wrapped up today in San Francisco.
Leaning on partners
Google Cloud's collaboration with partners is nothing new. At the 2017 edition of Google Cloud Next, Eric Schmidt, then executive chairman of Google's Alphabet parent company, cited partner ties as part of Google's transition from a technology play to a services organization.
At the time, Google Cloud ramped up its in-house professional services resources and solutions architects, while pointing customers to its partners for additional assistance. And while that formula might not have fundamentally changed over the past six years, the level of partnering intensity has.
"They're definitely leaning in a little bit harder than they have in the past," said Michele Goetz, vice president and principal analyst at Forrester Research. "There is definitely a stronger recognition that their partnerships with the service providers, particularly the global service providers and consulting organizations, is really the only way that they're going to gain the biggest stickiness."
Indeed, Google partners find generative AI helps them build relationships with customers. Miles Ward, CTO at SADA, a business and technology consulting company and Google Cloud partner, said clients are eager to get started with generative AI, recognizing the technology's wide applicability and relative ease of use.
"For us, it's been an incredible accelerant to adoption in customers across, really, a broad set of sectors," he said. "We are rapidly building teams together with customers and setting them up to take advantage of what is basically indistinguishable from magic in several cases."
There's still a lot of education around what AI is and what it isn't, especially for the enterprise, and a lot of organizations are trying to navigate.

Vanessa SimmonsSenior vice president of business development, Pythian
Ward said SADA customers use generative AI to process and ingest contracts with higher accuracy, generate images and video to support 3D printing and manufacturing, and reduce the cost while boosting the quality of customer experience. Some generative AI projects completed in the last three months have already produced more than $10 million in in-year savings for customers, he added.
Generative AI education
Many organizations, however, have yet to reach the deployment stage. Education is the starting point for such businesses, and partners are getting in at the ground floor.
"There's still a lot of education around what AI is and what it isn't, especially for the enterprise, and a lot of organizations are trying to navigate," said Vanessa Simmons, senior vice president of business development at Pythian, a data and analytics services company and Google Cloud partner. "They've got a lot of foundational work to do to take advantage of GenAI or AI in general."
Pythian offers generative AI workshops to walk customers through the process of exploring where to begin with the technology. Organizations, for example, might launch an initial deployment for internal use within a business unit or a functional area before exposing external customers to a new technology.
SADA also offers generative AI workshops. The goal is to help customers set priorities for their first experiments, with an eye to earning the maximum value from the new capability, Ward said. The company has conducted about 200 workshops in the last month, he added.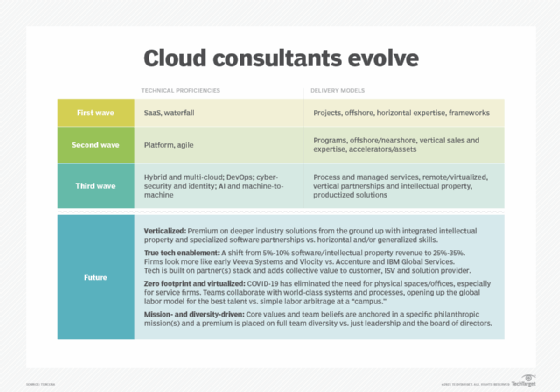 Long-term relationships
Partners' AI adoption advisory services line up with Google's interest in pursuing ongoing relationships versus short-term technology sales, Goetz said.
Long-term collaboration is important for enterprise AI deployment, where projects call for management consulting skills as well as technology acumen. Consulting services aim to improve business operations as a crucial step before layering emerging technologies on top of them. This approach is similar to business process reengineering, and later robotic process automation, that argued against paving the cow path.
"From a Google perspective, but also from the customer perspective, they're recognizing what generative AI is doing is reimagining how we work and how we engage -- complete process reengineering," Goetz said. "So, if you don't have a partner that can really understand the top and bottom stacks, it's going to be really hard."
Google Cloud Next speakers pointed to Boston Consulting Group and McKinsey & Company as examples of integrating management consulting and technology delivery. Those companies, historically known as management consultancies, are strong in data science and have improved their engineering and delivery capabilities, Goetz added.
Product, program developments
Partners pointed to a handful of developments at Google Cloud Next as particularly compelling.
Simmons cited the expansion of the model garden for Vertex AI, Google's machine learning platform that lets organizations customize large language models (LLMs). The addition of open source LLMs such as Meta's Llama 2 lets engineers incorporate them into AI offerings to tweak them.
"Google has done a good job of expanding outside of just what Google has created to be a little more open in the community," she said.
Simmons also pointed to the availability of Duet AI as an exciting development, which she said lets customers deploy user-oriented generative AI tools in a no-cost trial.
As for partner programs, the Google Cloud Generative AI Partner initiative, launched at the event, offers ideation-to-deployment journey maps and marketing support, among other components. The initiative is helpful for partners looking to add generative AI into their service portfolios, Simmons said.
John Moore is a writer for TechTarget Editorial covering the CIO role, economic trends and the IT services industry.