Video key to coronavirus business continuity planning
Coronavirus business continuity calls for video to support remote work mandates. Learn the benefits of video conferencing and best practices for video meetings among remote employees.
The speed and scope of the spread of the coronavirus, or COVID-19, has forced organizations to respond quickly to disruptions in travel and enable employees to work from home. As a result, closures and remote work strategies, which include increased use of video conferencing, continue to grow.
Organizations that already allow remote work or are mandating it due to coronavirus are looking to meeting applications that integrate audio conferencing, video conferencing and screen-sharing into a single unified app as a minimum basic requirement for business continuity.

Study shows meeting application growth
Even before coronavirus hit, Nemertes' 2019-2020 Workplace Collaboration study showed meeting application adoption is growing rapidly. The study -- based on data gathered from more than 630 organizations in North America, Europe, Asia and Australia -- showed 51.3% already use a meeting application, while another 29.2% plan to adopt one by the end of this year.
The drivers for meeting applications include the following:
cost savings from integrating formerly separate audio and web conferencing services;
models that enable workgroups to try video-enabled meeting apps for free;
WebRTC support, which enables applications to easily work within browsers, without requiring IT-approved plugins or applications; and
falling costs and improved ease of use, such as reduced long startup times associated with previous video conferencing platforms.
Video-first, remote-first strategy offers benefits
Perhaps most important is the widespread availability of video-enabled applications and the video-first nature of most meeting services that prioritize video above other types of content.
Video improves the remote work experience by creating a higher level of engagement among meeting participants. Unlike audio conferencing only, video enables people to share nonverbal communications and often reduces distractions and multitasking during calls as engagement improves. The surveyed organizations adopting video-enabled meeting applications reported the following business benefits:
21% measured gains in productivity;
6% reduced meeting length;
5% saved money by reducing travel and moving to lower-cost services; and
7% increased revenue by optimizing sales calls via video.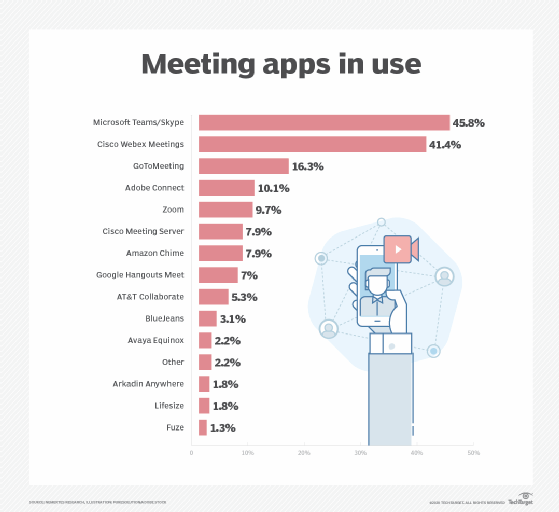 How to prepare for remote work using video
To successfully use video for remote work, IT and business leaders should focus on the following:
Ensure adequate network performance, including providing employees with tools to measure home Wi-Fi performance, and fund home network upgrades and higher-speed internet services.
Provide best practices for lighting and backdrops to improve video quality of experience. If the meeting vendor offers virtual backgrounds or background blur, consider using those features, but be careful to provision laptops and PCs that support them.
Provide headsets or speakerphones that provide high-quality audio experiences with noise cancellation.
Establish a user adoption and awareness program to train people on how to use the meeting application. It is critical to have executive buy-in for the use of video.
Develop a culture around video that eliminates formality in day-to-day usage. Don't worry if there's a mess in the background, if the employee is in a T-shirt or if pets are roaming in the background.
Consider webcam upgrades or executive systems that offer improved video quality.
Integrate the meeting service with other business applications, especially team collaboration applications, to ensure meetings take place in the context of team spaces to enable easy note capture and file sharing.
Plan to take advantage of emerging AI-enabled features that enable note taking, identify action items and support meeting transcription.
Extend meeting applications to customers, prospects, suppliers and partners to eliminate the need to rely on audio bridges and gain the benefits of video across all business operations.
A proactive approach to enable support for video meetings is more critical than ever to support business continuity during pandemics, natural disasters or other workplace interruptions. Now is the time to take advantage of video-enabled meetings to improve productivity, save money and potentially increase revenue.
Dig Deeper on Video conferencing and visual collaboration