AI, cloud trends shape next-gen managed services offerings
Service providers are launching new services, capabilities and delivery models to meet the needs of customers grappling with AI and complex cloud environments.
Partners are expanding and, in some cases, redefining their managed services offerings to deal with changing customer requirements, developments such as AI and increasingly complex multi-cloud landscapes.
Adaption is hardly new for channel companies. Necessity has been the mother of reinvention for the partner ecosystem as it's evolved from product oriented to service centric over the past few decades. Cloud became the focal point for service provider evolution in the 2010s. But the cloud itself has changed. The technology has become much more industry specific, development oriented and -- in the current economy -- fiscally disciplined. The mainstreaming of AI only adds to the partner impetus for rapid adaptation.
Recent partner developments illustrate the industry's current phase of evolution:
Ahead, an enterprise cloud solutions provider based in Chicago, last week inked a Strategic Collaboration Agreement (SCA) with AWS in which the companies will collaborate on data and analytics offerings in the healthcare vertical market. Ahead also aims to grow its AWS DevOps business and could potentially hire hundreds of people over the course of the multi-year SCA.
GreenPages, a long-time MSP, last week rebranded itself as Blue Mantis and now focuses on GitOps to deliver managed services. Kubernetes and containers are part of the mix as the Portsmouth, N.H., company also looks to AI to boost efficiency in verticals such as healthcare, financial services, and sports and entertainment.
Kyndryl, a managed infrastructure services provider, earlier this month projected its multi-cloud management platform will have more than 1,000 customers onboard by March 31, 2024 -- the end of the company's fiscal year. Kyndryl Bridge offers what the company refers to as "AI-driven services" such as FinOps and AIOps. Kyndryl spun out of IBM in November 2021.
Ahead expands AWS business
Ahead's AWS expansion involves industry offerings, co-creation and AI. The alliance's plan for healthcare market, already a third of Ahead's business, is a case in point. Ahead and AWS both emphasize "building solutions that are vertically focused," said Eric Kaplan, CTO at Ahead.
Ahead works with customers to architect systems around the Epic Systems' electronic health records software. One focus of the SCA will be migrating such clients to run on AWS, Kaplan said. He also cited medical imaging as an opportunity.
In addition, data and AI services within AWS will come into play for various medical use cases, Kaplan noted. Possibilities include providing real-time data to patients to shrink waiting times or exploring trends in appointment cancelations to reduce the cost of providing services.
Ahead's AWS partnership will also look to build upon what Kaplan described as next-generation managed services. This proactive model, which applies to workloads residing in AWS, for example, involves self-service, infrastructure automation and FinOps, he noted. FinOps has become the centerpiece of several partners' cloud cost management offerings. Ahead will also work with AWS to bolster its developer productivity stack, which includes HashiCorp and Red Hat.
Kaplan declined to discuss revenue projections for the SCA. But if the company meets its AWS goals, it will hire hundreds of people over the next couple of years to deliver joint offerings, he said.
"We have big expectations in terms of what this [SCA] is going to do for our professional and managed services business over the next 24 to 36 months," Kaplan said.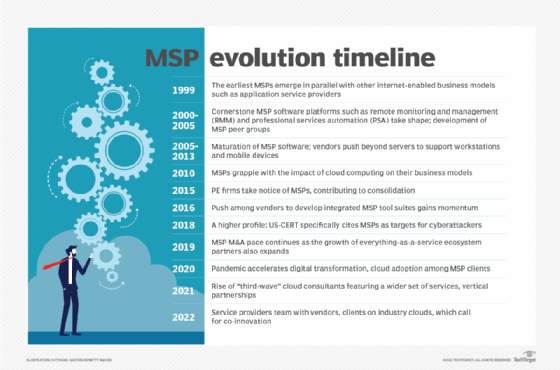 Blue Mantis revamps service delivery
Blue Mantis, founded in 1992, has recast itself over the years, from hardware sourcing firm to VAR to systems integrator. The company has also layered on managed services, cloud services and cybersecurity along the way. In its latest evolution, Blue Mantis has adopted a managed services delivery model that pivots on GitOps, a framework that taps DevOps practices and infrastructure automation.
"It changes the way you are conducting business on a daily basis," company president Josh Dinneen said of the GitOps shift.
For example, GitOps brings lifecycle management to a customer's application stack. This twist on managed services involves a more programmatic method to IT modernization, rather than a point-in-time approach, Dinneen said.
A big part of that is the adoption of technologies like Kubernetes, containers and microservices. Those are the technologies that are really helping drive big initiatives with customers.

Josh DinneenPresident, Blue Mantis
He called lift-and-shift cloud migrations an example of point-in-time projects. Those initiatives moved in-house applications to the cloud but fell short of taking full advantage of hyperscalers' constantly growing portfolio of services. The programmatic lifecycle approach, however, recognizes the need to continuously evolve. The goal is to modernize application development to take advantage of current and future cloud feature sets, he said.
"A big part of that is the adoption of technologies like Kubernetes, containers and microservices," Dinneen said. "Those are the technologies that are really helping drive big initiatives with customers."
Blue Mantis is also focusing on AI in key verticals, where the emphasis is on creating efficiencies. In healthcare, for instance, AI can be applied to help hospital systems deal with workforce management issues stemming from the COVID-19 pandemic, he said.
As Blue Mantis takes on new delivery models and emerging technologies, it also preserves traditional business lines, such as hardware sourcing. But while the company once highlighted hardware and offered services as an adjacent business, it now leads with services, Dinneen noted.
Kyndryl looks to bridge multi-cloud world
Kyndryl, meanwhile, reported more than 500 enterprises are using its Kyndryl Bridge, a multi-cloud management platform through which customers can subscribe to, deploy and manage cloud services. The company launched the offering in September 2022.
Antoine Shagoury, CTO at Kyndryl, characterized the enterprise customers as large companies in industries such as banking and financial markets, travel and transportation, healthcare, retail, and insurance.
One healthcare customer, which the company did not identify, will tap Kyndryl Bridge to "integrate AIOps and automation capabilities," according to the company's May 2023 10-K filing with the Securities and Exchange Commission. The healthcare customer works with Kyndryl under a five-year managed services deal.
A seven-year data center migration pact with financial services firm Legal and General also involves the implementation of Kyndryl Bridge.
Dig Deeper on Emerging technologies for MSPs