freshidea - Fotolia
Managed services model takes evolutionary twists and turns
The evolution of managed service providers began at the apex of the dot-com era and now continues with developments including cloud computing and industry consolidation.
The IT channel has seen frequent changes over the years, from the rise of systems integrators in the 1980s and outsourcing vendors in the 1990s. But the evolution of the managed services model, much of which occurred under the radar, has been just as profound and longer lasting.
Managed service providers (MSPs) got their start in the late 1990s, emerging alongside other internet-powered business types such as application service providers (ASPs). MSPs and ASPs shared some characteristics and influences, but ultimately traveled different paths.
"The idea of ASPs and MSPs originated with the advent of the web and the new opportunity to deliver applications and IT services as a service from a remote location," said Jeff Kaplan, managing director at Thinkstrategies, a cloud consulting firm in Wellesley, Mass. "While the business model and go-to-market strategy for both were similar, their value propositions diverged slightly."
Editor's note: This article is the first installment of a two-part series tracing the development of managed service providers. Part one covers the evolution of MSPs, while part two takes a look at the sector's future prospects. The coverage is part of a TechTarget IT retrospective that marks the company's 20th year in tech publishing.
Crucially, the new companies provided an alternative to multiyear, multimillion-dollar -- sometimes multibillion-dollar -- outsourcing contracts. The '90s featured a number of headline outsourcing deals, with companies such as Continental Airlines, DuPont and United Technologies offloading large chunks of IT to an outsourcing vendor. A mega-contract backlash followed, however. This retrenchment paved the way for smaller-scale activities.
"The ASPs and MSPs were offering an out-tasking alternative to the wholesale outsourcing arrangements which had been popularized over the previous decade," Kaplan noted.
Customers, rather than giving up all responsibility for software development or IT management via outsourcing, could hire an ASP or MSP to perform specific tasks, he added.
While the broad outlines of ASPs and MSPs were similar, they took on different roles. ASPs' primary aim was to provide customers an easier way to acquire software, while MSPs promised specialized skills and greater expertise to better manage a customer's IT resources, Kaplan said.
Dave Sobel, senior director, MSP evangelism, at SolarWinds MSP, is familiar with ASP and MSP development, having worked for both types of companies over the years. He sees the two business models evolving in parallel. He said ASPs attempted to play a software role SaaS vendors have since made their own.
The birth of remote management
MSPs, meanwhile, followed an evolutionary path that started with computer resellers. Resellers made money on hardware and eventually became value-added resellers (VARs) that were more about consultancy and less about equipment, Sobel said.
VARs then began seeing the advantages of offering services on a subscription basis. A key transition point came when companies found themselves "able to [offer] reliable, remote services without physical contact with the devices," Sobel added.
Remote device management was -- and continues to be -- central to an MSP's profitability. Initially, service providers used a mix of homegrown software and data center management tools to get the job done. But a new class of software -- sometimes offered by MSPs-turned-[ISVs] -- hit the market to address MSPs' need for purpose-built solutions to run their businesses. Remote monitoring and management (RMM) and professional services automation (PSA) products helped make the managed services model viable.
Christopher Claudio, CEO at Logically Inc., an MSP based in Portland, Maine, sees a key point in the industry's evolution at the intersection of business necessity and enabling technology. Channel partners became swamped with customer calls for assistance as they shifted from selling equipment to consulting and support services. So service providers began to charge a flat monthly fee for services, rather than billing clients for every 15-minute call, Claudio noted.
"For us, it was trying to cater to clients so we could help them and find out how to get paid without nickel and diming them," he said.
This shift in the business strategy coincided with the arrival of RMM and PSA tools, which facilitated the emerging managed services model. MSPs, equipped with the proper tools, began to take root and mature in the 2000 to 2005 timeframe, according to industry executives.
Claudio also credited the rise of peer groups for elevating MSPs' business maturity and inspiring "better and more capable companies." Among those peer groups was HTG, which launched in 2001 and was acquired by MSP software vendor ConnectWise LLC in 2018. The group now operates with ConnectWise as IT Nation Evolve.
Beyond 2005, MSP software continued to expand. RMM products, for instance, initially focused on remote server management, but eventually segued to workstations and mobile devices.
Cloud effects MSP business model
The growth of cloud computing was the next milestone for MSPs. By 2010, AWS, Microsoft Azure and Google Cloud Platform (originally Google App Engine) were in the market, and MSPs began to grapple with the effects of public cloud platforms on their businesses.
Sobel cited two Microsoft moves as important inflection points in the upsurge of cloud: the transition from Business Productivity Online Services to Office 365 in 2011 and the decision to discontinue Windows Small Business Server -- a staple for many channel partners -- in 2012.
With those decisions, which favored cloud delivery, "you can see the exact moment when cloud computing became ... real to the channel," Sobel said.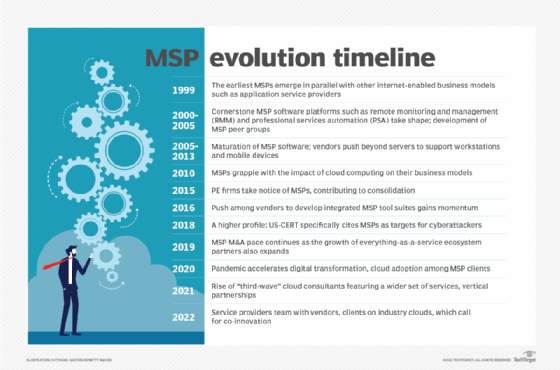 Some MSPs feared cloud would erode their revenue and make their businesses obsolete. Unsurprisingly, cloud was initially slow to catch on among service providers. As recently as 2016, more than half of the channel partner respondents to a TechTarget survey said they offered no cloud services.
Since then, however, managed public cloud services have become mainstay offerings for a range of MSPs and specialized cloud consultancies. AWS, Microsoft and Google actively court service providers while SaaS vendors such as Salesforce and ServiceNow include channel companies within their partner ecosystems.
MSPs emerge from the shadows
The MSP sector developed with limited fanfare and visibility. Companies were typically on the small side and the out-tasking nature of the MSP business model didn't lend itself to headlines. Service providers at times struggled to make their industry known to prospective customers.
I do think there is still a lot of room for growth.

Christopher Claudio CEO, Logically
MSPs, however, have gotten considerably more exposure in recent years. Interest among private equity firms has soared along with the pace of merger and acquisition activity among service providers. For Sobel, investor interest is matter of following the technology-dollar spend. About 80% to 90% of businesses are small businesses and "every company is becoming a technology company," Sobel noted. Investors recognize MSPs are the route to that market, he added.
The number of MSP M&A deals surged in 2018 and 2019, which much of the activity sparked by investors looking to roll up service providers into national platforms.
High-profile clients have also put MSPs in the spotlight. In 2015, Platte River Networks, an MSP based in Denver, became entangled in Hillary Clinton's private email server controversy. The ensuing government investigation required a crisis management strategy, something other MSPs might need to consider as they become more prominent.
Cyberattackers have also discovered MSPs. Small MSPs as well as large service providers such as Wipro have encountered security incidents. The volume of attacks is such that US-CERT, the Department of Homeland Security's Computer Emergency Readiness Team, issued a warning specific to MSPs in October 2018.
That's not the type of visibility MSPs are looking for, but the interest among computer criminals does suggest MSPs have come of age as an industry.
Looking to the future
While the managed services model has matured, the sector still has growth ahead of it, industry executives noted.
"It feels like there is plenty of room to run," said Tom Donahue, managing director at Bowstring Advisors, a middle-market investment bank based in Atlanta. He said various sources report a total population of 40,000 to 60,000 MSPs, leaving lots of space for consolidation.
Logically's Claudio also noted the opportunity for consolidation, as smaller companies look to integrate with larger MSPs.
"Our strategy is to integrate three to five companies a year," he said. "Large MSPs will be able to offer ... so much more in terms of services and risk mitigation."
Logically launched in 2019 through the merger of Winxnet and K&R Network Solutions. The company subsequently purchased Sullivan Data Management in the New York City area.
"I do think there is still a lot of room for growth," Claudio said.