Torbz - Fotolia
What are the 3 core deliverables of basic MSP offerings?
Developing an efficient managed services offering is essential to building loyal clientele. Learn about the three core deliverables that comprise a managed services offering.
Managed service provider offerings can be comprised of three core deliverables:
1. 24/7 remote network monitoring
Managed service providers (MSPs) must invest in a remote monitoring and management (RMM) product in order to receive alerts to situations requiring immediate attention and also to provide maximum uptime to customers. In addition, today's RMM solutions allow many mundane, daily maintenance activities to be scripted and delivered on a scheduled basis without human intervention. These activities include operating system and software application patch management, antivirus and antispam updates, disk optimization and backup monitoring. RMM allows the MSP's staff to focus on high-priority activities, provides the ability to support a larger quantity of customers and delays the need to hire more staff.
2. Service desk
MSP offerings should also include a service desk operation. The service desk is a key component in providing effective problem management and remediation services to end users. The service desk functions as the single point of contact for all end-user issues. Where service requests are opened, issues are identified and documented in the MSP's trouble ticketing system. The requests are then prioritized and assigned to a resource for troubleshooting and escalation as needed, and a resolution is determined. The service desk allows MSP partners to resolve issues remotely for their customers about 85% of the time, tremendously reducing the need to schedule an on-site visit to customer locations. This speeds up the service request response and resolution time, increases customer satisfaction and reduces service delivery costs for managed IT services.
3. Vendor management
vendor management is the process whereby the MSP manages all interactions with the customer's vendors, offloading that responsibility from the customer and allowing the client to focus on running its own business. This service adds tremendous value to the relationship between the customer and the MSP, as the customer need only open a service request for any issue affecting its infrastructure. The MSP's service desk saves the customer time and frustration from dealing with numerous vendors and also allows MSP partners to proactively manage all vendor activity. The MSP works with vendors directly to either quickly resolve issues or schedule on-site vendor visits -- both have been found to tremendously improve efficiency and profitability.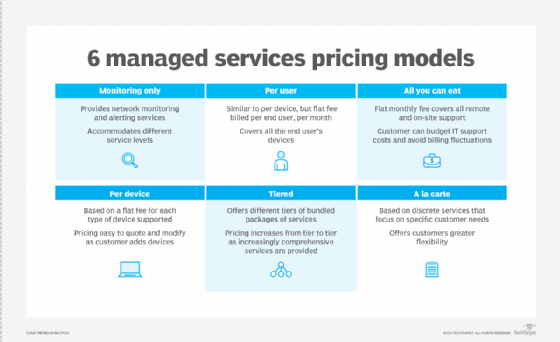 Beyond the core: Security and cloud-based infrastructure offerings
The three core services provide a start for channel companies looking to develop MSP offerings. At some point, however, most MSPs will look to differentiate their services to stand out from the crowd, boost their margins and address specific customer needs.
MSPs may cultivate managed security services, for example. SMBs increasingly call on service providers for advice on fending off cyberattacks. Service providers may develop security services in-house and/or partner with security-as-a-service providers.
The rise of cloud computing has compelled many MSPs to launch services around public cloud providers such as AWS, Google Cloud Platform and Microsoft Azure. Such services may include migration, application modernization and cost optimization.
In addition, MSPs frequently offer backup and disaster recovery services to their clients. Most of the major MSP business management vendors include a backup and disaster recovery product as part of a broader portfolio of products that include RMM software and professional services automation.