Klemsy - Fotolia
Logically targets MSP companies in acquisition plan
Logically, a newly launched managed service provider, joins the list of organizations pursuing MSP acquisitions, with the goal of creating a nationwide IT services platform.
Logically Inc. launched today as a managed service provider, with national growth aspirations and plans to acquire three to five MSP companies annually.
The company stems from the June 2018 merger of Winxnet Inc., an IT consulting and outsourcing firm in Portland, Maine, and K&R Network Solutions, a San Diego-based MSP. Executives at the East and West Coast companies became acquainted through participation in HTG Peer Groups, an organization that brings together executives to discuss MSP business issues. ConnectWise, an MSP software company, purchased HTG Peer Groups in January 2018.
Logically CEO Christopher Claudio said Winxnet and K&R are now fully integrated, with plans to build upon that base. "We are actively looking at acquisitions to bring into the fold," he said.
Specifically, Logically seeks to acquire MSP companies with revenue ranging between $3 million to $7 million. Additionally, the vendor wants companies that offer a good cultural fit and a strong recurring revenue base. Claudio said he is looking for companies that operate outside of the top-tier metropolitan areas, where MSP competition is the greatest.
"There is so much competition in the major cities," he said. "It is hard to get good traction."
Other companies seeking to grow a nationwide MSP organization include Converge Technology Solutions, Evergreen Services Group, Mission and NuMSP.
Factors contributing to MSP consolidation include a need to increase scale to pursue larger customers and more complex deals. Some companies find it difficult to grow organically beyond the $5 million threshold, and a sizeable cohort of MSP owners are looking for an exit strategy. CompTIA reported 40% of channel companies' owners will retire by 2027.
Automation and differentiation
We are actively looking at acquisitions to bring into the fold.

Christopher ClaudioCEO, Logically
In the combined company, Winxnet provides its strength in the sales process and its knowledge of the business side of an MSP, Claudio said. K&R, meanwhile, stands out for "moving the needle on automation."
The K&R side of the company created OpLogic, Logically's propriety cloud-based automation tool. Claudio said OpLogic serves as a "mini-ERP" system that connects the company's remote monitoring and management, professional services automation and billing systems. The automation and IT management tool provides a single-pane-of-glass view of customers' systems, enables self-healing and streamlines the remediation of issues, Claudio said.
OpLogic offers a point of differentiation, boosting the company's efficiency in delivery managed services, driving down costs and mitigating risk, he noted. OpLogic provides risk management through audits that check for issues such as missing patches or unsuccessful backups.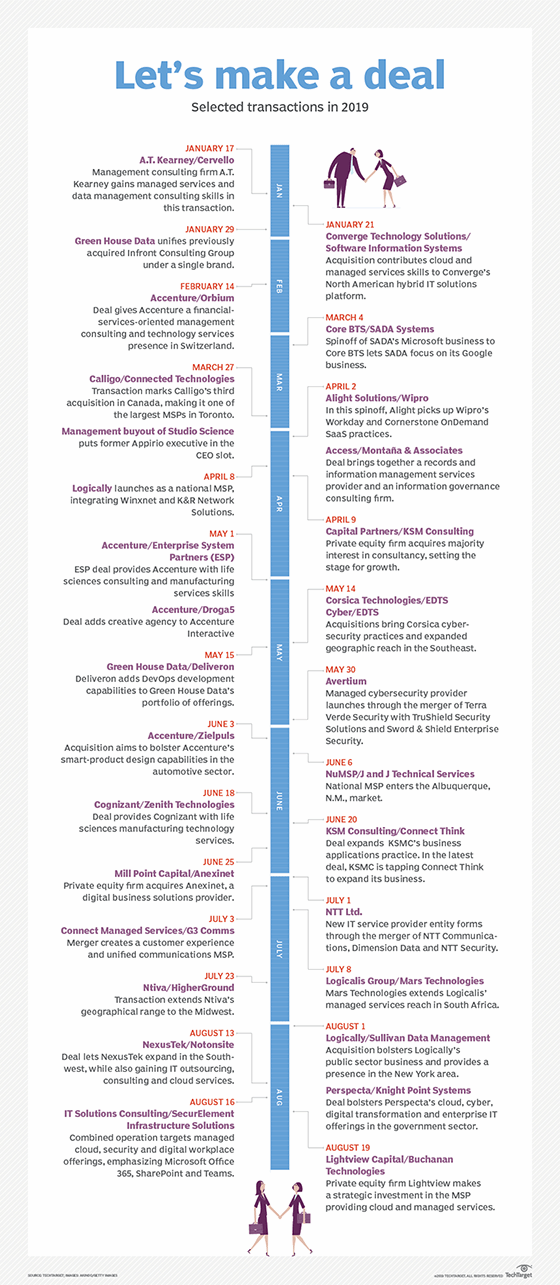 Core offerings
Overall, Logically is built around three main businesses: managed services, security and cloud. Claudio pointed to the importance of having a strong security practice. That makes MSP companies with solid security businesses prime acquisition candidates for Logically.
"You can't offer managed services unless you have a security practice -- it is so inherent to the delivery and management of IT," Claudio said.
Logically works in AWS and Microsoft Azure clouds, and it will also look for opportunities to expand on those public cloud platforms through acquisition.