VMware Partner Connect reboots with accent on SaaS
VMware's partner program gets a new look as the company invests in the subscription model; Endor Labs, Graphiant and TrueFort also launch or update channel efforts.
VMware today launched its updated channel initiative, which emphasizes the SaaS-subscription model, recognizes multiple partner business types and encourages partners to join forces on multi-cloud projects.
The revamped VMware Partner Connect program reflects VMware's desire to broaden its partnering effort, which has focused heavily on resellers. The program shift also underscores the general IT industry trend toward cloud sales versus traditional software licensing. VMware, based in Palo Alto, Calif., previewed the latest edition of Partner Connect in August 2022. The program originally rolled out in 2020.
When you think about evolving a program, it is certainly not for the faint of heart.

Tracy-Ann PalmerVice president, global channel sales programs and compliance, VMware
"When you think about evolving a program, it is certainly not for the faint of heart," said Tracy-Ann Palmer, vice president of global channel sales programs and compliance at VMware. "We are in a dynamic environment. How do we meet our partners where they are in terms of how they sell to our customers?"
Other vendors also weigh such questions as they launch or retool channel programs. Those include cybersecurity companies Endor Labs and TrueFort as well as edge services provider Graphiant, all of which debuted program changes last week.
VMware Partner Connect's subscription focus
VMware is financially backing its SaaS-subscription focus: 75% of the company's investment in partner incentives is going in that direction. That is, the money the company pays partners for selling, activating and deploying VMware software and services.
In past years, that funding was weighted toward the sale of VMware's licensed software offerings. The shift to SaaS-subscription "doesn't mean that we are no longer incenting on licensed software, but it's definitely not where we are prioritizing our investments," Palmer said.
VMware's incentives span partners' pre-sales, sales and post-sales activities with customers. The sales incentive, for example, provides a two to 10 times multiplier for SaaS and subscription sales versus licensed software bookings. The program also offers incentives for partners providing professional services to customers migrating to a public cloud and consuming VMware Cross-Cloud services. In addition, a deployment incentive rewards partners for speeding up customers' digital transformations, using VMware offerings for application modernization and multi-cloud implementations.
Jeff Newton, director of infrastructure channels and ecosystems research at IDC, cited a transition among customers from Capex spending to Opex spending, which challenges partners to move to Opex. The VMware program's incentive tracker component helps partners progress toward this new financial model, he said.
"VMware is helping partners transition to SaaS-subscription by providing a historical incentive tracker that allows them to see their total payout in previous quarters," Newton explained.
This historical view helps partners optimize their profitability, he added. The quarter-to-quarter perspective lets partners compare payouts before and after adopting a new financial model, for example.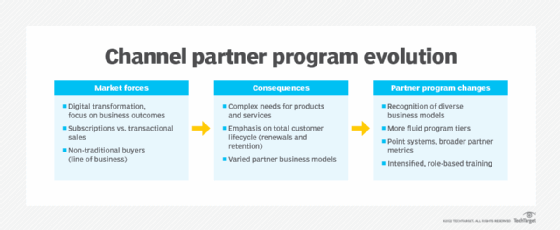 Support for multiple business models
The revamped VMware channel program also aims to support multiple business models. Those are: Solution Reseller, a category that represents the company's traditional partners; Solution Services Provider, companies that offer pre-sales advisory and post-sales services; Cloud Services Provider, companies that offer VMware-based cloud and managed services; and Solution Builder, companies that incorporate VMware's technology in their software offerings.
Palmer said VMware's analysis of its top 1,000 partners found that more than 90% of them go to market with two or three business models. The company identified its leading partners based on a score card that considered capability, performance and reach.
Partners, despite their expanding business models, might struggle to satisfy all their customers' needs in complex cloud environments. With that in mind, VMware has created a partner-to-partner incentive to encourage collaboration.
"In the world of SaaS and subscription, partner to partner is critical," Palmer said.
VMware's research shows that, on average, customers might have as many as seven different partners in an account, Palmer said. She noted that neither VMware nor an individual partner can solve every multi-cloud need. Some partners, she said, might have strong sales organizations or consulting services, but lack cloud migration capabilities. Another might focus on providing managed services on top of cloud deployments. Others might offer their own intellectual property built around a VMware service.
When combined, the partners' skills and intellectual property help customers consume VMware Cloud services -- and obtain the resulting value -- as soon as possible, Palmer said.
'Influenced bookings' earn partners points
VMware Partner Connect recognizes partners for influencing deals as well as reselling software.
Partners that register as Solution Services Providers can earn points for influenced bookings, a change from previous years when performance was measured strictly on a transaction basis. VMware defines influence as the services a partner provides "before and beyond the transaction itself," Palmer said. "Influence points can be earned for things like driving assessments and proof of concepts," she noted.
The influence points are only available to non-transacting partners; partners involved in transactions can't earn influence points on top of sales.
Newton said IDC is seeing an increase in partner programs rewarding the channel for influencing sales.
Other channel program updates
Graphiant, an edge services provider in San Jose, Calif., rolled out a partner program that aims to help partners offer an as-a-service consumption model.
The company's G-Force Partner Program makes simplicity a primary goal, according to Cory Kurtz, director of channel and managed service partners at Graphiant. "Educating customers on shifts in pricing models is always challenging, so keeping the model simple and educating partners is critical," he said.
Graphiant's Network Edge offering, delivered as a consumption-based service, opens recurring revenue opportunities for partners in areas such as B2B connectivity and cloud on-ramp services, Kurtz said.
In cybersecurity, TrueFort, based in Weehawken, N.J., launched a channel program that intends to help partners provide custom workload, lateral attack and microsegmentation security offerings.
The TrueFort Trust Partner Program is geared to IT solution providers, systems integrators, consultants, MSPs, managed security services providers and ISVs. With TrueFort, partners can create new services or include the platform in existing services, said Jay Dosanjh, vice president of channels and alliances at the company.
Services that partners can wrap around the TrueFort platform include managed services, assessment services, security operations center/network operations center services, application security services and implementation services, among others, he noted.
Endor Labs, a Palo Alto, Calif., company that focuses on open source software security, launched its Hyperdrive partner program, which targets supply chain security, dependency selection and lifecycle management opportunities.
Andrew Davidson, vice president of business development and alliances at Endor Labs, said partners can provide the company's offering on its own or within their DevSecOps, software supply chain and application security offerings.
Dig Deeper on Channel partner programs