Luiz - Fotolia
Channel firms take on multi-cloud management challenges
As enterprise customers begin to grapple with the complexities of multi-cloud environments, channel partners have found a role in reining in and optimizing cloud spending.
Customers have begun adopting a multi-cloud strategy to take advantage of cloud services and capabilities that no one cloud provider can offer on its own.
However, many customers find it challenging to keep the costs and services in check, which has opened up an opportunity for channel partners to offer multi-cloud management and optimization services.
"Most organizations adopt a multi-cloud strategy out of a desire to avoid vendor lock-in or to take advantage of best-of-breed solutions," explained Michael Warrilow, research vice president at Gartner. "We expect that most large organizations will continue to willfully pursue this approach."
Half of the total public cloud market will be dominated by the 10 biggest public cloud providers through at least 2023, according to Gartner.
The enterprise journey to the cloud or multi-cloud is very much in its infancy, said Bob Pollan, CFO at Unitas Global, a cloud management platform provider based in Los Angeles.
AWS is the biggest player, holding nearly 50% of global cloud spending, followed by Microsoft Azure, Alibaba Cloud and Google Cloud, according to Gartner.
"Currently in the enterprise space, there are different levels of understanding surrounding cloud and multi-cloud," Pollan said. Before deploying apps and workloads to cloud, enterprise IT teams should understand the benefits and tradeoffs to execute their migration methodically and with all of the risks in mind, he said.
"When Unitas Global comes on board to assist with optimization of multi-cloud systems, we often find that enterprises are not fully optimized because they lack knowledge, controls and visibility," he said. "Once enterprises have a more holistic view of multi-cloud, we can start analyzing their optimization from a more mature perspective with more controls to manage cloud spend."
Craig McQueen, senior director of innovation at Toronto-based managed services and consulting provider Softchoice, said customers are rarely on multi-cloud by design. "Organizations tend to be on multi-cloud as a result of mergers and acquisitions or separate groups of developers adopting different cloud platforms to meet their varied IT needs within an organization," he said. "This results in different ways of cloud governance and management."
Cloud cost management challenges
Developers are often the people driving cloud consumption within an organization. Typically, their focus has been to get new features out as quickly as possible, not managing infrastructure costs, McQueen observed.
Because cloud is consumed on a pay-per-use model, "the costs can quickly go out of control because the developers don't have an awareness of the increased consumption that they are driving," he said.
Pollan likened enterprise cloud consumption to building a house without a blueprint. "Everyone is building different pieces of the house, and it ends up being a pretty strange-looking house," he said. "If enterprises don't sit down at the beginning and map out their needs, they won't be able to effectively optimize their cloud spend."
If enterprises don't sit down at the beginning and map out their needs, they won't be able to effectively optimize their cloud spend.

Bob PollanCFO, Unitas Global
On top of the internal challenges, enterprises can be overwhelmed by the cloud service providers pushing to maximize their own revenue, he said. "IT leaders shouldn't be surprised if they end up in a situation where a service provider has failed to take a holistic view of the enterprise's specific needs, and therefore, their IT is not fully optimized."
Another issue organizations can run into is adding different cloud services without connecting them to on-premises infrastructure. This creates siloed environments, which results in cloud waste without customers realizing it, McQueen said. It also drives up cloud costs.
Tools and techniques to rein in customers' multi-cloud costs
The first step Softchoice takes in a multi-cloud management engagement is to assess the customers' situation and then deploy different tools, including the vendors' native tools, to help optimize costs, he said.
"So, the very first step is to understand the [multi-cloud] costs and where they are coming from [because,] often, customers don't even have visibility into that." Once Softchoice has categorized the various cloud environments, its customer can see which business units are responsible for the costs and if the spending is warranted, he said.
Pollan concurred. "A comprehensive review of the enterprise's current IT infrastructure, inclusive of connectivity, is essential to begin. What often happens and where cloud spend often gets out of control is [when] enterprise departments begin running off in different directions pursuing their individualized interests." As a result, these enterprises are locally optimized, but not globally optimized, he said.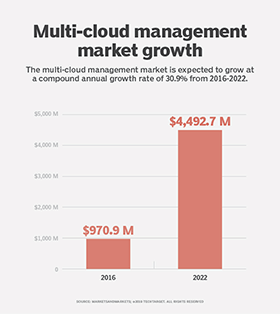 There is no acknowledged toolset that provides best practices for determining cloud spending because it is still early in the enterprise move to cloud, he noted. But to optimize and maximize ROI, enterprises and their channel partners must go back to the basic principles: objectives, goals and constraints, Pollan said.
They should use multi-cloud management tools that provide visibility into the entire cloud environment, including connectivity, to better understand where there is room for optimization, he said. He added that a cloud provider's tools, services and capabilities should help identify, audit, analyze and plan what would be the most optimized architecture.
Services that help address multi-cloud cost management
Softchoice aims to help its customers architect, deploy and manage cost-optimized multi-cloud environments that are also agile and secure. The company uses a cloud assessment tool that looks at a customer's environment to baseline possible cloud waste, and its managed service offering specifically helps manage costs, McQueen said.
Softchoice also provides a cloud optimization dashboard to help customers categorize their multi-cloud environment and produce reports so they can understand where cloud costs are coming from, McQueen said. Softchoice's cloud optimization dashboard works across AWS, Azure and Google Cloud Platform, he noted.
Unitas Global has a "consultative engagement process" with clients rather than a specific service, Pollan said. He added that the company's cloud solution architects use their knowledge of numerous cloud platforms to make the most cost-effective recommendations.
"The best service an MSP [managed service provider] can offer clients is having the right people with the right background to bring their expertise to the table to best understand the objectives and constraints at hand to prescribe a go-forward path," Pollan said.
This also applies to remediating cloud cost issues, he added, which are in high demand, especially when a partner looks at what a customer is spending versus what they should be spending.
McQueen agreed, saying that managing cloud costs is a top issue for Softchoice customers. Since cloud spending is still in the early stages for most, there will be substantial growth as cloud spending increases.
"We believe that as multi-cloud becomes more pervasive … multi-cloud users will have opportunities to focus on the cost side of the equation as they see usage patterns, pricing changes and new offerings coming to market," Pollan said. "Service providers will also continue to innovate, and MSPs should provide agility, efficiency and … a platform for innovation to increase flexibility and allow enterprises more opportunity for growth."