TechTarget
Experienced cloud architects, engineers in high demand for 2019
Despite all the buzz around emerging technologies such as serverless, many enterprises in 2019 will first look to round out their core cloud management and development skill sets.
While the industry has moved well beyond the early days of cloud adoption, enterprises still struggle to find qualified...
Continue Reading This Article
Enjoy this article as well as all of our content, including E-Guides, news, tips and more.
cloud architects and engineers -- a trend that will continue in 2019.
Nearly two-thirds of CIOs say a lack of talent holds their organization back, according to a survey from KPMG, a professional services firm, and Harvey Nash, a global technology recruitment and IT outsourcing organization.
"IT professionals who are looking to advance their career or increase their pay are having no problem finding open positions," said Sean Gilligan, president of technology recruitment at Harvey Nash.
Companies, meanwhile, continue to ramp up their investments in cloud. In fact, seven out of 10 organizations are making a significant or moderate investment in the technology, according to the Harvey Nash survey.
Combined, these two trends suggest there's a lot of opportunity ahead for cloud professionals -- and that seems especially true for architects, engineers and those with development skills.
Experienced cloud architects, engineers are (still) tough to find
Throughout the course of 2018, emerging cloud technologies, including serverless and AI, dominated much of the conversation. But, in reality, many enterprises still have a tough time finding IT professionals with "core" cloud infrastructure management and development skills.
With cloud now the de facto way that companies build and deploy applications, businesses are on the lookout for individuals that can implement and manage cloud infrastructure -- with as little disruption as possible. Specifically, enterprises are on the hunt for cloud architects and engineers with at least five years of deep technical expertise. Qualified candidates tend to hold platform- or provider-specific certifications, such as the AWS Certified Solutions Architect, as well as more generic certifications, like the Certified Cloud Security Professional certification.
These middle-level IT employees are the glue in a cloud computing team. In general, both cloud architects and engineers are responsible for ensuring that all the different elements of a cloud deployment -- including the compute resources, network connections, security checks and applications themselves -- work together to meet business needs.
Cloud architects tend to look at cloud deployments at the 20,000-foot level. They develop company standards, so different applications work in a consistent manner, and also interface with other business departments to ensure compliance.
This position is a popular one on job posting site Indeed.com, with more than 45,000 open jobs listed in the U.S. alone. New York, Seattle, San Francisco, Chicago and Atlanta play host to many of these openings, and the bulk of the listed salaries are in the $100,000 range.
Cloud engineers, on the other hand, do more work "under the hood" of a cloud deployment, such as identifying and building connectors to bridge different application components. This, for example, could help a business connect a data analytics front end to a billing system to extract and analyze financial information.
With more than 48,000 U.S. openings on Indeed.com, cloud engineer is another highly coveted position. Most of these jobs are full-time, with salary ranges from $95,000 to more than $140,000.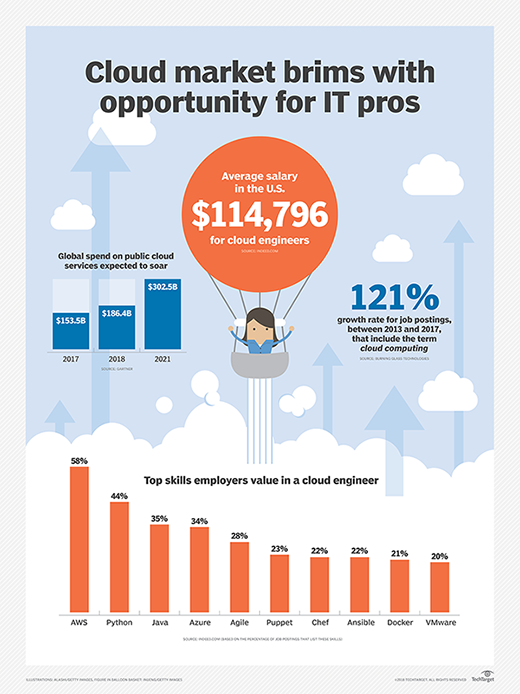 Looking ahead to 2019, cloud architects and engineers who can help enterprises navigate complex multi-cloud deployments -- and the cost implications of that move -- will be especially valuable.
"Many companies want to get a better idea about their public cloud costs and do not trust the vendor-supplied tools," said Marco Meinardi, research director at Gartner. Consequently, demand for professionals familiar with vendor-agnostic, multi-cloud cost management tools, such as VMware's CloudHealth or Flexera's RightScale, will rise.
PaaS, development skills earn
In addition to roles such as cloud architect and engineer, businesses seek -- and will likely continue to seek in 2019 -- IT professionals with PaaS and cloud app development skills.
According to Gartner, PaaS revenues will increase from $11.9 billion in 2017 to $15 billion in 2018. As such, PaaS experience is in high demand; a 2018 survey from IT job site Dice.com found PaaS to be the top-paid technology skill, with average salaries of $127,171. Increasingly, as companies build cloud applications that rely on artificial intelligence and machine learning, enterprises will also look for candidates experienced with those technologies.