Keep an eye on these third-party cloud management tools
Examine what third-party vendors can bring to the table before you choose your cloud provider's native management tools as a default option.
Cloud management is a complex and vital task, and everyone is on the lookout for the tool that does it best.
Traditional vendors and entrepreneurs alike have entered the fray to address the growing demand for assistance with cloud infrastructure management. And as enterprise demands shift with the popularity of hybrid and multi-cloud, so does the market for cloud management tools.
"The industry doesn't fully appreciate the challenges facing SMBs and large-scale enterprises that would like to capitalize on multiple cloud services," said Jeffrey Kaplan, managing director at THINKstrategies, an analyst and consulting company.
However, today's increasingly robust cloud management tools do make it easier and more cost-effective to monitor those services -- just not necessarily through the same set of features.
Traditional vs. startup vendors
Many traditional software management companies, such as Riverbed and Hewlett Packard Enterprise, have entered the cloud management market. Not surprisingly, these providers are infrastructure-focused, while those born in the cloud, such as Scalr and CloudCheckr, are generally service- or API-focused.
"They effectively manage nearly the same thing, but the orientation is different," said Edwin Yuen, analyst at Enterprise Strategy Group .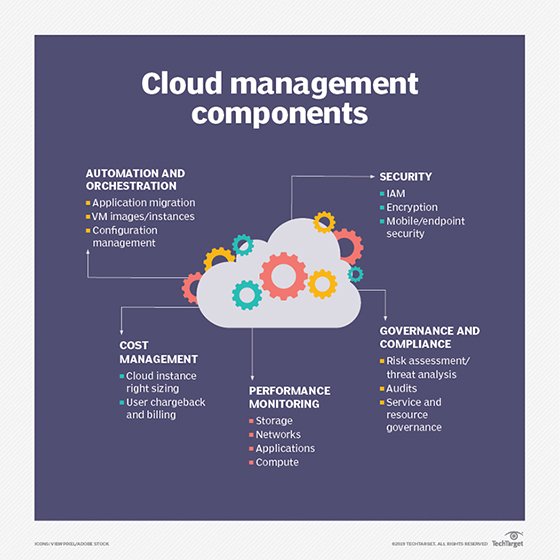 Also , the traditional infrastructure vendors typically provide unified offerings that cover a broad set of management needs. The cloud startups, on the other hand, cover one problem in a specific area, such as application code performance, log monitoring, alerts or transaction monitoring. As a result, there is no single service that can address all these needs, Yuen said .
The challenge with the real startups in this space is that they get picked up by bigger companies so quickly.

Lauren NelsonAnalyst, Forrester
There are different audiences for these different approaches, Yuen said. Infrastructure-focused organizations that use one cloud tend to want a monolithic service. Conversely, those with workloads spread across platforms take a cloud-down approach that focuses on their applications and the services provided on AWS, Microsoft Azure and Google Cloud. As a result, they gravitate toward the narrowly focused tools.
Organizations' choices are complicated further by the constant stream of mergers and acquisitions -- moves that often result in changes to a given tool.
"The challenge with the real startups in this space is that they get picked up by bigger companies so quickly," said Lauren Nelson, analyst at Forrester.
Startup standouts
Organizations struggle to evaluate startups because these companies have no clear track record. However, there are some that have been in the cloud management market for years and have proven results.
One of those companies is Scalr, which provides a management platform for enterprises with multi-cloud strategies. It can manage both private and public clouds, from one unified console, to perform tasks such as cost analysis and orchestration. One of Scalr's strengths is that it gives administrators real-time control over their environments, Nelson said.
For example, if a developer logs in to AWS and requests resources that aren't compliant with corporate policy, the request will be denied by Scalr, and the developer will receive an explanation from AWS. That differs from some other cloud management services, where the developer could access those resources until it was flagged by the tool and acted upon by a manager.
Some other well-established cloud management tools include:
Turbonomic, rooted in on-prem virtualization management, focuses on workload automation for hybrid cloud deployments.
CloudCheckr includes automated cost management and security capabilities that work with both AWS and Azure.
SolarWinds provides IT management software for servers and VMs, networks, databases and security. The company has also acquired cloud-native tools to meet enterprise demand.
Dynatrace offers software intelligence and an AI-based automation platform to provide insights into application performance and user experience, as well as underlying infrastructure.
Datadog provides a SaaS-based data analytics platform for monitoring cloud-scale applications, including databases and servers.
Choose your tool
With the breadth of cloud management tools available, enterprises need to determine what they need from a product -- now and in the future. For example, they should ask themselves whether they've moved to the cloud as an extension of the infrastructure they already have or if they're focused primarily on cloud but still have legacy infrastructure to maintain.
"IT shops would be best off discussing how they want to be oriented for monitoring and management," Yuen said. "I don't necessarily think mixing the paradigms is the right idea."
Enterprises must also decide if they want a basic or narrowly focused tool. One example of the latter is Morpheus Data, which offers multifaceted management capabilities for several cloud platforms. Morpheus Data provides orchestration, user permissions, cost optimization, cloud brokerage and an uptime dashboard, but its CI/CD integrations make it stand out.
"There are other products that also do this, but most aren't also [hybrid cloud management tools]," Nelson said.
ParkMyCloud is one of those with a narrower focus, as it helps companies ensure cloud resources are turned off when not in use. Typically, the company targets environments that developers don't use at night or over weekends but often still accrue charges, because they forget to spin them down. ParkMyCloud provides a view across AWS, Azure and Google Cloud Platform and enables automated resource scheduling.
"You not only need to understand where you are going, but also the strength and orientation of your staff," Yeun said. "And the choice of a tool can then be a catalyst for change, if that is needed."