Microsoft partners focus on IT cost optimization, migration
While AI was the main attraction at Microsoft Inspire, the company's partners are also busy taming infrastructure costs, helping clients modernize and managing cloud migrations.
Microsoft partners last week got an earful on AI during the company's Inspire conference, but that's not the only road ahead for service providers.
The annual partner event, which wrapped up July 19, saw the launch of a revised channel initiative, Microsoft AI Cloud Partner Program and several product launches around the vendor's AI platform. Microsoft CEO Satya Nadella called AI's growth prospects a "massive partner opportunity," noting that next-generation AI technology could add $2 trillion to $2.5 trillion to a total addressable market already valued at $4 trillion.
While partners roll out new services to capture AI projects, they also see other opportunities for their Microsoft-related business lines. Those openings include IT cost optimization, technology modernization, and assisting with Microsoft Azure and Dynamics migrations.
Partners said they also see potential in Microsoft's multiparty private offers program, which lets partners team up to sell offerings through the Microsoft commercial marketplace. Microsoft kicked off availability of this sales model at Inspire.
Optimize, then modernize
Jared Cheney, vice president of services, North America, at SoftwareOne, a software and cloud solutions provider headquartered in Switzerland, sees an opportunity for taking costs out of customers' technology estates. The company's Microsoft advisory services, for example, focus on Microsoft 365 and Azure cost control and license management.
SoftwareOne's survey of 600 IT leaders underscores the need for IT cost optimization, Cheney said. The company found that 93% of the respondents expected their budgets to increase in 2023, but 83% anticipated having to do more with less. In another paradox, 92% of the IT leaders polled said they expected digital transformation to drive revenue, but 72% said technical debt would adversely affect their transformation plans.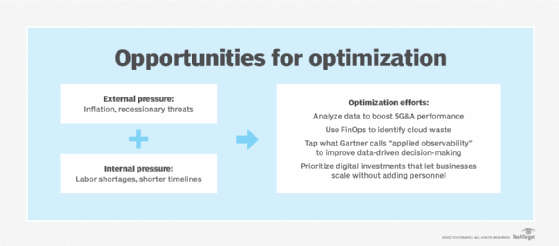 "We see that landscape emerging where we have to get better at helping our customers optimize and then modernize," Cheney said.
The idea is to help customers make smarter buying decisions, reduce cost and use some of the savings to reinvest in future innovation. Microsoft's support of this initiative might seem counterintuitive, he said, given its focus on shrinking cloud costs. But an optimized customer is one that's more likely to invest further in the cloud, he added.
"They feel comfortable they have the governance structure and that they're not going to get ahead of themselves," Cheney said.
Modernization spurs cloud migration
Modernization, meanwhile, sparks cloud migration in the Microsoft environment.
"IT modernization remains a primary area of focus" for midsize businesses, said Sumeet Sabharwal, CEO at Netgain Technology, an MSP based in Minnetonka, Minn.
IT modernization remains a primary area of focus.

Sumeet SabharwalCEO, Netgain Technology
Those companies, which Microsoft defines as SMBs with 101 to 500 employees, are playing catch-up in digitizing their businesses and boosting their security posture, he noted. Azure migration provides a steppingstone for broader digitization and workflow automation, he added.
Netgain helps its healthcare, accounting and legal industry clients elevate employee experience, automate core workflows and reimagine the future of work, Sabharwal said. Migrating customers' existing IT infrastructure to Azure plays a key role in achieving those objectives, he noted.
At Inspire, Microsoft said it is tripling its investment in Azure Migrate and Modernize, a program for accelerating cloud migration. The company also unveiled a $100 million Azure Innovate investment, which aims to help partners win and onboard customers.
"There are millions of Windows and SQL Server licenses on prem," said Nicole Dezen, chief partner officer and corporate vice president, global partner solutions, at Microsoft. "This is a significant opportunity to help those customers by migrating and modernizing their legacy apps to the cloud."
Dezen, speaking at Inspire, said cloud migration puts customers in a position to adopt Microsoft's cloud-based AI services. "Customers can't take full advantage of all of the benefits of AI until they are in the cloud," she said.
Interest in multiparty private offers
Microsoft's multiparty private offers initiative provides the ability to package and sell customized deals through the Microsoft commercial marketplace, a catalog of ISV offerings. The program appears similar to AWS' private offers program, which the hyperscaler launched in 2017 for software sales and expanded the following year for its consulting partners.
Anita Swann, head of global alliances at Logicalis, a technology services provider based in the U.K., said she's interested in the multiparty private offers announcement. The program will open opportunities to work with additional partners and create offerings for customers that drive better business outcomes, she said.
Swann also cited sustainability as an important opportunity as Logicalis grows its Microsoft business. Logicalis works with partners such as Microsoft to deliver offerings that help customers reduce carbon emissions. In addition, Logicalis has committed to becoming carbon neutral with regard to scope 1 and scope 2 emissions by 2025.
John Moore is a writer for TechTarget Editorial covering the CIO role, economic trends and the IT services industry.