Microsoft Ignite highlights future of AI, customer success
Advancements in AI will affect businesses and customers alike. Learn about the future of AI from Microsoft Ignite's Analyst Day, and how it will affect CX and app development.
Imagine a world where AI is no longer a buzzword but an integral part of our daily lives. This vision was brought to life during the Microsoft Ignite Analyst Day 2023, where industry leaders shared their insights on how AI is transforming their industries.
Microsoft Ignite -- held online and in-person from Nov. 14 to 17 -- aims to highlight recent tech innovations, gain insights from product experts and partners and enhance attendees' skills while they build connections with professionals worldwide.
Microsoft held its Analyst Day for Ignite on Nov. 13. It kicked off with Dave Forstrom, Microsoft's head of analyst relations, who set the stage and explored the latest advancements in technology, with a focus on the transformative power of AI. Recent research from TechTarget's Enterprise Strategy Group (ESG) echoes these same thoughts.
Below, discover my key takeaways from each session at Ignite's Analyst Day.
1. AI's role in CX strategies
The first session was called "The Voice of the Customer: Realizing value in the new era of AI" and it explored real-world experiences of companies embracing AI. BJ Moore, CIO and executive vice president of real estate strategy and operations at Providence, and Carl Wilson, senior director of services excellence at Lumen Technologies, shared insights on how AI is reshaping their industries.
They highlighted practical examples of how AI can drive innovation, enhance CX and streamline operations. In our research at ESG, we also see that generative AI affects CX. For example, 38% of respondents in a recent study indicated that chatbot dialog is a top CX use case for AI, and 33% indicated customer analytics is an area of increased investment.
2. Customers' top concerns with AI
Next was the session "Unlocking AI Opportunities for Customers," featuring Deb Cupp, president of Microsoft Americas; Vasu Jakkal, Microsoft's corporate vice president for security, compliance, identity and privacy; and Alysa Taylor, Microsoft's corporate vice president of Azure and industry marketing.
The trio offered a comprehensive overview of the AI landscape, showcasing how Microsoft aims to empower customers with AI technologies. The session covered advancements in security, industry-specific services and the broader effect of AI on businesses.
3. How Microsoft engineers handle AI initiatives
The session "Engineering for the World of AI" was led by three Microsoft executive vice presidents: Scott Guthrie, from the cloud and AI group; Charlie Bell, from security; and Rajesh Jha, from experiences and devices. They took the stage to discuss the engineering efforts behind Microsoft's AI projects.
They offered valuable insights into the development of AI-driven technologies and emphasized the importance of security, compliance and seamless user experiences in the evolving world of AI. When thinking about how organizations implement AI strategies, many of our survey respondents said they are building multipronged approaches to generative AI security and data privacy, and 35% of respondents indicated data security and protection is a top concern.
4. The new AI tool landscape -- including Copilot
The demo for Microsoft 365 Copilot -- a generative AI assistant that helps users create content -- and the following session focused on navigating the future of productivity.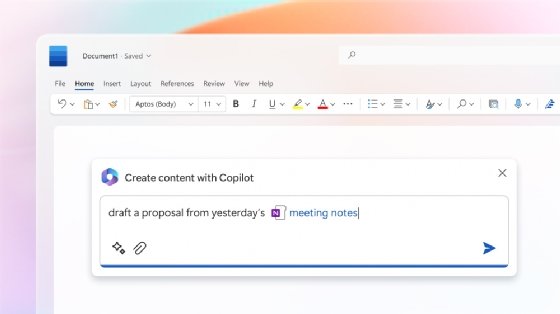 Brad Smith, Microsoft's vice chair and president, unveiled Copilot and discussed how Microsoft aims to shape the future of productivity in the session "Advancing our Future with Technology Responsibly." The session highlighted the latest enhancements to Microsoft 365, demonstrating its goal to aid businesses navigating the challenges of the digital age.
5. How real organizations use AI
In the session "The Voice of the Customer: How AI is Helping Two Digital Natives Achieve Their Goals," speakers discussed how AI is transforming digital natives. Nicole Janssen, co-founder and co-CEO of AltaML, and Andy Pandharikar, founder and CEO of Commerce.AI, shared their journeys with AI and how it can help digital native companies achieve their goals.
The session offered a glimpse into the innovative ways real organizations harness AI to drive success in the modern business landscape. When it comes to investment plans, 47% of our respondents said enhanced code and CX emerged at the top for generative AI use cases in application development.
Microsoft Ignite Analyst Day 2023 focused on AI, and it was evident that AI is not just a technology, but also a transformative force shaping the future. The sessions showcased Microsoft's goal to empower businesses, foster innovation and create a world where AI plays a pivotal role in success. The event left analysts and attendees inspired by the future growth of AI projects and armed with insights into the possibilities that lie ahead in the new era of technology. ESG research aligns with this, and our studies show this growth is just beginning.
Enterprise Strategy Group Principal Analyst Paul Nashawaty has extensive knowledge of digital transformation initiatives, including platform engineering across front-end, back-end, on-premises, and cloud-based applications.
Enterprise Strategy Group is a division of TechTarget. Its analysts have business relationships with technology vendors.