Generative AI adoption to grow with economic confidence
A PwC survey is the latest data point signaling a return to innovation spending, with generative AI adoption in the C-suite's plans. But business leaders remain sensitive to risk.
A C-suite poll suggests organizations feel more confident about the economy as they prioritize technology investment, including generative AI.
PwC's Pulse Survey, published today, reinforces recent reports that point to a shift toward innovation spending -- after months of businesses playing defense amid economic uncertainty. In one promising sign, fewer executives view a recession as inevitable. Only 17% of the business leaders the consultancy polled "strongly agree" there will be a recession in the next six months. That compares with 35% of respondents expecting a recession in PwC's October 2022 Pulse Survey.
In addition, respondents to the August survey ranked "investing in new technologies" as the top strategic business change on tap for the next 12 to 18 months, with 59% identifying that area. Generative AI investment ranked second on the business agenda, with 46% citing the emerging technology. PwC polled 609 U.S. executives, including CIOs, CTOs and CISOs.
"Clearly, there's more optimism that's creeping into companies across the U.S.," said Neil Dhar, U.S. vice chair and consulting co-leader at PwC, during a press briefing on the report. "Companies feel as if they could be more bold, looking out into the future."
Generative AI spending targets growth, efficiency
Generative AI is poised to be a key part of that future, a development that could reward IT services providers that have built specialized services and practices. For example, PwC in April announced a three-year, $1 billion investment in expanding its AI offerings, including the generative branch.
Service providers anticipate customers' AI spending will maintain a dual focus on innovation and optimization -- acquiring a competitive edge before their competitors do while also emphasizing disciplined IT spending.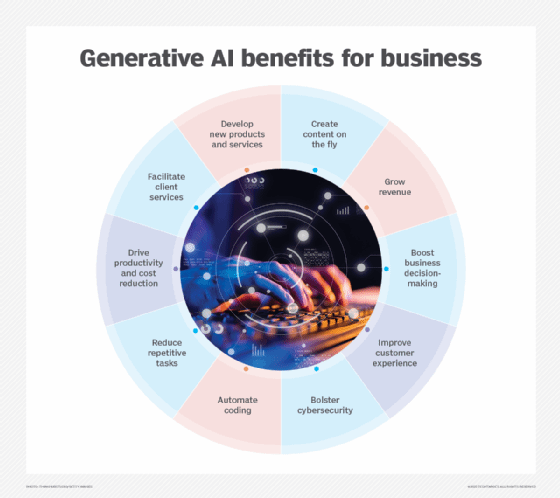 In Dhar's view, this bifurcation boils down to two questions he sees businesses asking: How do they invest to drive productivity and growth? And how do they invest to drive efficiency?
"As executives get more and more comfortable about spending on technology, they're also very focused on 'How do we get the most out of those expenditures?'" he said.
Dhar said business leaders want to get measurable value from new technology. Their top obstacles in doing so include the cost of technology adoption and the need for training talent -- about 85% of the PwC survey respondents identified those areas as challenges.
As a result, business leaders now pursue "selective major technology initiatives, so they have a clear idea of how they're going to get ROI," Dhar said.
Similarly, digital transformation practitioners in recent months have reported a shift from broad-brush initiatives to well-defined projects.
AI influences strategic planning, R&D
Changes to strategic planning ranked third on the list of top C-suite agenda items, according to PwC's survey. And while strategic planning isn't necessarily a technology function, the field will still see the influence of AI and machine learning (ML).
"Strategic planning will be enhanced by AI/ML and GenAI," said Bret Greenstein, data, analytics and AI leader at PwC.
Those technologies will be used "to understand business performance, market and competitive change, and other trends which would require more rapid changes and more precise planning," he added.
R&D is another corporate function where AI plays a role. Here, generative AI use cases include market research, product ideation and requirements generation, Greenstein said. The technology also fits into the Agile software and product lifecycle, including user stories, code generation, testing, documentation and support.
Confidence and caution
While C-suite executives might feel more confident about growth, they continue to keep risk in mind.
"While the odds of a recession may be lower, economic growth is still likely to be uneven," said Wes Bricker, U.S. vice chair and trust solutions co-leader at PwC, also speaking at the press briefing. "And executives are still vigilant around economic risks."
For example, 27% of the PwC survey respondents cited an uncertain macroeconomic environment as a serious business risk, while 28% pointed to margin pressure.
As for the latter risk, lingering inflation continues to threaten corporate earnings.
"Inflation is declining, but remains above policymaker targets," Bricker said. "Many companies may not have sufficient pricing power to sustain their margin."
Half the respondents, meanwhile, cited climate change as a moderate or severe risk. Nearly 70% of executives said they're prepared to comply with sustainability reporting requirements, but less than a quarter said they are actively planning for climate-related disruptions in the next 12 to 18 months, Bricker noted. He said management teams should discuss climate change with their boards and factor it into risk management.
John Moore is a writer for TechTarget Editorial covering the CIO role, economic trends and the IT services industry.