Walmart AI: Retailer taps employees to find GenAI use cases
The Walmart generative AI approach includes learning from its employee-users and soliciting their feedback to discover key applications and refine the technology.
Walmart is crowdsourcing use cases for the company's recently launched generative AI tool, tapping a potential user base of some 50,000 U.S. campus employees.
Last month, the $600 billion-plus retailer began offering My Assistant, available as a desktop or mobile app, to associates who work at corporate facilities. Walmart stated in a LinkedIn post that the generative AI tool will, ideally, free those employees from "monotonous, repetitive tasks" and carve out more time for boosting customer experience.
Drafting content and summarizing large documents are among the envisioned uses for the Walmart AI tool, according to Donna Morris, executive vice president and chief people officer, and Cheryl Ainoa, executive vice president of new businesses and emerging tech, the Walmart executives who co-wrote the LinkedIn post.
Employees help surface generative AI uses
But applications will also bubble up from employees using the tool in their daily activities. Walmart aims to learn from the people who are "doing the work at the ground level," said David Glick, senior vice president of enterprise business services at Walmart.
My belief is GenAI is going to be transformative. It's important for us to understand how it is going to be transformative.

David GlickSenior vice president of enterprise business services, Walmart
"My belief is GenAI is going to be transformative," Glick said. "It's important for us to understand how it is going to be transformative."
Glick elaborated that Walmart plans to gain insight into how campus associates use My Assistant by viewing logs and holding listening sessions to obtain employees' feedback on the following: "What did you do this week using GenAI? Do you think it will scale?"
The objective: discover the most promising applications and business cases for wider deployment. "Once we have crowdsourced a set of things, [we] can pick the most important ones," Glick said.
Glick said the AI technology lends itself to accelerated adoption through approaches such as rapid prototyping. "We can move quickly on things that used to take months or even quarters," he explained.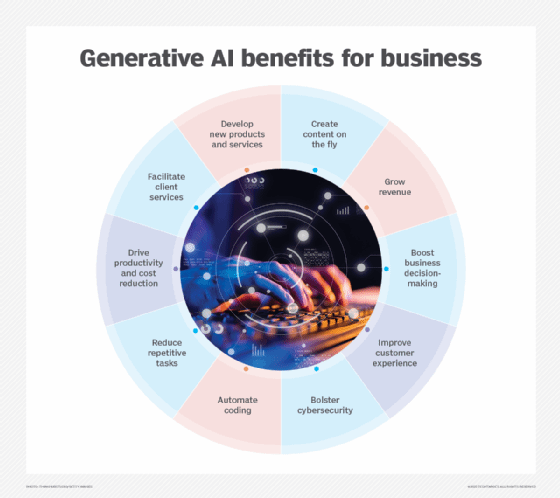 RLHF for refinement
User input will also come into play as Walmart looks to optimize its use of generative AI. Walmart's approach to the technology is to employ large language models (LLMs) from technology providers rather than building its own. As LLMs continue to emerge, Walmart plans to harness multiple models, abstracting them through its own technology layer and offering access through tools such as My Assistant.
Employees who might receive five different answers to a query can rate what they view as the best one. Over time, this approach, known as reinforcement learning with human feedback (RLHF), will provide better answers, Glick said.
Specialized apps to top generative AI spending
About two-thirds of global generative AI software spend will stem from specialized applications that target specific occupations and industry productivity.
Specialized generative AI will reach $79 billion by 2023, 64% of generative AI investment, according to Forrester's "Global AI Software Forecast, 2023 to 2030" report, published in September. Spending on nonspecialized generative AI, characterized by chatbots and communications platforms, will reach $45 million by 2023 for a 36% slice of the market, Forrester reported.
Walmart AI tool rollout
Walmart's My Assistant tool follows other company efforts in generative AI. In June, the company launched its GenAI Playground, which lets Walmart associates experiment with various generative AI models. GenAI Playground also enables tech teams to build models using Walmart data, a company spokesman noted.
My Assistant, meanwhile, is part of Walmart's Me@Campus application, which provides career management, job history and pay information for campus employees. My Assistant integrates generative AI models with Walmart data, supporting campus associates in their daily work.
Such tools are part of the enterprise adoption boom, which also includes other retailers, such as Wayfair.