Getty Images/iStockphoto
Wayfair and the generative AI boom
The online home and furniture retailer is using the technology despite challenges such as unauthorized use of data and maintaining data privacy. It also released a room-planning tool.
To deal with concerns about generative AI, Wayfair's approach is to evaluate the risk and uncertainty associated with the technology while still welcoming ways to use it.
"We're trying to create enough spare capacity, while not distracting everybody from their day jobs, to evaluate these technologies, and then make really intentional decisions," said Wilko Schulz-Mahlendorf, director of pricing and marketing science at Wayfair.
Wayfair's genAI journey
The online home and furniture retailer had already been using generative AI technology for four or five years, applying the technology to create personalized recommendations and aid in product and category searches, Schulz-Mahlendorf said.
However, with the introduction of the modern crop of AI tools and chatbots such as Dall-E and ChatGPT, the conversation at the company turned toward how to audit its chat and conversational interfaces with generative AI technology. The company has also considered ways to help sales and service agents use generative AI to augment some of their work so that they can focus more on engaging customers. Finally, the retailer also is looking at using the technology for marketing purposes to double the content a copywriter can write.
Most of these applications are experimental and in pilot phases, Schulz-Mahlendorf said.
Wayfair is among several big enterprises that have started using generative AI in earnest.
For example, last month, Walmart introduced the Walmart GenAI Playground. The tool enables Walmart associates to use generative AI for various purposes without the added danger of leaking the company's proprietary data to others. Walmart said it uses generative AI to provide associates with answers to HR-related questions and for marketing and social media posts.
Generative AI hype
The generative AI dialogue within many enterprises has changed multiple times just in the past few months, said Sanjay Srivastava, chief digital strategist at Genpact, an IT firm whose range of services includes helping organizations implement AI systems.
Some six months ago, enterprises associated generative AI technologies including OpenAI's ChatGPT and others with the more overarching hype surrounding new technologies, such as the metaverse and NFTs, and viewed generative AI as just another emerging technology, Srivastava said.
And as recently as three months ago, many CIOs were mainly concerned about protecting their organizations and their data from generative AI risks such as inaccurate outputs to prompts and possible theft of intellectual property.
Now, CIOs are looking at generative AI as a technology that can change industries, Srivastava said.
"It's super relevant, and if you're a company that's not looking at it, you're probably not doing the right thing," he said.
The vendor hype in this space is unprecedented, which is exacerbating supplier and tool selection for CIOs as they struggle to discern signal from noise.

Arun ChandrasekaranAnalyst, Gartner
However, despite their willingness to embrace the fast-evolving technology, enterprises are inundated and confused by the dozens of vendors riding the generative AI wave.
"The vendor hype in this space is unprecedented, which is exacerbating supplier and tool selection for CIOs as they struggle to discern signal from noise," Gartner analyst Arun Chandrasekaran said.
Despite the noise, enterprises in specific industries have moved quickly from pilots to early production deployment for applications that include code generation, content generation and document summarization, Chandrasekaran added.
While some enterprises are partnering with generative AI vendors to deploy these tools, others are creating their own.
Build versus buy
Indeed, Wayfair is among those dealing with the question of build versus buy. The company is taking a hybrid approach, considering and using systems from vendors such as Google and OpenAI while also trying to build its own generative AI technology.
"We are staying plugged in and apprised of the emerging technologies," Schulz-Mahlendorf said, adding that in the case of marketing, the company has considered generative AI content-creating technology from Jasper and Writer, along with OpenAI.
"One is not uniformly better than the other," he said. "Some are good at getting the tone. Some are good at factual descriptions. So we're taking kind of an 'all the above' strategy. Let's use the right technology, for the right moment, for the right use case."
Most recently, on July 25, Wayfair introduced Decorify, a new generative AI tool. With Decorify, consumers can upload an image of their space and prompt the tool to reimagine it in different styles.
Wayfair used an open source diffusion model to generate the images for Decorify. The online retailer's custom prompts power each style, and the output has been designed to maintain the architecture and layout of the consumer's space, according to Shrenik Sadalgi, Wayfair's director of R&D.
Besides experimenting with open source AI models and other vendor tools, Wayfair also is weighing the option of building models specific to its data, especially as many creators of generative AI tools face copyright lawsuits. For example, OpenAI and Meta are being sued by authors, including Sarah Silverman, for allegedly training ChatGPT and Llama on illegally acquired data.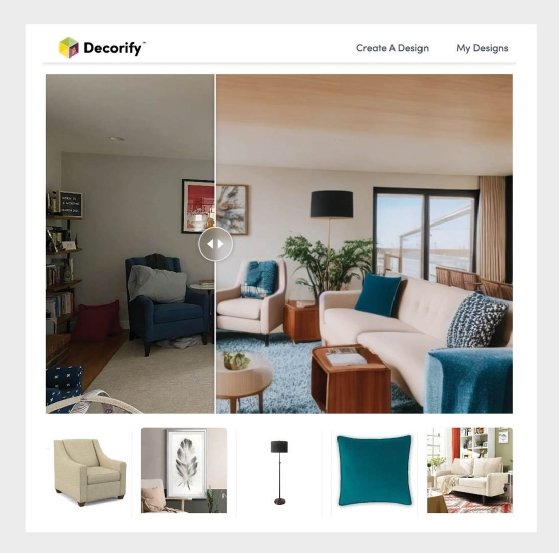 Generative AI challenges
Moreover, some enterprises are concerned that using these tools might inadvertently give others access to their data. This has led enterprises such as Samsung to ban employees from using ChatGPT and similar tools.
"It is challenging," Chandrasekaran said.
While some of the challenges can be minimized with AI governance tools that help with data masking, encryption, access control and protecting privileged information, that technology will only address some of the problems, he said.
"Ensuring adequate training and education to both business and technical stakeholders on responsible AI practices is important," Chandrasekaran continued.
Wayfair's way of handling the problems associated with generative AI is to acknowledge the challenges and the risks, Schulz-Mahlendorf said.
This strategy includes forming councils across different teams such as cybersecurity, technology, legal and PR to evaluate the risk of using a specific generative AI application. Once the risk is assessed, the online retail giant can decide whether to pursue using the application further.
"What we are not doing is avoiding [the technology]," Schulz-Mahlendorf said.
Esther Ajao is a news writer covering artificial intelligence software and systems.