Startup partnerships play bigger role in challenging market
Channel allies become more valuable as startups look for cost-efficient routes to market and vie to stand out in crowded sectors such as cybersecurity.
The links between startups and channel partners have deepened as early-stage companies look to cut costs, supercharge sales and take advantage of established customer relationships in fields such as cybersecurity.
A decade ago, emerging technology companies may not have placed a channel partnership strategy at the top of their to-do lists. But startup partnerships have become more prominent in recent years as a way to rapidly scale young companies. That pattern has endured and, if anything, become more important.
"There is this continuing trend of enterprise technology startups getting to market particularly through channels," said Chad Cardenas, CEO at The Syndicate Group (TSG), a venture firm in Los Angeles that raises capital from ecosystem partners to boost startups' go-to-market strategies.
Startups not selling through the channel "are at a massive disadvantage," he added. Cardenas was previously president and CIO at Trace3, an integrator based in Irvine, Calif.
MIT Sloan startups explore channel
Last week's MIT Sloan CIO Symposium's Innovation Showcase provides several examples of startups' partner ecosystem ties. The annual event features early-stage companies pursuing business with enterprise IT buyers. Kognitos, a San Jose, Calif., startup that participated in this year's Innovation Showcase, aims to cultivate relationships with business and technology consulting partners.
"We have started down that path," said Jason Langone, chief of growth at Kognitos.
Kognitos provides a generative AI platform that automates end-to-end business processes. Partners offer domain and business process expertise for customers hoping to apply generative AI to their operations. Partners are also potential customers for Kognitos' offerings as they explore ways to harness the technology for service delivery.
The investment arm of Wipro, a global systems integrator, is participating in Kognitos' seed round. The $6.75 million in funding will target the expansion of Kognitos' Koncierge platform. Langone said out of five recent customer calls, two were with large service providers.
Kognitos, meanwhile, plans to launch a community integration builder in the second half of 2023, which aims to help customers and partners create custom API integrations.
Another Innovation Showcase company, Alpha Software, also taps channel partners. Richard Rabins, CEO and co-founder at Alpha Software, a low-code/no-code platform provider based in Burlington, Mass., said about 35% of the company's business stems from consulting firms that have existing relationships with enterprises.
Partners provide systems integration capabilities in addition to customer access. Data sharing and integration is a big topic, Rabins said, noting that partners may have expertise in "gluing different solutions or different applications together." Customers use Alpha Software's platform to build mobile apps and partners may have the expertise to tie those apps into IoT devices or Bluetooth beacons.
At Innovation Showcase, Fermyon, based in Longmont, Calif., discussed its cloud computing environment for serverless functions. The company has technology ties with Microsoft 's Azure Kubernetes Service, Docker, and HashiCorp. Matt Butcher, CEO at Fermyon, said the company is also exploring relationships with generative AI companies and may also investigate cloud consultancies.
The latter, he said, "end up being a force multiplier for many organizations" and an avenue for growth.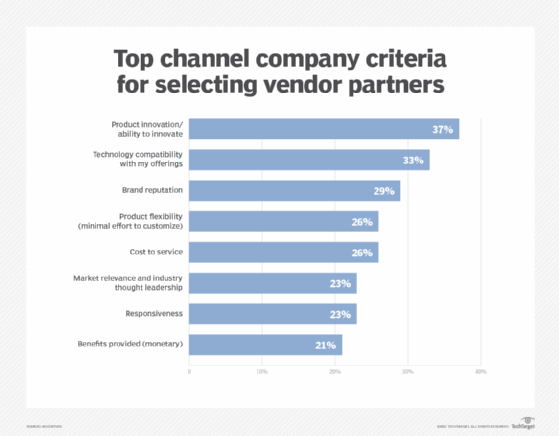 Startup partnerships for sales, marketing
The force-multiplier aspect is a key attraction for startups, with limited sales and marketing resources.
"A startup could build everything internally if they really wanted to hire marketing, sales and engineering in house. But it would be expensive and take a lot of time to accomplish the growth goals," Cardenas said.
A single channel relationship, however, could potentially generate dozens of customer relationships across the installed base.
"You can achieve economies of scale very quickly if you get connected into the right partners," Cardenas said.
Channel partners boost cyber startup
TSG helped connect Grip Security, an early-stage SaaS security company, with ecosystem partners. TSG, which maintains a network of 450 partners, learns about a startup's use case, ideal target customer and value proposition to match them with relevant channel companies, Cardenas said. Channel companies get an opportunity to invest in a promising startup, via TSG, and the startup gains a go-to-market partner.
Getting to the market in a cost- effective manner, and quickly, is more important than ever today.

Chad CardenasCEO at The Syndicate Group
"We wound up making a lot of very key introductions to channel partners," Cardenas said, adding that Grip Security upwardly revised its revenue projection as a result. He said the company's product suits partners because it's easy to demo and deploy.
Cybersecurity providers such as Grip Security have become a large part of TSG's business, although that wasn't necessarily by design, Cardenas said. Most of the company's last 10 investments have occurred under the cyber umbrella. The rate of change in cybersecurity and the multitude of available technologies make IT managers more dependent on channel partners to make decisions on vendors, he noted. That makes partners a valuable conduit for startups vying for attention.
The uncertain economy, with its emphasis on efficiency, also makes the channel an attractive ally for an early-stage company. "Getting to the market in a cost- effective manner, and quickly, is more important than ever today," Cardenas said.