Early-stage companies pursue the practical at CIO event
Startups in the MIT Sloan CIO Symposium's Innovation Showcase said their offerings tackle key enterprise IT concerns, from automating manual processes to cutting cloud costs.
Tech startups are sometimes lumped in with endeavors that, while interesting, may not serve a practical purpose.
The early-stage companies selected as finalists for the MIT Sloan CIO Symposium's Innovation Showcase span a range of emerging technologies, including generative AI, low-code/no-code and serverless cloud. Their accent, however, is on practical problems, such as dealing with the daily flood of business documents, speeding up digital transformation projects and reducing spiraling cloud costs.
The finalists discussed their product offerings this week at MIT Sloan's annual CIO event in Cambridge, Mass. How organizations adapt to change and remain resilient in an uncertain world was a key theme across several panel discussions. The emphasis on dealing flexibly with fast-moving business challenges spilled over into the startups' messaging.
Generative AI platform focuses on documents
Kognitos, an Innovation Showcase finalist based in San Jose, Calif., offers a generative AI platform that takes on business automation. The company's Koncierge product lets users type in how they want a business process to work and an interpreter, built on a proprietary large language model, translates their ideas into libraries of automation code, according to the company.
IT managers, meanwhile, are looking for ways to translate the excitement around generative AI into something that makes a difference for their organizations.
"Right now, the most common conversation we have is with CIOs who have a generative AI initiative, curiosity [or] skunk works projects," said Jason Langone, chief of growth at Kognitos. "They are looking to apply generative AI to their businesses in a way that drives value."
Against that backdrop, document-heavy processes have emerged as a key use case. Langone cited invoices, bills of lading and insurance claims as examples. A business receives such documents via email, and a person must read the message, understand the tone, look at the attachments and submit the embedded documents to the appropriate system for processing, he said.
Kognitos automation code, however, calls APIs to extract information from documents and email. The resulting efficiency boost is important for organizations that face rising volumes of invoices but aren't in a position to expand the workforce, Langone said.
Increased efficiency also stems from Kognitos' exception-management approach. When the platform encounters something unexpected, it prompts business users to address the exception and then learns the process logic for handling similar cases.
Generative AI's exception management role offers an alternative to more time-consuming remedies. "Otherwise, someone has to write code to fix something," Langone said.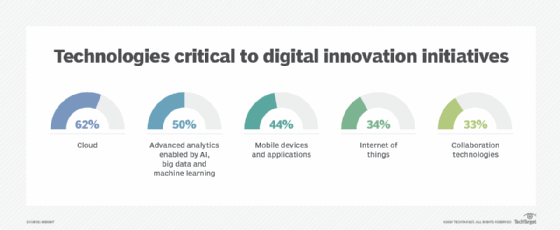 Low-code/no-code platform speeds transformation
Alpha Software, based in Burlington, Mass., provides a low-code platform for web and mobile application development, and a no-code platform that lets non-developers create data collection apps for mobile devices. The Innovation Showcase finalist aims to offer a faster path to digitalization than conventional software development.
Most of the people who have successfully made the transition to cloud are in the phase where they are just burning compute cycles.

Matt ButcherCo-founder and CEO at Fermyon
CIOs are under pressure to take paper-based manual systems and create their digital equivalents as quickly as possible, said Richard Rabins, CEO and co-founder at Alpha Software. But that's a difficult problem to solve for organizations writing code in Java, .Net, C or C# or using a professional services firm to develop software, he noted.
"The basic challenge is that using traditional methods [are] taking way too long … and costing too much," Rabins said.
However, a project that takes six months to complete using traditional approaches could take six weeks with a low-code offering and, possibly, as little as six hours with no-code, he added.
Manual systems in need of modernization exist in every industry. But Alpha Software zeros in on specific segments. For example, the company targets quality control (QC) as a critical and data-intensive aspect of manufacturing. Rabins cited one heavily automated manufacturing plant that was nevertheless using a "monster paper-based form" to collect QC information.
But once such forms are digitalized, organizations can initiate a QC workflow, notifying the appropriate parties when quality issues arise and closing the loop on resolution. Data analytics also becomes possible, Rabins noted.
Another emphasis is the safety and inspection field, where paper-based data collection methods are also common. "We are putting effort in anything that requires dealing with safety, testing and quality," Rabins said.
Serverless cloud targets waste compute cycles
Fermyon, a company with headquarters in Longmont, Colo., offers a cloud computing environment for serverless functions, pieces of code that perform a single function within an application. The company's Spin developer tool is based on WebAssembly, a language originally designed for building applications that run on browsers now making its way into cloud-native applications.
Matt Butcher, co-founder and CEO at Fermyon, said neither virtual machines nor containers were the optimal setting for the increasingly popular serverless model. Fermyon's technology stack, he said, is optimized for serverless functions that often run in a matter of milliseconds, returning a response to a request and shutting down.
What's in it for CIOs? Higher efficiency and lower power consumption. Butcher said the project leading to Fermyon's launch stemmed from realization of wasteful computer use in the Microsoft Azure cloud. Azure architects he spoke with said their greatest frustration was racking servers as fast as possible and experiencing compute utilization rates below 20%.
"Most of the people who have successfully made the transition to cloud are in the phase where they are just burning compute cycles," Butcher said. On top of that, the cloud is coming under economic pressure for the first time, he added.
The Innovation Showcase company, however, makes better use of compute resources, Butcher said. Services, for example, only run when handling a request and can scale down to zero between requests, which minimizes consumption, according to the company.