Early-stage companies reach out to channel partners
Bigleaf, CloudZero, Rescale are among the early-stage companies investigating alliances with channel partners as they seek help with sales and support.
Bigleaf Networks, CloudZero and Rescale work in the divergent fields of SD-WAN technology, serverless computing and cloud-based high-performance computing, yet they have one thing in common: They are all early-stage companies working with partners or planning to do so.
Those three companies were among the 10 finalists selected for the MIT Sloan CIO Symposium's Innovation Showcase, which highlights startups on the cutting edge. This year's event continued the trend in which early-stage companies cultivate channel plans soon after their formation, tapping partners to bolster their startup marketing initiatives.
For Joel Mulkey, founder and CEO at Bigleaf Networks, based in Beaverton, Ore., the channel wasn't his first thought when founding the company in 2012. His immediate concern was developing a product that met market needs. Bigleaf provides an SD-WAN platform that aims to optimize internet and cloud performance.
But in the first year of operation, Mulkey said, a question arose: "How are we going to bring this to market?"
The answer for Bigleaf is channel companies.
"Channel partners are huge for us," Mulkey said. "We sell almost entirely through the channel."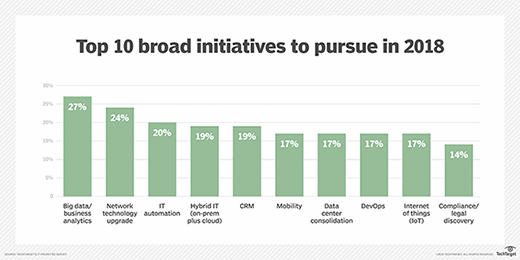 Bigleaf expands channel roster
Bigleaf's primary channel has been telecom services distributors and telecom agents. The company's partners include CNSG, a master telecommunications distributor; Intelisys Corp., a telecom network and cloud services distributor; and Telarus, a value-added networking, unified communications and cloud services distributor.
"We are investing more and more there," Mulkey said. "We are seeing a lot of good traction."
Recently, Bigleaf has been adding cloud services providers to its partner roster. In April 2018, the company announced a partnership with Star2Star Communications, a cloud communications solutions provider. And in May 2018, the company joined forces with Intermedia, a cloud communications and collaboration provider.
Channel partners are huge for us.

Joel Mulkeyfounder and CEO, Bigleaf Networks
Mulkey said such partners offer extensive cloud-based applications portfolios, making them "a perfect fit for our technology."
Rescale cultivates partner ecosystem
Bigleaf's channel focus is present in other early-stage companies.
Rescale Inc., a San Francisco company that runs customers' simulation and high-performance computing (HPC) workloads in the cloud, is also building a partner ecosystem. The company's Rescale Partner Network includes channel partners, which market and sell the company's ScaleX platform; technology partners, which embed their products or services in Rescale's HPC cloud; and OEM partners, which provide their customers with a customized ScaleX HPC offering under the partners' brand.
Joris Poort, co-founder and CEO at Rescale, noted the varied nature of his company's partnerships. He said Rescale can help partners deliver their products or services in the cloud and hybrid cloud deployments, as well as meet customer demand for consumption-based models. Rescale, he added, can also collaborate with partners in building new HPC offerings in their cloud programs and practices.
Rescale's approach "is to work with each partner to understand their business, their goals and priorities, and jointly define a partner plan to execute on," Poort said.
One recent partner is EDRMedeso, a technical simulation software, training and consulting firm in Scandinavia and the United Kingdom. Under the arrangement, EDRMedeso's simulation engineers will be able to access compute resources on the ScaleX platform.
Poort said his company's plans to boost its partner program, offering pricing workshops and joint go-to-market programs. Other investments call for developing new partner-specific features and functionality in the ScaleX platform.
CloudZero eyes broader partner base
CloudZero, a Boston company that provides a serverless reliability management platform, is currently working closely with Amazon Web Services and is "keeping an eye on opportunities to work with other partners," said Erik Peterson, the company's CEO.
Managed service providers (MSPs) could become part of CloudZero's partnering mix.
"CloudZero is a SaaS platform and its architecture enables it to be leveraged for various solutions," Peterson said. "For example, MSPs and integrators would find it valuable because it would enable them to support the serverless operations and migration efforts of current customers."
The early-stage companies will continue to refine their channel plans this year. Add them to the list of potential allies for partners looking for a source of technology differentiation.
Dig Deeper on Emerging technologies for MSPs