Getty Images
Server prices on the rise as inflation still complicates IT
Technology products remain a mixed inflationary bag as server prices increase, storage costs decline and equipment delivery lead times complicate matters in networking.
Server prices increased for the second consecutive month while storage moved in the opposite direction, according to U.S. government data.
The host computer and server category saw a 2.8% month-over-month price hike in January, following a 2.1% increase in December 2022, according to the Bureau of Labor Statistics' Producer Price Index (PPI). The PPI update, released today, also revealed a 1.4% decline for computer storage devices. Prices in that sector had been on the rise in November and December.
The numbers underscore continued volatility in the IT sector and the broader economy, where inflation persists. Overall, the PPI rose 0.7% in January, with producer prices for goods leading the way with a 1.2% increase. The government said increasing gasoline prices contributed to nearly a third of the uptick in the goods index.
Server prices rise, but chips could fall
The increase in server costs likely reflects a number of trends, from lingering component shortages to increasing logistics costs due to higher energy prices.
"The host computer server price PPI increase is a byproduct of the ongoing combination of supply chain shortages, increased transportation costs and also a tight labor market where labor costs have increased," said Kevin Beasley, CIO at VAI, an ERP software company based in Ronkonkoma, N.Y.
A downward pricing influence could be in the offing, however. Earlier this month, Gaurav Gupta, vice president analyst at Gartner, cited declining semiconductor demand in consumer markets, noting that the same pattern could surface in servers, storage and networking during 2023. That development would "further ease inventory imbalances and reduce pricing," he said in a Gartner Q&A.
A drop in demand amid higher supply levels -- a trend occurring in the NAND market -- might already be in play in storage pricing. Beasley pointed to "additional capacities of plants coming online" as influencing declining storage prices.
Flash pricing trends could also influence server pricing. "Changes in memory/flash pricing are likely to be reflected through by server OEMs, as this is a significant contributor to server cost and is configurable at time of purchase," said Alan Priestley, vice president analyst at Gartner.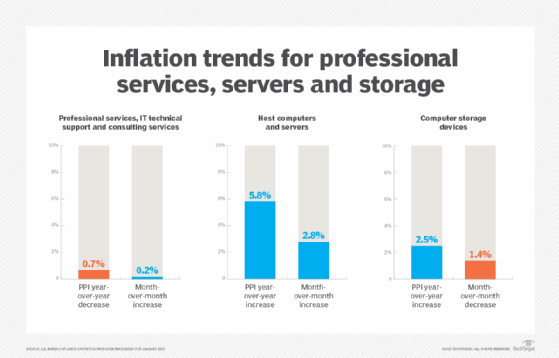 Network gear and inflationary trends
Component shortages have led to long product lead times, with networking gear taking a particularly hard hit. Customers ordering products have been receiving deliveries a year later, with CIOs citing continuing supply chain issues as one of their top 2023 challenges.
Those lead times mean that vendor price changes can take a while to work their way through the system. Research from Dell'Oro Group, for example, forecasts rising prices for the campus switch category, with backlogs playing a role. Until late last year, vendors were still shipping products that customers ordered before list price increases took effect, noted Sameh Boujelbene, vice president at Dell'Oro Group. Vendors, however, are now beginning to draw upon a newer backlog reflecting higher prices. Rising prices will contribute to what Dell'Oro expects to be record revenue for campus switching gear in 2023.
Cisco this week reported second-quarter 2023 fiscal year revenue of $13.6 billion, a 7% revenue increase. In an earnings call, Scott Herren, Cisco's CFO, said switching revenue saw double-digit growth, noting "strength in campus switching."
Boujelbene said rising prices might have been a factor in Cisco's revenue increase, but she believes a material portion of the backlog released in fiscal Q2 was still from orders placed before the list price increase. Instead, she attributed Cisco's campus switching performance to an improvement in supply and lead time, which resulted from product-redesigning efforts that began in 2022.
Cisco redesigned several products to lessen the effects of component shortages.