7 customer experience trends to have on your radar in 2023
Customer experience trends like AI, customer data management and loyalty programs can all help organizations ensure they can attract and keep customers.
Customer experience can make or break a company, yet so many brands struggle to provide meaningful interactions -- although it's not for lack of trying.
Over 65% of companies plan to increase their CX technology spending this year, according to Metrigy, as leaders know how CX affects the bottom line. Customers and contact center managers agree that interactions influence customer loyalty, and how consumers perceive the brand directly affects the company's revenue.
However, the modern customer experience landscape is fraught. Customers are losing patience, ready to hop over to a competitor after small infractions -- even yelling at, swearing at or hanging up on customer service agents. Customers are driven by emotions, and companies are driven by profit. CX teams can close this gap if they provide personalized experiences and improve customer interactions.
As companies continue to invest in CX, they should stay on top of what's new to the market. Explore the top seven customer experience trends to watch in 2023.
1. Collecting and analyzing customer data for better insights
CX teams can understand what customers expect and need from their organization with customer data and analytics. Customer service leaders noted this as a top priority in Gartner's "2023 Top Priorities for Customer Service & Support Leaders" report.
Most marketers already use customer data in their decision-making. As organizations work toward their business goals, they will continue to collect customer data across channels -- including social media and feedback surveys -- and use it to improve their CX strategies.
While surveys have their place, they're no longer the most viable way to measure customer feedback. The typical CX survey only samples 7% of a company's customers, according to a McKinsey survey, which is not enough to get an accurate picture of customers' needs. As predictive analytics continue to gain momentum in customer service, organizations will rely on predictive customer scores and insight engines to help employees foster customer loyalty.
2. Using AI to address staffing shortages
Contact centers suffer from high attrition -- or churn -- rates, meaning phone lines and chat centers are often understaffed. Additionally, during a fragile economy, customer service leaders may not have the budget to increase staffing. As a result, customers may end up waiting longer than normal for routine inquiries, such as checking order statuses or troubleshooting issues.
To combat staffing shortages, organizations can increase self-service options and use chatbots to respond to user requests. For example, customers may ask a chatbot how to assemble a new desk they purchased, and the chatbot could direct them to a video tutorial.
3. Continued investment in customer loyalty
To ensure customers return, organizations are relying on customer loyalty programs. These programs can benefit customers as much as organizations, and many customers expect loyalty programs to help them weather an economic crisis by keeping products or services affordable.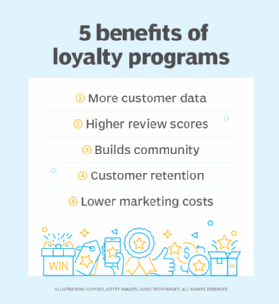 Additionally, organizations continue to increase their investments in customer retention. For many businesses, this may mean outsourcing some of their technology needs, such as using a third-party vendor.
4. Hyper-personalization for meaningful experiences
Customers increasingly want personalized experiences, and they want them to be meaningful.
Hyper-personalization uses real-time customer data, predictive analytics, AI and automation to anticipate the next best action or offer to put in front of a customer. It markets to customers as individuals -- not segments -- and integrates multiple touchpoints so the customer gets an experience tailored to how they shop.
5. Increasing protections for personal information
As personalization moves to the next level, so do measures to protect consumer privacy.
For the modern customer experience, organizations must increasingly adopt safeguards for customer data.
The impending death of the third-party cookie, coupled with the fact that consumers worry about the safety of their online data, means organizations must take measures to protect personal information -- and not just sensitive data, as regulations require. For the modern customer experience, organizations must increasingly adopt safeguards for customer data, such as encryption and malware or antivirus protections. Businesses can't afford to lose customers after a data breach.
6. Blurred lines between physical and digital experiences
Customers expect to move seamlessly through both physical and digital channels. They've adapted to QR codes in restaurants and stores, meaning they understand phygital experiences. These experiences are here to stay, so organizations should aim to make them more immersive and consistent, regardless of channel.
As part of this customer experience trend, organizations will increasingly use augmented and virtual reality technologies for try-before-you-buy experiences. This initiative will move toward virtual worlds, such as JP Morgan's virtual Onyx lounge, where the bank can run its services in the metaverse, and Fender's Stratoverse, which lets visitors explore a guitar-shaped island and join a scavenger hunt.
7. Improved customer service
To foster customer loyalty, good customer service must remain a priority, regardless of the technology layered on top of it. If customers lose patience and hang up when customer support can't solve their problems, they may find a new company to support.
To keep customers, organizations should continue to invest in their contact centers. They may continue this trend further as they realize the value of repeat customers.
Dig Deeper on Customer experience management