Reference
CIO job description: Chief information officer responsibilities
Chief information officer is a C-suite job title given to the executive in charge of information technology initiatives and strategy. The CIO oversees the computer systems required to support the organization's unique objectives and goals.
The CIO role was established in the 1980s. At that time, the CIO primarily focused on managing technical projects, launching systems and using technology to increase efficiency and productivity and cut costs. The job evolved as the storage, transmission and analysis of electronic information grew in importance in enterprises.
The role of these corporate leaders has continued to expand. They have become key contributors in how technology could be used to further business objectives and grow the top and bottom lines. CIOs now lead digital transformation initiatives, as well as efforts that result in broad organizational change.
In recent decades, technology has become key to advancing product and service innovation and contributing to business growth. As a result, CIOs have forged closer ties with the business side of their organizations. Various new technologies are driving changes in the enterprise, including in the cloud, data analytics, DevOps, the internet of things and artificial intelligence.
As new technologies emerge and digital transformation accelerates, CIOs have had to develop skills that go beyond traditional technology management. CIOs have taken on increased responsibilities. And in large organizations, they have typically delegated responsibility for day-to-day IT operations to deputies. These technology-focused specialists often manage specific areas of IT.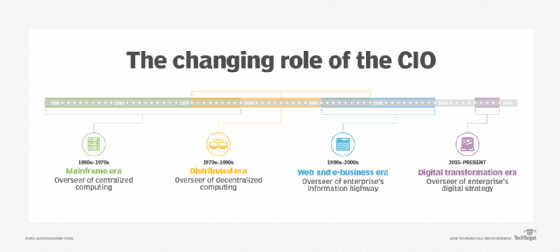 CIO job description and duties
The responsibilities of CIOs vary according to the organization, industry and region in which they work. The chief information officer at one organization could have an entirely different set of responsibilities from the CIO down the street.
CIOs in most organizations are responsible for the IT and computer systems that support enterprise goals. It is the CIO's job to innovate, collaborate, balance the IT budget and motivate IT staff.
The CIO's responsibilities include the following:
managing IT staff and developing department goals;
developing and overseeing the IT budget;
planning, deploying and maintaining IT systems and operations;
managing the organization's software development needs
developing IT policies, procedures and best practices
staying updated on IT trends and emerging technologies;
developing and enforcing IT best practices across the organization;
ensuring IT strategies and processes support company-wide goals;
overseeing relationships with vendors, contractors and service providers; and
explaining to the board of directors and other executives the benefits and risks of new IT-related projects.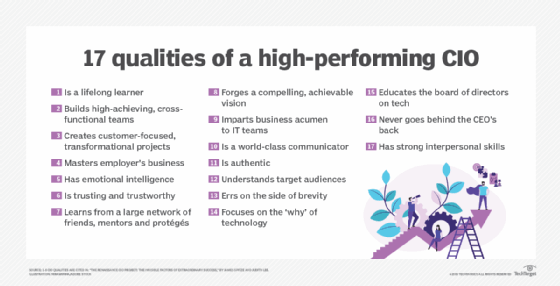 Who does a CIO work with?
In many enterprise organizations, the CIO reports to the chief executive officer (CEO). At some companies, the CIO has a seat on the executive board. CIOs often have close relationships with several other C-level executives, including the following:
chief marketing officer
chief financial officer
chief supply chain officer
chief human resources officer
CIOs also work closely with the chief technology officer, who typically focuses on products to meet customer needs. They can have overlapping responsibilities with chief security officers and chief digital officers in companies that have those positions.
Requirements and qualifications
The educational background of CIOs can vary. However, they usually have at least a bachelor's degree.
Traditional college majors for this position include IT, computer science, management information systems, IT management and project management. CIOs may come from other technology disciplines -- including networking, data science or security.
Some companies seek to hire CIOs with graduate degrees in fields such as IT management, project management and computer information systems. Others look for candidates who have a Master of Business Administration degree with an emphasis on IT.
CIOs do not have to have technical degrees to lead an IT organization. With sufficient technical knowledge, people without a degree or with a non-tech degree can run these organizations. In some cases, this technical knowhow can come from on-the-job learning.
Regardless of their educational background, CIOs must be able to monitor and understand technology trends and tap the knowledge of technology experts. Other skills and expertise that can be useful in the top tech job include the following:
legal expertise
corporate finance
data management
vendor and partner management
project management
compliance
security
Learn more about how to be an effective CIO
Key CIO skills
Organizations are looking for CIOs with skills in two important categories: hard skills and soft skills.
What hard skills should a CIO have?
These are skills that involve specific, teachable abilities required to do a certain job. CIO job postings often ask that applicants have hard skills such as these:
proficiency in establishing IT services framework and IT security policies;
ability to recruit and manage IT staff members;

project management

skills;

budget management skills;
aptitude for customer engagement analysis; and
ability to establish partnerships with service providers and vendors.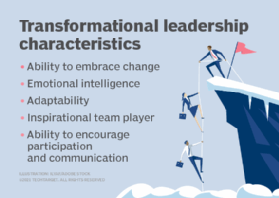 What soft skills should a CIO have?
Soft skills encompass an individual's ability to engage with others. They include empathy, optimism, integrity, teamwork and humor. All these attributes contribute to a person's leadership and management abilities, both of which are vital parts of the CIO job.
One important aspect of the CIO job is selling the benefits of technology and the need for digital transformation to a company's executives and board of directors. Given that, communications and interpersonal skills are especially important. These skills not only enhance an IT leader's relationships with other executives and their IT staff members, but they also improve job performance and career prospects.
Salary information
CIO salaries vary according to several factors, including the following:
level of education
experience
range of skills
location
industry
type and size of the organization
According to Salary.com, the average base salary for CIOs is $125,524. However, salaries can vary from $83,064 to $150,982. Salary.com said the average total cash compensation -- base salary plus bonus and profit sharing -- for CIOs at $237,956. That rate can range from $158,906 to $285,879.
As their jobs evolve and require disparate skillsets, CIOs must be flexible.
Indeed.com pegged the average base salary for a CIO at $122,002 a year and profit-sharing at $21,200. This would be in addition to other benefits, including 401-K matching, paid time off and medical insurance.
According to Dice.com, which hosts a database of technology jobs, the average yearly salary for IT management roles -- including the CIO and CTO -- in 2020 was $143,416 in the United States. Dice does not publish a separate figure for CIO pay.
Job outlook
As a member of an organization's executive team, the CIO must have strong business acumen, outstanding communication skills, strategic planning skills and knowledge of an organization's internal operations and technology initiatives. This became clear as the COVID-19 pandemic forced further evolution in the CIO job. As the workforce went remote and customer interaction changed, CIOs had to focus even more on business operations and how IT could make it more productive, cost-efficient and secure.
The role of the CIO will continue to evolve. CIOs will have to pay attention to several IT trends, according to Niel Nickolaisen, SearchCIO contributor and senior vice president and CIO at O.C. Tanner Co. These trends include the emergence of a services-centric application architecture to replace the large, monolithic enterprise application. Another trend that can't be ignored is the ever-quickening pace of technology and business change. The advantage in IT is speed, Nickolaisen said, and CIOs should focus on innovation for competitive advantage.
As their jobs evolve and require disparate skillsets, CIOs must be flexible. They will have to draw on their own diverse strengths and those of their colleagues, teams and partners.
Collaboration will be key, and duties and job titles will overlap. When working with their teams, CIOs may have to shift their focus from talent acquisition to talent development on the job and through training programs.
Find out more about the evolution of the CIO job over the last 40 years and the role of the CIO today in this in-depth review.
This was last updated in
March 2022