CIO presentation to the board of directors: Candid tips from CIOs
Board presentations can be scary. The good news is CIOs can't go too wrong in a climate where boards are desperate to learn about tech. Expert advice from CIOs will help you shine.
Making a presentation to the board of directors can be a minefield for CIOs. Navigate it successfully, and you emerge as a business leader -- and as a potential candidate for another company's board. Get tripped up, and your reputation as a business pacesetter can take a hit. But, in today's technology-centric business climate, the days are long gone when presenting to the board upped the odds of a CIO's getting fired.
"Ten years ago, that might have been possible," said Wayne Sadin, chief digital officer and CTO of Affinitas Life, a senior living company based in New York. "Today, just telling the story of IT can only help; telling it well can help more."
Sadin currently serves as an advisory board member for two IT services companies, and he has been a National Association of Corporate Directors fellow since 2012. In his experience, many boards of directors today are "scared to death" by technology. They know it is critical to the business, but are confused by it.
"These are folks who grew up as managers 30 years ago," he said. They know finance and operations, but "they never dealt with technology" -- or with IT leaders.
Sadin noted that, 30 years ago, he wore a white coat and walked on a raised floor in a room with tiny windows -- the better to see the mainframe screens.
"That's what a lot of board members think when they think of technology. Now, we're telling them we've got to manage digital interaction, IoT, have AI that is smart enough to run your factories or cars -- and they don't have a clue," Sadin said. CIOs should view a presentation to the board of directors as an opportunity to translate "what technology can do for the business."
Jay Ferro, CIO of Quikrete Companies, a large manufacturer of packaged concrete based in Atlanta, is a board director for two startups and two not-for-profits. He said he is finding more boards are demanding that CIOs be present at meetings.
"All companies are, to a certain extent, tech companies, so there is really no reason for any board not to be interested in the technology strategy of an organization," he said.
Sadin and Ferro were among the experts who offered advice on maximizing an appearance before the board at a recent event for IT leaders held at Boston College and moderated by Ginny Hamilton, community manager for The Enterprisers Project at Red Hat, based in Raleigh, N.C.
Here is a rundown of the panel's expert advice, including which IT topics are of most interest to boards, how CIOs get their foot in the door, tips on demeanor and speaking style, and the importance of not upstaging or undermining your CEO.
Cybersecurity: Board of directors' top concern
"Cybersecurity, cybersecurity, cybersecurity, cybersecurity and anything that puts the company at risk," Sadin said in answer to an audience question about the IT topics of chief concern to boards of directors.
Calibrating and mitigating a company's risk are among the top fiduciary responsibilities of board members -- and getting it wrong can put them in jail.
The panelists agreed, however, that while cybersecurity is "what gets you in the door," as Sadin put it, CIOs should view the security conversation as the steppingstone to a broader discussion about two other current topics of high interest to boards: growth and innovation.
"Once the board realizes you have command of the business beyond its risk -- which is the No. 1 thing they are interested in -- you can land and expand," Ferro said.
Tim Crawford, the CIO strategic adviser at AVOA and host of the podcast "CIO In the Know," said he's been privy to a number of CIO presentations on cybersecurity to the board.
"They are all over the map, from CIOs who have had no interaction with the board" to old hands who "try to scare the bejesus out of them just to open up the purse strings and get money, which they ultimately may use for other purposes," Crawford said.
Asked if that gambit was a legitimate strategy, Crawford said, "It works for them, but it is not something I would recommend."
Indeed, transparency and never lying to the board -- especially when presenting bad news -- were cited as givens by the panel.
An audience question from Isaac Sacolick, president of StarCIO and a former CIO at McGraw-Hill Construction and Businessweek, added another subtlety to the discussion around board interest in cybersecurity.
"Let's say you have an interest [in investing more] in cyber, and your CEO and C-suite want to invest in growth and innovation. Can you use the board to influence management decisions?" Sacolick asked.
"The CIO is not in the position to use that leverage. My guidance would be to never go down that path," Crawford advised.
Sadin said those situations are rare in his experience. "Boards don't manage; they govern," so it is unlikely that boards will be debating with the CIO about strategy anyway, he said.
Unless there is fraud, in which case the CIO should raise that with the audit committee and not before the whole board, CIOs should think long and hard about doing an end run around their CEOs when presenting to the board, the panel argued.
CEO role in CIO presentations to the board of directors
That's because, in almost every case, CEOs are the ones who bring CIOs to the dance, the panel said.
Establishing a "relationship of trust" with the CEO is a prerequisite for presenting to the board of directors, said Ferro, who recounted an experience that mirrored the exact scenario raised by Sacolick.
As a CIO at a large enterprise, Ferro said he was approached by the chair of the company's audit committee and told that, if he needed more money for cybersecurity, he should let that person know. Ferro and his CEO had agreed cybersecurity could use more money, but it was not the top priority for the CEO.
"Now, imagine that conversation. I have a CEO who won't give me everything I want. Do I ask [the audit chair] to put some pressure on [the CEO] to get me those dollars?" Ferro said. The answer was and should always be no, according to Ferro.
"I danced around it. I said, 'We were making significant investments. We're making terrific progress. And if something comes up, I will reach out to you.' Then, I went back to the CEO and said, 'By the way, this is what [so-and-so] just said, and I said we are making terrific progress,'" Ferro recounted. "The CEO rolled his eyes and said, 'Thank you for sharing that with me.'"
He added that CIOs should not lie in situations like this. If necessary, they can say, "I'll get back to you." But going around the CEO is a "ticking time bomb. Remember who pays you."
The panel agreed it is important to respect the chain of command in interactions with the board. In situations where CIOs, with the CEO's blessing, are presenting to a board member tête-à-tête, "just make sure that whatever you say is the same as what you would say if the CEO were in the room," Crawford added.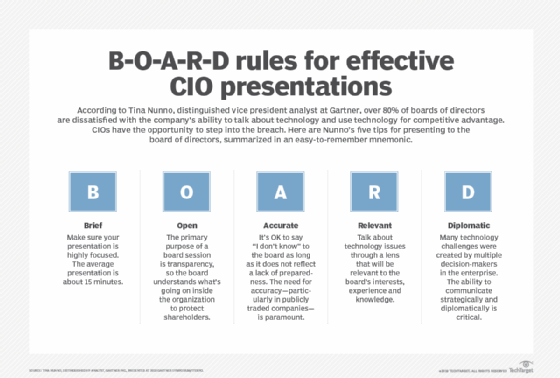 Keys to effective board communication
When presenting to the board of directors, CIOs must remember that the job is not to talk about technology, but about the opportunities technology offers the business, including being a vehicle for business model transformation.
Communicating effectively requires knowing your audience. The panelists agreed it is important to do your homework about the board members to understand what motivates them and what their interests are -- and peg your talk to their experience.
It is important to remember that board members will also do their homework before meetings, reviewing notes from previous meetings to remind them what was said and what was promised. They are looking at the long-term narrative.
"If you are presenting points in time, and you're not showing improvement, you're going to lose them," Ferro said.
Board members are typically compensated for their time. The panel cautioned the CIO audience to beware the boardroom newbie, eager to show his or her worth. "They will dive in and ask a million questions, and you need to be prepared for that," Ferro said.
Act like you belong
Finally, keep your cool.
"Some CIOs, when they get their chance [to present], they think it is their one shot and get diarrhea of the mouth: 'Oh, I'm at a board meeting. I can't believe it, and I'm going to show them how smart I am.' For God's sake, do your homework and don't look around starry-eyed," Ferro said. "Act like you've been there before."
Acting like you've been there before will not only raise your profile, Ferro said, but also redound to the company's benefit.
"I've had CEOs come to me and say, 'You made us all look really good. Thank you.' And it wasn't because I was amazing; it was because I showed the board that there is a senior executive at the wheel for IT."
Four tips from CIOs on how to ace your presentation to the board of directors
1. Be transparent: Don't game the board. Knowing that cybersecurity is a top concern, a CIO might be tempted to exaggerate the company's cyber-risk in order to get more money -- some of which then could be funneled to other IT imperatives, like innovation. While this might work, the panel advised against it.
2. Know your audience: Do your research on board members. What are their backgrounds? What motivates them? What is their business and technology experience? Find ways to connect technology to things they're passionate about.
3. Talk business opportunity, not technology: Many board members do not understand what technology can do for the business. A board appearance is a CIO's opportunity to explain how technology can meet business goals and drive new ones. Show the board you are a business executive first, technology expert second.
4. Remember who pays you: Your CEO is a gateway to the board: As IT risk and opportunity have become hot board issues, CIOs may be approached by board members for information about how the company is spending money on tech. Respect the chain of command, and keep your CEO informed.