8 top CIO trends and priorities for 2023
CIOs face a tough challenge in 2023 as they balance the need for technology investment and the need for fiscal prudence. Business agility is key.
Enterprises worldwide are making massive changes to their business operations and in how they provision services as they continue to deal with fallout from the COVID-19 pandemic and navigate uncertain economic conditions.
The threat of a recession is pushing companies to sharpen their focus on the bottom line and on delivering practical value in tandem with efforts to grow the customer base. As a result, CIOs find themselves having to balance two sometimes competing needs in 2023: supporting new services to gain a competitive advantage and cutting costs.
One solution for many enterprises is to shift more core business applications to the cloud and consolidate their tech stacks to gain efficiency. Moving systems to the cloud also promises to open new analytics opportunities, providing companies better insight amid uncertain economic conditions.
The upshot is that, in 2023, CIOs are under pressure to find technology that can support business agility.
Here are eight key industry trends and priorities CIOs will need to address in 2023.
1. Adopting a single technology vision
Sush Apshankar, practice lead for advanced analytics and AI/ML at technology research and advisory firm ISG, said he expects more CIOs to establish a single technology vision. This will entail a change in how many large global enterprises have dealt with acquired companies and with multiple lines of business in the past, which was to let them keep their own technology stacks. In 2023, CIOs will be increasingly tasked with consolidating these tech stacks to improve business performance.
"Establishing a single technology vision is easier said than done," Apshankar said. CIOs will have to work closely with C-level and other business leaders to define which set of technologies -- for cloud environments, ERP systems, business intelligence (BI) platforms and CRM tools -- will be the mainstay of the organization. Legacy and inherited technologies will be integrated into these mainstay technologies.
The challenges are multifold. Each cloud, ERP, BI and CRM system has its own benefits. The teams and business units that have been using legacy systems will need training on new systems. Data migration and system integration take time, effort and specialty skills.
2. Preparing for next-gen technology services
CIOs are also laying the groundwork to adopt a variety of promising technologies in different states of maturity. They include next-generation analytics, IoT, the metaverse and Web 3.0.
"In our experience, most enterprises are running multiple parallel initiatives on the future state of technology services, ranging from operational efficiencies to the metaverse environment," Apshankar said.
In vetting these new technologies, CIOs will need to consider the potential they offer for cost savings and new monetization opportunities related to offering better customer experiences. But this can be a tricky balancing act.
"When businesses focus on multiple technology initiatives, they lose momentum and efficiencies," Apshankar said. The CIO needs to direct the enterprise's resources so that all these technology initiatives are seamlessly interwoven and implemented before they lose their impact.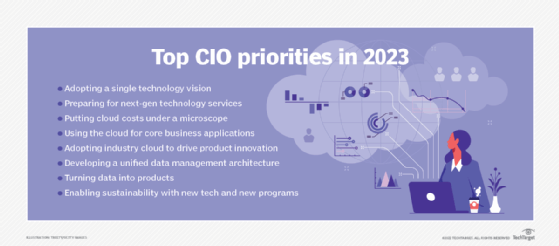 3. Putting cloud costs under a microscope
At the same time, the current economic turmoil -- including layoffs and lowered predictions for tech spending -- is spurring CIOs to prioritize cost management initiatives in 2023. Top of the list: cloud spend analysis and ROI analysis.
"Increasingly, cloud spend is getting CFO attention, and at times, boardroom attention as well," said Nitish Mittal, partner at Everest Group.
Scott Sellers, president and CEO of Azul, a Java platform, said many CEOs now expect their CIOs to establish a strategy for balancing cloud costs against the benefits of automation. CIOs often find themselves in "the cloud paradox," he said, which refers to the use of cloud to drive agility, scale and resiliency but at the potential expense of profit margins.
"This is particularly true when businesses embark on their cloud journey without first establishing a cost optimization strategy," Sellers explained. Reactionary cost cutting may threaten the most promising innovations.
Sellers recommended CIOs clear out waste by identifying unused instances and renegotiating cloud contracts -- and by creating a culture of cloud cost awareness.
4. Using the cloud for core business applications
Early cloud implementations typically involved cutting-edge new applications, and now the rest of the enterprise is starting to catch up, said Colin Dawes, chief solutions architect at Syntax, an IT consultancy service.
"For the year 2023, CIOs will encourage increased adoption of the cloud for the core business applications of CRM, supply chain management, ERP, human resources management systems and other line-of-business applications, which is a change from the cautious approach of years past," Dawes said.
At the same time, applications focused on new technology and digital transformation, such as IoT, will increasingly go cloud native, in tandem with a cloud-first mentality for business analytics.
The main advantage of moving core business applications to the cloud is the increased visibility of accurate and reliable information about the business presented in a timely, efficient and cost-effective manner. "The need for this type of technology has only grown more critical in the past few years through the pandemic," Dawes said.
5. Adopting industry clouds to drive product innovation
Danielle Phaneuf, partner and leader of the cloud and digital strategy operating model practice at PwC, predicted that the next frontier for CIOs and the cloud is industry clouds. These emerging platforms use preconfigured industry-specific solutions to help enterprises address new use cases faster and with less effort.
"I've seen CIOs begin to dip their toes in industry cloud over the last year, but anticipate it'll pick up in 2023," Phaneuf said. Industry cloud will help CIOs secure every bit of optimization and innovation they can to improve operations, products and business, despite the uncertainty ahead, she added.
6. Developing a unified data management architecture
Bhrugu Pange, managing director in the digital and technology practice at management consultancy AArete, said that in 2023 CIOs will need to develop a cohesive data management architecture. A big driver is the increasing assortment of SaaS, PaaS and cloud platforms as enterprises upgrade their technology stack and data platforms. The orchestration of the underlying data is critical to serve the right information to applications, platforms, employees, customers and other constituents.
A variety of middleware platforms are starting to address aspects of data orchestration. But none currently handles all the use cases around transactional, analytical, data science and streaming, Pange said. He noted that he expects to see more CIOs developing a cohesive data management architecture that positions the various tools in a modular, optimized and secure fashion to address these use cases. These tools include middleware; traditional extract, transform and load (ETL) and extract, load and transform (ELT) tools; data lakes and lakehouses; messaging applications; reverse ETL; and cloud data warehouses.
Pange recommended CIOs develop a flexible blueprint in the short- to mid-term, acknowledge the technical debt of fast-moving technology projects and create a remediation plan. "The alternative is an explosion of data silos, out-of-synch applications, a low-trust environment where every fact has to be fact-checked several times and unhappy constituents," Pange said.
7. Turning data into products
Data has traditionally been treated as a commodity managed by centralized IT teams. Increasingly, companies are entrusting business teams that understand where the data comes from to create their own data products. This means the IT department can step back from actively managing the data itself to empower each business unit with the appropriate self-service data provisioning infrastructure.
Brian Platz, co-founder and co-CEO of open source data platform Fluree, said CIOs will need to figure out how business teams can securely collaborate using data coming from across other groups. Doing so will mean taking advantage of new architectures, such as data mesh and data fabrics to help automate governance, security, privacy and quality. In addition, emerging data observability tools will help monitor and improve this self-service data infrastructure.
8. Enabling sustainability with new tech and programs
In 2023, expect to see the role of the CIO become even more complicated as CIOs are tasked with supporting sustainability initiatives around carbon reduction and supporting circularity.
"As organizations scale and operationalize their sustainability initiatives, they are asking CIOs and tech teams to step up to accelerate progress," Everest Group's Mittal said. This requires CIOs to not only talk the language of business, but also to stitch together solutions across their tech estates to show how they can contribute to an organization's net-zero and sustainability goals.
CIOs will increasingly have to vet new apps, analytics, standards and frameworks and, most importantly, sift out speculative hype from industry efforts that deliver meaningful progress on sustainability goals.