buchachon - Fotolia
Championing IT operational excellence: The strategic CIO's first day
CIOs may be tempted to roll out their strategic initiatives to C-suite peers on day one, but savvy CIOs know IT operational excellence is step No. 1.
It's your first day as CIO. You have a real office, with glass walls, a door that closes, a hyper-adjustable ergonomic...
Continue Reading This Article
Enjoy this article as well as all of our content, including E-Guides, news, tips and more.
chair and a desktop that moves up and down so you can work standing up (which, perhaps, begs the question of why the great chair). Your first meeting with all the other C-levels is this afternoon, a great opportunity for you to fortify your reputation as a strategic CIO.
They have requested a presentation on how you will change IT for the better: How will you deliver more business value? How will you better enable the corporate vision? How you will drive innovation into the enterprise? Basically, they want to know what you will do differently than the last CIO. That person lasted just under four years.
You're ready. Three major strategic initiatives form the crux of your presentation. First, it's time to exploit big data. Using machine learning and predictive analytics to effectively focus sales and marketing efforts for greater success should be a home run. Second, mobilize. Converting or transforming every system in the enterprise to a mobile-ready environment should keep the millennial consumers from fleeing to the startups. And, third, eliminate waste. Cutting costs and upping efficiency across the board should generate more dollars for initiatives one and two, while significantly lowering the portion of the IT budget spent to simply keep the lights on.
It's showtime. The projector is working, your 16:9 slides are displaying correctly, you have new batteries in your remote mouse and your title slide is on the screen. An air of anticipation fills the room. But before you can even get going, it begins.
The CFO kicks it off by saying, "Our network basically sucks." He continues, describing frequent outages and downtime, as well as the fact that his staff cannot access key applications at critical times, which leads to whispers of discontent -- and overtime.
Your C-level peers actually want a strategic CIO -- along with your ideas and value-based initiatives and enterprise innovation -- but not until you get the basics under control, not until IT operational excellence can be taken for granted.
When the CFO runs out of steam, variations on the IT operational excellence ensue. The COO picks up the ball next. After heartily agreeing with the CFO and explaining in far greater detail the negative impact on business operations of the frequent network outages, he moves on to another festering topic: "What exactly is the problem with our help desk?"
He jokes that more than one of his direct reports calls it the "helpless desk." And, he says, the vast majority of the company's workers do not call the help desk anymore; instead, they phone a friend -- call Jason in accounting, perhaps -- or simply search for an answer on Google. Even worse, they've started posting their issues on Facebook or tweeting it out to their followers in a desperate plea for help.
The CEO now chimes in with something about airing our dirty laundry in public and impact on the brand.
In an ill-fated attempt to regain some control, you click your remote mouse button, and the agenda slide comes up with your big three strategic initiatives. The chief marketing officer, who you were hoping was going to be your staunchest ally in the big data initiative, seems quite fascinated with her pen and says not a word. In fact, no one in the room has risen to your defense. No one even says, "Hey, let's give the guy a break. It's his first day."
This unforeseen debacle has now eaten up your entire allotted time. The meeting is over, the projector is off and you walk dejectedly to your suddenly quite uncomfortable office, with its very unfortunate 21st-century glass walls.
Identifying the real big challenge
Your C-level peers actually want a strategic CIO -- along with your ideas and value-based initiatives and enterprise innovation -- but not until you get the basics under control.
Later that evening, you begin to digest what actually happened. You realize why they went looking for a new CIO in the first place. Yes, of course, they actually want a strategic CIO -- along with your ideas and value-based initiatives and enterprise innovation -- but that includes having a CIO strategy for IT operational excellence. Your new C-level colleagues want an industry-leading IT shop, but, right now, they believe their IT is a joke.
Like so many organizations today, they simply don't trust IT and, by extension, they don't trust you. Too many great ideas that never materialized, too many failed projects and way too many broken promises. You realize, to get any support for your strategic CIO plans, you must fix the day-to-day IT operations first. You need to get your IT house in order before you can even think of renovating. What you thought was your biggest challenge is not your biggest challenge.
The strategic initiatives must be shelved -- for now. Your entire focus right now has to shift to achieving IT operational excellence, as well as technical excellence, in the short term. It's not the job you thought you were taking, but it's the job you have and it's the job that needs doing. Technical and IT operational excellence is absolutely not the fun part of IT. Innovation is the fun part -- new stuff, new challenges, new ideas and new concepts. But the fun part of CIO strategy will have to wait.
Priority No. 1: Focus on IT operational excellence
So, dust off those valuable books on the shelves in your office and rediscover the global best practice framework for IT processes: ITIL. Turn to the basic processes and functions you thought had already been mastered. You know the ones: service desk, incident, problem, change, release, config and service-level management. Let the service desk continue to focus on first-call resolution at the individual user level, while implementing problem management in the background to eliminate the repeat incidents, which increases availability and reduces downtime.
Because you already know 80% of incidents -- i.e., network outages -- come from bad or failed changes, focus on change management right away. This will reduce incidents, improve availability and stability, increase reliability and lead you down a path where the business might actually start to trust IT.
Use release management to get involved in IT projects at the beginning, not the end. No more dev and project management throwing it over the wall to ops two weeks before the business needs it. Invest in some of the latest discovery tools to find out what components make up your infrastructure and how they depend on one another.
Redefine what IT does as services and publish a service catalog to function as an actionable storefront for IT. Shift IT's focus to delivering value. Stop making promises you can't keep. In corporate IT, promises are called service-level agreements. Redefine IT's success as meeting or exceeding your service-level agreements -- in other words, keep your promises. Is there a better definition of trust than someone who keeps their promises?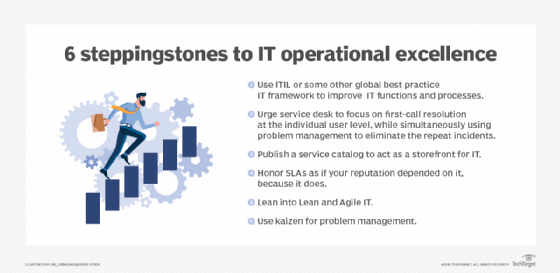 Take a breath, but don't let up on operational excellence in IT
Discover Lean and Agile IT. Focus on quality and first-time-right performance. Ever wonder why IT never has time to do it right the first time, but always seems to have time to do it over? Never stop improving. Use key Lean principles to wring the waste out all those ITIL processes you're busy implementing.
Work toward achieving flow, which means delivering more value to the business, while IT is operating at a sustainable pace. Use kaizen for problem management. Create standard times, procedures and checklists for routine tasks. Error-proof the normal to allow focus on the one-offs. Implement visual management techniques so everyone knows what's working and what's not.
For real IT operational excellence, you know what you have to do. It's not rocket science. Now, it's time to roll up your sleeves and "git r done."
Next Steps
Three steps to being a business leader
The CIO legacy: Creating value for your business
Leadership traits: Asking versus telling