beckmarkwith - Fotolia
The IT value stream and the quest for 'fast flow'
Business velocity has changed the approach to service delivery and the IT value stream. Achieving 'fast flow' through optimization of IT processes can enable better, faster IT.
As a speaker, author and longtime advocate of IT best practice models, I can't help but notice the radical transformation within the last year on the hot topics, hallway conversations and industry buzzwords that have captured CIOs' attention. It's like someone threw a switch and reversed the polarity of the industry's focus from common themes such as high availability, robust process and business resilience to an obsession with increasing speed. I've seen this across the entire IT ecosystem, whether in articles published on tech news sites, on IT conference agendas or in vendor product marketing pitches.
Borrowing from the Lean IT lexicon, which forms the basis of both the Agile and DevOps movements, the industry has embarked on what can now be best described as the ultimate "quest for fast flow," or continuous flow, a term used to describe a process with optimized output and little waste.
The risk gap for IT service provision
As senior IT leaders we need to understand the drivers of this radical and rapid change. As I've been reflecting on this drastic language shift, it's become clear to me that we are seeing the collective effect of factors such as the following:
a continued and accelerated rate of business demand for IT services, with businesses moving toward service automation and a mobile app economy;
consumer-driven expectations for on-demand, streaming and "instant on" access to content, features and services;
disruptive competitors that are entering the market with "built on the web" business models that are free of the costs and complexities of legacy applications;
the increasing percentage of unplanned work stemming from the growing technical debt and fragility of legacy systems that have been ignored too long;
the inability of current, fragmented and silo-oriented departments, processes and systems to keep pace with growing customer demand;
the drive to reduce operational "lights-on" costs to free up capacity for innovation; and
the growing frustration of customers related to the current speed of delivery of projects.
These factors, as well as many others, represent the perfect storm of growing IT complexity, causing a "speed to market gap" for IT service organizations that need to quickly scale and meet business demands.
This need for increased business velocity is, in my opinion, the primary driver of the radical language shift. The ironic aspect of this shift is that the external market pressures we're facing are in some sense a phenomenon the IT industry has helped to create.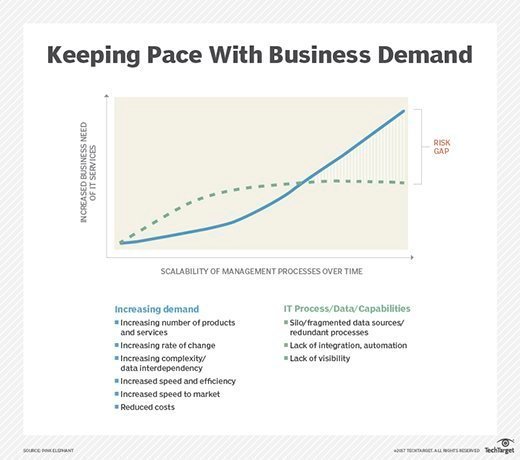 The increasing gap between the speed of demand and supply and the growing trend for business units to fund or purchase their own IT services (aka: shadow IT) are changing the focus on what we do and how we deliver value to the business.
Companies and IT leaders and staff alike are beginning to recognize that it's time to put away our political agendas and silo-based thinking in order to simplify, standardize, modernize, accelerate and automate our 'plan-build-run' IT value streams.
Companies and IT leaders and staff alike are beginning to recognize that it's time to put away our political agendas and silo-based thinking in order to simplify, standardize, modernize, accelerate and automate our "plan-build-run" IT value streams (a Lean phrase for the concept of turning project requirements into finished products). They are acknowledging the need to "Lean out" the way they get things done, and reduce the complexity of their current processes, architectures, tools and organizational structures. In essence, they're on a "quest for fast flow" by turning to Lean and Agile frameworks and principles that help to deliver more high-value work faster by reducing waste, minimizing variation and redundancy, and consolidating and simplifying.
These three accelerators -- Lean IT, Agile and DevOps -- have become the new popular subjects in the IT industry.
However, we have forgotten one important question: What are we accelerating?
More than just the process
It's important that we go back to a key point made at the beginning of this article to understand that all of these acceleration practices, tools and techniques are focused on speeding up the processes involved in taking demand and turning it into supply. Overall, it's about speeding up the work we have always done (IT service management, project management and software development): the elements representing enterprise IT capabilities and processes that enable us to manage the end-to-end IT supply chain.
What IT leaders need to understand is that in order to successfully deliver on the "quest for fast flow," it's critical to focus on the practices of acceleration (Lean, Agile, DevOps) with respect to the processes of the "plan, build, run" IT value streams.
Steps to fast flow success
Leading with Lean and Agile principles means we recognize that IT value streams have to be considered from a systemic perspective and that sub or partial optimization will be more harmful than helpful to the overall velocity of your IT value system.
As IT leaders consider their quest for fast flow, it's important to understand there are many critical success factors to enable this objective. The following is a recipe for speeding up the flow of value to the business.
Get Lean: Regardless of your starting point (Agile, DevOps, project management or IT service management), learn about the principles of Lean IT to understand the foundation of value streams in improving quality, increasing speed and reducing costs.
Develop a product/service mindset: Focus on outcomes versus tasks, technologies or assets to build a collective sense of accountability for flow.
Understand systems thinking: Study the full set of integrated processes in the IT value system to improve system-based flow.
Be Agile: Produce smaller work packages and improve the frequency of feedback loops to create higher velocity and releasable product iterations.
Be transparent: Leverage Lean's visual management system (for instance, a Kanban board) to understand the flow of work and to identify bottlenecks.
Create cross-functional teams: Reduce silo-based behaviors, reduce wait time created by handoffs and cover essential skills gaps.
Reduce variability and automate standard work: Reduce process and tool variability, complexity and increase standard work to support increased automation.
See a longer whitepaper on this topic on the Pink Elephant website.

Next Steps
Learn more about Kanban:
Kanban implementation success factors
Traditional Kanban versus eKanban
Scrum versus Kanban: New software development approaches
Dig Deeper on IT applications, infrastructure and operations