Teaching leadership to Millennials? First, get used to them
Teaching leadership skills is critical in a changing world, MIT's John Van Maanen says, but coaching Millennials comes with unique challenges.
Millennials will soon lead business, and after them their successors, Gen Z.
Continue Reading This Article
Enjoy this article as well as all of our content, including E-Guides, news, tips and more.
They'll have to, just as previous generations have before them. But today's world is one that has grown increasingly global, complex -- unwieldy even -- and will require more in leaders than ever before.
John Van Maanen, an organizational theorist at MIT's Sloan School of Management and the MIT Leadership Center, uses an acronym to describe today's world: VUCCA. It stands for volatile, uncertain, complex, chaotic and ambiguous -- with one more C than the more common VUCA -- and it's a big part of why today's leaders need to teach tomorrow's.
"That's the world we live in," Van Maanen said during a panel discussion on leadership at the recent MIT Sloan CFO Summit in Newton, Mass. "We don't know where big data is taking us. We don't know what's happening with climate change, political instability. It is an unknown world."
Another reason for teaching leadership is sociological, he said. Organizations today are getting structured differently -- they're more flexible and diverse, with workforces that are often distributed across the globe.
Most important, the professional world is rife with people in leadership positions who don't act like leaders, Van Maanen said. There are "accountants who look the other way, doctors who prescribe antibiotics for common colds when they know very well that antibiotics have no effect. We have to teach leadership."
Stay just a little bit longer
Teaching leadership becomes harder with a generation that doesn't stay put. Millennials -- born between the early 1980s and the mid-1990s -- expect to work for 12 to 15 organizations over their careers, Van Maanen said, versus three or four 20 years ago.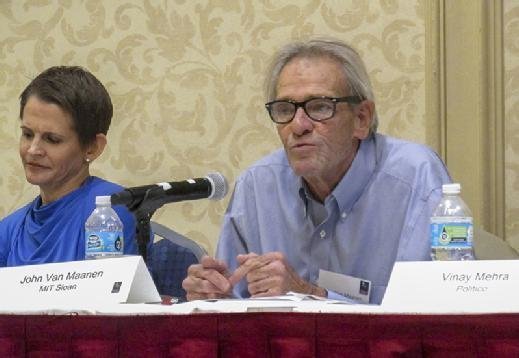 According to recent Gallup research, 21% of Millennials say they've switched jobs over the past year -- three times the number of employees in other generations who have. One reason, the research found, is Millennials don't feel a strong connection to their jobs, with just 29% reporting that they're engaged and 16% "actively disengaged," which Gallup describes as "more or less out to do damage to their company."
Another panelist, CFO Vinay Mehra, said one thing that keeps people working for his employer, Washington political news outlet Politico, is mission. It's the glue that keeps young hires in place.
"It's not about the money. They know they can get the money somewhere else," Mehra said. Instead, working for "a news organization that's focused on making our political leaders accountable -- that's the reason they stay."
Or maybe organizations just don't know enough about Millennials yet to figure out how they should nurture them, mused Sach Barot. The CFO at data analytics company Dun & Bradstreet, in Short Hills, N.J., said during his career he has seen trends in leadership swing from authoritarian styles -- "showing off their knowledge, telling you what to do" -- to the softer, gentler "coaching-slash-teaching style."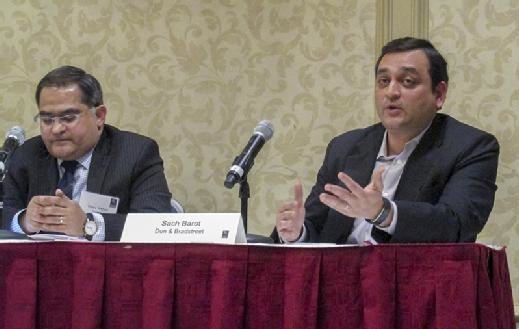 "We still have limited experience with Millennials," he said. Earning their loyalty and seeing the value of the time and training invested in them is going to take something else. "I think the idea is going to be now, how do you learn together, even if they know you don't have all the answers?"
Millennial foibles, strengths
Before teaching leadership to younger generations of workers, they first need to be molded into productive employees, something conference goer Bruno Wittmann found difficult early on.
"At first I didn't understand them. I was irritable at some of the things that I saw," said Wittmann, finance director at label maker Avery Dennison Corp.'s radio-frequency identification business, in Westborough, Mass. He leads a Millennial cohort that's not only technologically savvy but shows no compunction about engaging with, say, a mobile device during work hours. He's had to adapt his teachings (and evaluations) to their new way of working.
"While my Millennial might be doing an analysis and at the same time watching some show on the side, it's something that I need to get used to and work with that person to see how the output from the work will get done," Wittmann said. "Is it going be something that he's going to work on later? Is he able to multitask?"
For Wittmann, adapting to younger workers is necessary in order to tap one of their best qualities: asking questions about why things are done the way they're done -- and then coming up with creative solutions to old problems.
"Maybe because they spend more time thinking of things outside of the menial work tasks that we have on a day-to-day basis," he ventured.
Another attendee, Nick Quiroz, had a different perspective on Millennials. He's director of commercial finance at Sensata Technologies Inc., in Attleboro, Mass., which makes pressure and temperature sensors for the automotive and aerospace industries and others.
He leads a team of 20- and 30-somethings, but only 25% of them are in the U.S. The rest are abroad, and he's cautious about applying leadership styles that were formed with an American audience in mind, especially in countries that have gone through significant cultural and political changes or that are at different levels of technological maturity.
"I would like to see more of a global perspective of what the generation of Millennials is looking like, because there are quite a lot of differences there," Quiroz said.
Next Steps
How to be a quiet leader
What they don't teach when teaching leadership
Millennials, cybersecurity superheroes?