The commanding presence of quiet leaders
The MIT CFO Summit explores the inverse of the stereotypical extroverted leader and the effect that quiet leaders can have in an organization.
There's no shortage of terms related to careers or career building that make me scratch my head. The soulless ring of networking, for instance, gets me wondering why I left college, where making friends over beers always sounded great. And skill set brings to mind a pack of expertise wrapped in plastic.
Not natural leader. That one I thought I had down: an outgoing go-getter with a magnetic personality and a firm handshake. Or at least that's what had been burned into my brain from a young age.
John Van Maanen, an organizational theorist and ethnographer at MIT's Sloan School of Management, called such a stereotype a "20th-century view of leadership" pushed forth by self-help-book authors like businessman Jack Welch and public-speaking guru Dale Carnegie.
But good leadership today doesn't invariably conform to that masculine-leaning model. Quiet, Van Maanen said, can have just as positive and powerful an impact in business.
Van Maanen spoke at the recent MIT Sloan CFO Summit in Newton, Mass., on a panel about "quiet leaders" -- an introvert's understated version of a role that has leaned big, bold and extroverted in history and in literature.
"History has no counterfactuals. We don't know what would have happened in the world had it not been for Churchill and Roosevelt," Van Maanen said, citing British Prime Minister Winston Churchill and U.S. President Franklin Roosevelt as well-known examples of extroverted leaders.
Peace and quiet leaders
Quiet leadership is a timely topic in the U.S., as the nation is about to gain a president, real estate tycoon Donald Trump, who rode to a surprise victory partly on his boisterous personality and bellowing style.
Panelist Linda Bain said that working "in a very quiet manner" is important for leaders to do -- and not just ones who are naturally quiet. Bain is CFO at Codiak BioSciences, a biotechnology company in Woburn, Mass. Her colleagues there are "very innovative, very creative people which without generalizing are mostly introverts."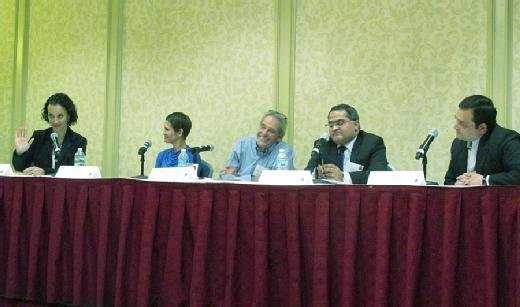 They're often the ones with the most innovative ideas, she said. Bain, who said she's seen as an extrovert but treasures "quiet time to reflect," aims to draw those ideas out. That's tough at big meetings, which include a more diverse cross-section of personality types, so Bain structures meetings by drafting disciplined agendas that are shared beforehand. That way, "people get time to speak. It's not just one personality that's going to overwhelm the conversation for 60 minutes."
Sach Barot, CFO at data and analytics company Dun & Bradstreet, in Short Hills, N.J., has a similar approach for getting people who'd rather stay quiet in public settings to speak out. First, he starts meetings with "professional and personal check-ins."
"We talk about how's family doing, what issues are you facing at home. And everybody in the room has to go and share," Barot said.
That makes everyone relatable to everyone else, even when there are conflicts among people -- "'He might be a jerk,'" someone might think of a colleague, Barot said, "'but he's facing the same issue with his kid that I'm facing.'" And it sets the table for more inclusive discussions.
Barot also lays down a rule for meetings: Say what you have to say or forever hold your peace. If someone objects to something said in a meeting, he or she should speak then, not wait until later to complain to the boss.
"I want to make sure that people feel that they are empowered to talk, that they are empowered to challenge each other," he said. "We are fortunately not in an operating room and trying to save a life. We're trying to solve a simple business problem."
The making of a quiet leader
Barot, who says he's "on the introvert side," knows the pain staying silent can cause. He related an experience early in his career when he and a senior co-worker were preparing a proposal to make to their CEO. Then his partner made the presentation without him. Barot was livid.
"He actually was audacious enough to tell me this, which was very profound: 'What if I took you to the meeting? What would you have done? You would have just sat there.'"
Voicing his input has been a learning process for Barot, and he admits he's still learning. He said he still relies on an introvert's tools such as listening to others' viewpoints before jumping into conversations, but over the years he has "moved toward being an extrovert."
Leadership often requires a bit of both personality types, Bain said. Certain times call for being reserved, others for being bold: "when we have a crisis or we have a very specific deadline we need to meet, and you have to be a cheerleader or you have to be very directive and you have to set the pace and you have to tell folks how to do it and they're expecting that of you."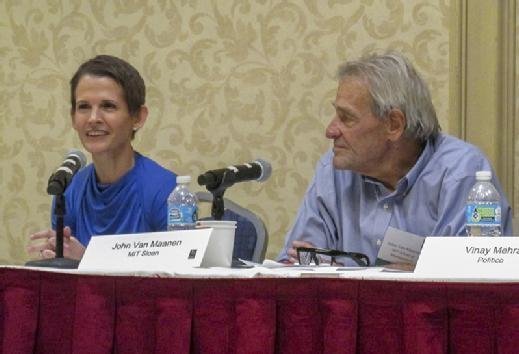 That's no small task for many of the quiet types in finance, said panelist Vinay Mehra. He worked for years in the entertainment business, where he learned about the power of self-marketing from Prince; the singer-songwriter told Mehra he would change his name to an unpronounceable symbol. (Prince was referred to as "the artist formerly known as Prince" until 2000. He died in April.)
Mehra is now CFO at online political magazine Politico in Washington, where he said egos are abundant, and making one's voice heard takes effort. What works in meetings and everyday interactions is backing up talk, however softly delivered, with data -- something CFOs have a lot of.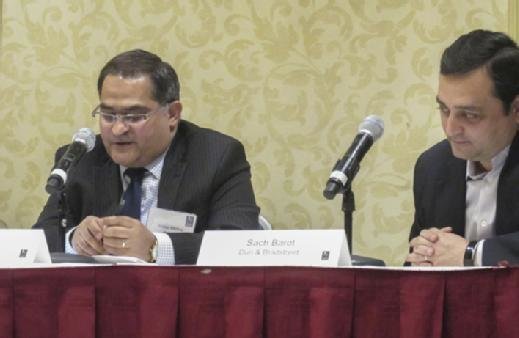 "Don't underestimate the power each of you have as CFO," Mehra said. "You have data that most people in the organization don't have. So your ability to tell a story with data is very, very powerful."
'A dearth of stories'
That message and others spoken by the panelists resonated with Bruno Wittmann, an attendee to the conference who said he began his career on the introverted end of the personality spectrum.
"It's been a journey for me," said Wittmann, finance director for the radio-frequency identification division of label and packaging company Avery Dennison Corp., in Westborough, Mass. "Trying to market myself a little bit more, get my ideas heard and also influence the company to structure meetings and other activities in a way that brings ideas out of introverts."
But journeys like Wittmann's are perhaps needed to puncture the stereotype of the leader as fearless, cape-wearing hero.
After all, MIT's Van Maanen said, leadership is essentially a narrative we tell ourselves -- and a narrative can be reshaped and retold.
"We have a dearth of stories of successful quiet leaders, and we have an oversupply of stories that talk of the extroverted leader," Van Maanen said. "So we need more stories."
Next Steps
Teaching leadership to the Millennial generation
A CIO's guide to IT leadership skills
Fire your managers -- and take on 'supportive leadership'