Definition
servant leadership
What is servant leadership?
Servant leadership is a leadership philosophy built on the belief that the most effective leaders strive to serve others, rather than accrue power or take control. The aforementioned others can include customers, partners, fellow employees and the community at large.
The term was coined by management expert Robert K. Greenleaf in a 1970 essay, "The Servant as Leader." According to Greenleaf, the seminal idea grew out of his reading of Journey to the East by the German writer Hermann Hesse. The novella tells the story of a band of luminaries on a quest for the "ultimate Truth." When the humble servant charged with taking care of their needs disappears, the group bickers and abandons the quest. Much later, the narrator discovers that the humble servant is, in fact, the leader of the organization that sponsored the quest he and his fellow travelers failed to complete.
As defined by Greenleaf, servant leaders are not motivated by the traditional manifestations of power:
The servant-leader is servant first ... It begins with the natural feeling that one wants to serve ... Then conscious choice brings one to aspire to lead. That person is sharply different from one who is leader first, perhaps because of the need to assuage an unusual power drive or to acquire material possessions. ...

... The difference manifests itself in the care taken by the servant-first to make sure that other people's highest priority needs are being served. The best test, and difficult to administer, is: Do those served grow as persons? ... [and become] more autonomous, more likely themselves to become servants?
Servant leadership vs. other leadership styles
The leadership style laid out by Greenleaf in this essay and two subsequent essays, "The Institution as Servant" (1972) and "Trustees as Servants" (1975), upends the top-down power structure found in many institutions. It is in stark contrast to the authoritarian style of leadership, which requires leaders to have total decision-making power and absolute control over their subordinates.
Servant leadership's emphasis on taking responsibility for the needs and desires of others is akin to ethical leadership, which urges leaders to show respect for the values and dignity of their subordinates. Greenleaf's approach also includes elements of the participative leadership style, which requires leaders to involve subordinates in setting goals, building teams and solving problems, but keeps the final decision-making in their own hands.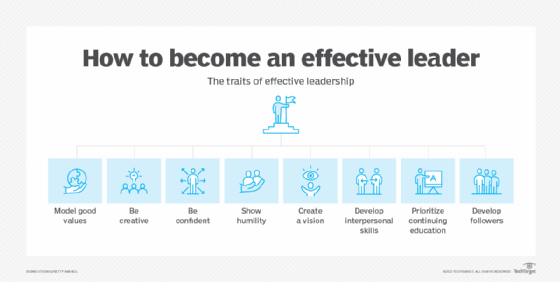 Attributes of a servant leader
Based on Greenleaf's writings, other management experts created a list of attributes a servant leader must possess. Larry Spears, president and CEO of the Larry C. Spears Center for Servant-Leadership and former president and CEO of the Robert K. Greenleaf Center for Servant Leadership, described the following 10 characteristics as "central to the development" of servant leaders:
Listening. While all leaders must possess superior communication and decision-making skills, the servant leader also must be willing to listen intently to others, Spears wrote. "The servant-leader seeks to identify the will of a group and helps to clarify that will."
Empathy. A servant leader "assumes the good intentions of co-workers and colleagues and does not reject them as people, even when one may be forced to refuse to accept certain behaviors or performance."
Healing. Servant leaders understand part of their leadership responsibility is to "help make whole" employees whose sense of self is precarious or impaired. According to Greenleaf, able leaders convey that "the search for wholeness is something they share" with those they serve.
Awareness. Greenleaf observed awareness "is not a giver of solace -- it is just the opposite. It is a disturber and an awakener. Able leaders are usually sharply awake and reasonably disturbed," he said, but are steadied by "their own inner serenity."
Persuasion. Servant leaders rely on persuasion, not positional authority or coercion, to convince others. "This particular element offers one of the clearest distinctions between the traditional authoritarian model and that of servant-leadership," Spears wrote.
Conceptualization. Seeing a problem from a "conceptualizing perspective" requires an ability to "think beyond day-to-day realities," Spears said. Servant leaders must balance between thinking big and managing the everyday reality.
Foresight. According to Spears, foresight is a "largely unexplored area in leadership studies." In servant leaders, the ability to understand the past and see the present clearly to predict how the future will unfold is a key attribute.
Stewardship. Stewardship reflects Greenleaf's view that CEOs, staff and trustees all have a responsibility to hold the institution "in trust" for the greater good of society.
Commitment to the growth of people. Believing in the intrinsic value of people, servant leaders feel a responsibility to nurture the growth of employees.
Building community. Greenleaf believed the shift from local communities to large institutions was the "primary shaper of human lives," diminishing the sense of community people once had, Spears said. The awareness of this loss propels servant leaders to find ways to build community in their institutions.
History of the servant leadership concept
As others have noted, the concept of servant leadership predates Greenleaf -- and Hesse -- by many centuries. In discussing servant leadership, management experts frequently note that ancient Chinese philosopher Laozi wrote about the concept in the fifth century B.C., when he described the highest type of ruler as someone who deflects attention: "The sage is self-effacing and scanty of words. When his task is accomplished and things have been completed, all the people say, 'We ourselves have achieved it.'"
Servant leadership is a tenet of many religions and philosophies. A passage from the Gospel of Mark (Mark 10:42-45), in which Jesus draws a distinction between rulers who throw their weight around and the type of leader his disciples should aspire to be, is an example:
Jesus called them together and said, 'You know that those who are regarded as rulers of the Gentiles lord it over them, and their high officials exercise authority over them. Not so with you. Instead, whoever wants to become great among you must be your servant, and whoever wants to be first must be slave of all. For even the Son of Man did not come to be served, but to serve, and to give his life as a ransom for many.
Pros and cons of servant leadership
Proponents of servant leadership argue that this style of leadership brings advantages beyond engendering an ethical employee-boss relationship. Employees treated with respect are more likely to be loyal to the institution, provide superior service to the institution's customers, and come forward with ideas and innovations.
The servant leadership approach has gained currency as companies look to streamline their organizations, empowering employees and teams to make decisions to keep up with a fast-moving business environment. In the team structure, leaders are there to lend support, do research, provide supplies and even run errands.
But servant leadership can also lead to problems, others argue. The practice can minimize the authority of leaders, undercutting the service and advice intended to improve employees' lives.
In addition, a leader who is always there to help employees might demotivate them to solve problems on their own, in the same way that parents who run interference for a child might impede the child's maturity. In any case, most management experts agree that servant leadership is not a short-term approach and takes time to be successful.
This was last updated in
September 2023
Continue Reading About servant leadership