Maksim Samasiuk - Fotolia
5 must-have skills to succeed as an IT manager
An effective IT manager's skill set includes solid communication, problem-solving, decision-making, time management, organization and the ability to think and act strategically.
The term IT professional may evoke images of twenty-something techies lost in their computers and generally unaware of the real world. While that scenario may ring true in some IT organizations, those code jockeys get their direction -- and often their inspiration -- from IT managers.
While IT professionals do have strong technical skills in areas like computer networking, programming, operating systems, application support, etc., some of them also have strong management skills. Those are the skill sets that set them apart from their IT peers as an increasing number of organizations are putting IT at the center of their business operations and growth and transformation strategies. To ensure that IT yields the high return on investment they expect, those organizations need personnel who demonstrate both technical IT skills and the ability to manage people and projects.
In its "Best Jobs 2021" analysis of employment compensation, U.S. News & World Report noted that IT managers earned an average salary of $146,360, a figure that's much higher than some more specialized jobs, like computer systems administrator ($83,510) and database administrator ($93,750). In the same year, the best-paid 25% of IT managers earned $185,610. The U.S. Bureau of Labor Statistics projected 10% growth for this profession between 2019 and 2029, which is "much faster than average."
The generous compensation and auspicious outlook are unsurprising because IT management in today's hyper-digital economy is a complex role that encompasses diverse responsibilities, including the following:
deployment, administration, monitoring, control and upgrades of IT systems;
requirements gathering and strategic planning with top management;
budgeting and cost management;
regulatory compliance; and
resource optimization and management.
IT managers play a vital role in ensuring that IT systems enable the organization to meet its goals and support its reinvention/transformation ambitions. They oversee existing IT systems to ensure minimum downtime and maximum availability, and they direct the adoption of new systems and technologies to improve the organization's operations and competitive position.
IT managers must have strong technical skills, but they must also demonstrate a number of equally essential skills and competencies.
1. Communication and interpersonal skills
There are several reasons why strong communication skills are absolutely essential for IT managers. For one, IT managers act as the conduit between IT professionals and the rest of the business. IT managers are required to communicate business requirements to IT staff, as well as explain key IT requirements or challenges to operations staff.
They must be able to communicate effectively, both verbally and in writing, and should also be good listeners. These skills will enable them to make effective presentations to top management or key decision-makers, create relevant and up-to-date technical or business documents, explain the newest cybersecurity policies to the organization's rank and file, and work with vendors to get the best possible deal on new technology acquisitions. Communicating encouragement to staff members is also important, particularly to acknowledge outstanding work. They should also actively socialize with their teams, understand their challenges, mentor and guide them for their career development, and be prepared to provide training as needed. IT managers must also be able to deal with complaints without getting defensive or -- worse -- offensive.
IT managers should be able to build effective teams, even if they are not direct reports. They should also be able to resolve and minimize conflicts, motivate staff, and liaise with top management to address critical IT issues or decisions.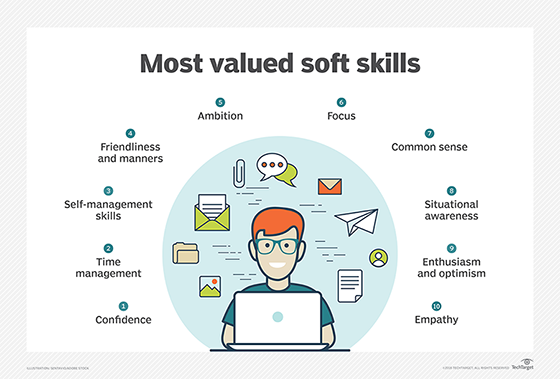 2. Problem-solving and decision-making
Today's IT systems play a more active and strategic role in most organizations, adding tangible value to the business. But, for that to happen, the systems must work well and ensure business continuity -- two areas that IT managers are responsible for and where strong problem-solving and decision-making skills are valuable.
Even the best IT infrastructure or staff cannot be completely free from challenges. It is part of an IT manager's job to quickly get a handle on issues, identify root causes, and find and implement relevant solutions. Delays in solving a problem can be fatal for the organization's business continuity and longevity, so IT managers must be able to confront problems quickly and effectively. They should know how their organization's IT infrastructure and technology ecosystem works so they can pinpoint perceived weaknesses and help architect better solutions as per business needs. They should also support and contribute to a lessons-learned knowledge base that will facilitate problem determination and resolution in the future.
IT managers need to have excellent decision-making capabilities so that they can review new technologies and assets and decide which ones are appropriate for the organization to invest in. They may also liaise with multiple vendors offering different services, terms and support, which they will have to analyze and compare before making a final decision. Often, they have to analyze a particular situation and consider the current risks and future repercussions before making a decision. This is especially relevant for critical change control or break/fix situations and for decisions that may have a long-term or financial impact on the organization.
IT managers also have to make team-related decisions regarding hiring, promotions, dismissals and other personnel issues.
3. Organization and time management
IT managers will typically have multiple demands on their time, which requires effective organization and time management skills to meet their responsibilities effectively. They may also be required to multitask between various projects or teams -- if they manage multiple teams -- so being systematic and creating an effective workflow for themselves are essential.
Time management and organization go hand in hand. IT managers must understand how much time an effort will require so that they can plan their days and determine specific deliverables. They should also be effective at delegation, particularly when demands on their time are challenging. It's also important to manage their personal time -- e.g., breaks or holidays -- to ensure that they use their time wisely, manage their stress levels and prevent burnout.
Since team management is a part of their job description, IT managers should also effectively plan their team's time to ensure that tasks are completed as per the organization's service-level agreements and key performance indicators. While ensuring team efficiency and productivity, they should also ensure that members' stress levels are manageable and their mental health is not affected to help mitigate staff turnover.
Experienced IT managers demonstrate both big-picture thinking and attention to detail.
4. Business skills: Strategic thinking, project management and financial management
Every IT manager is an indispensable part of the organization, so they must have strong strategic thinking, financial management and project management skills. With these skills, they can help top management understand IT infrastructure planning and budgeting, resource planning, policy development and implementation, and digital transformation.
While working with vendors, strong negotiation skills are a valuable asset in IT managers' project management toolkit, ensuring that they get the best deals with the highest probability of a successful outcome.
Experienced IT managers demonstrate both big-picture thinking and attention to detail. Together, these often conflicting qualities enable them to use the right technology that can help the organization achieve its business goals. These skills also help them anticipate future technology needs, enabling them to identify the right assets or resources to meet those needs quickly and economically.
Another important business skill that IT managers should possess -- or develop -- relates to change management. They should be able to implement an effective change management process that controls risk and minimizes disruptions following changes to the IT infrastructure.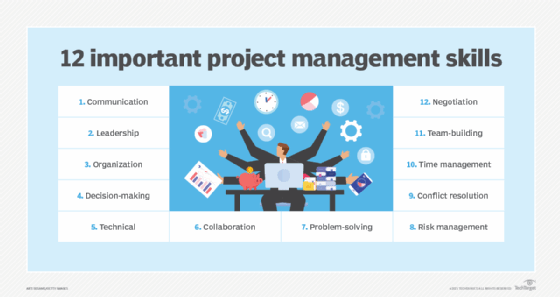 5. Self-development skills
In a dynamic industry where new trends and technologies are rapidly developing, it's essential for IT managers to have a learning-oriented personal philosophy. They must stay up to date on new developments and innovations in the field, while ensuring that their own skills are also up to date. They should also be aware of new and evolving cybersecurity challenges to help them lead efforts to secure their organization's systems and data.
Professional development courses or certifications are a great way to learn new skills and brush up old ones, so IT managers should invest in them as needed. Attending business conferences and meetups is another good way to participate in continuing education and to stay current with best practices and industry standards.
Dig Deeper on IT career paths