Top IT certifications and degrees to help you advance your career
As the IT field continues to grow, find out more on how the top degrees and certifications can help in guide or further your career.
As in most professions, nothing beats experience in the information technology (IT) industry -- except experience and the educational credentials to back it up. Those IT credentials come in two forms: certifications and degrees. How are they different and which is best for you? Read on.
A combination of a bachelor's or master's degree in computer science and several certifications is the best solution in most cases. The combination leads to a better starting salary and allows for greater career advancement and growth. A certificate program can provide specific technical knowledge about a particular program that many employers deem essential. In fact, most employers require applicants to have multiple certificates.
Isn't sheer experience in a specific area good enough? Of course, but proving your bona fides in an application form can be tricky. A stamp of approval from a recognized university or trade group makes you a more attractive candidate.
What is the difference between a degree and certification?
Degrees take longer to complete and cost more money to attain than certificates but provide a more well-rounded education and broader perspective on IT and science industries.
As an example, the course catalog at the University of Massachusetts, Amherst, provides a clear example. It offers two undergraduate degrees and one certificate in computer science.
To earn a Bachelor of Arts degree (BA) in computer science, candidates must complete 48 to 49 credits from 15 courses. These include eight required computer science courses (e.g., Introduction to Java, Applied Discrete Mathematics, and The Structure of Higher-Level Languages); three required mathematics courses (e.g., Probability and Statistics); one capstone course, one applied computer science elective, one theoretical elective, and one additional elective from either the applied or theoretical list.
To earn a Bachelor of Science (BS) degree in computer science, you must complete a minimum of 73 credits from 23 courses. These include 12 required computer science courses (including Social Issues and Ethics in Computing and Introduction to Software Engineering), four mathematics courses, four physics courses, one science elective, and two computer science electives (e.g., biology and chemistry).
To earn a certificate in computer science at University of Massachusetts, you must complete at least 24 credits from seven courses including five required math and computer science courses, one computer science elective, and one application elective.
Information technology (IT) vs. computer science
The two areas overlap but remain distinct. Take Northeastern University, Seattle, for example. It distinguishes computer science as focusing on the skills needed to build complex systems from the ground up, while IT works to configure those systems to solve business problems. Of course, IT specialists are found well beyond the realm of business, but the point is that IT doesn't exist without computer science. Whereas a computer scientist writes codes for programs, an IT specialist adapts those programs to the needs of the users.
Because of the business bent to IT degrees, some schools package some of the softer sciences, such as applied ethics, with more nuts and bolts courses, such as database development. Concordia University, St. Paul, Minn., for example, requires completion of classes in Business-Driven Information Systems and Security as well as Applied Accounting and Finance. Computer Science classes at Concordia St. Paul include Object Oriented Programming in Java, Server-Side Development, and Computer Architecture and Operating Systems.
Top IT certifications
Some of IT's most valuable certifications for career development today include:
Certified Information Systems Security Professional (CISSP): Designed for experienced security practitioners, managers and executives interested in proving their knowledge
CCIE Data Center: One of the expert level certifications under the Cisco Certified Internetwork Expert (CCIE) umbrella. To earn CCIE Data Center certification, you pass two exams: a qualifying exam that covers core data center technologies, and a hands-on lab exam that covers data center networks. This second portion was interrupted by the pandemic, however.
Cisco Certified Network Associate (CCNA): CCNAs can specialize in one of the following areas: cloud, collaboration, cyber operations, data center, industrial/IoT, routing and switching, security, service provider and wireless.
Cisco Certified Network Professional (CCNP): CCNP is a more advanced IT certificate in one the CCNA specialty areas.
Certified Information Systems Auditor (CISA): CISA is the key certification of ISACA. It requires five years of professional experience in the field.
CompTIA A+: A+ is the starting point for a career in IT. The performance-based exams certify foundational IT skills across a variety of devices and operating systems.
Microsoft Technology Associate (MTA): MTA certifications address a wide spectrum of fundamental technical concepts, assess and validate core technical knowledge, and enhance technical credibility.
Project Management Professional (PMP): Offered by the Project Management Institute (PMI), the PMP credential is among the most prestigious in the profession. Several subspecialty certifications are also available
Oracle Certified Professional: Certification in a range of database professions, from database administration and database application development to analytics, data warehousing and big data
Certified ScrumMaster (CSM): Offered by the Scrum Alliance, CSM is an entry-level credential designed to give professionals getting started as Scrumpractitioners an understanding of the project management methodology.
AWS Certified Solutions Architect: The AWS Certified Solutions Architect -- Professional exam is intended for individuals who perform a solutions architect role with two or more years of hands-on experience managing and operating systems on AWS.
Certified Ethical Hacker (CEH): EC-Council offers several certification programs, and one of the most popular is the CEH. This IT certificate is often a prerequisite for positions such as cyberforensics analyst, cybersecurity engineer and applications developer.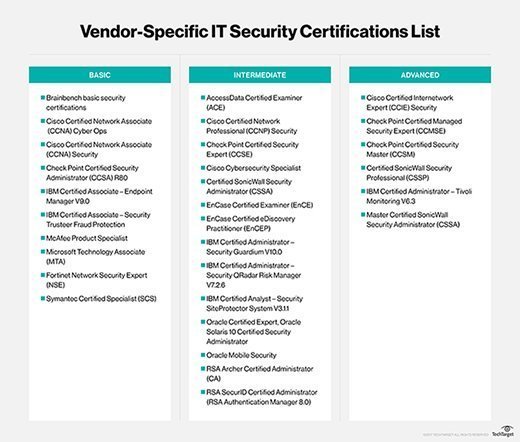 Top IT and computer science degrees
Most schools offer great menus of options when it comes to pursuing IT and computer science degrees. After choosing their specific degree, students also have a wide variety of concentrations from which to choose as they create their educational roadmap.
Among the top degrees (both at the bachelor's and master's levels) are:
Computer networking
Health informatics
Software development
Among the top concentrations are:
Data science, including database management
Security, including cryptography and network security
Software engineering, including algorithm design and interface design
Artificial intelligence (AI), including machine learning
Software business, including finance and microeconomics
Cloud computing, including business and government studies
Scientific computing, with application to physics, graphics and advanced math
Video game design and development
Online degrees
In part because of COVID-19, some certifications are available only online. Even before the pandemic broke, however, there has been an explosion in online training from accredited degree-granting institutions.