cienpies - stock.adobe.com
10 best IT certs for beginners
Certifications and courses from companies including CompTIA, AWS, Microsoft, Cisco and Oracle can provide a solid foundation when beginning to pursue a career in IT.
People who are looking to get into IT are rightly confused. They hear about all the job openings and potential opportunities, but often don't know how or where to get started. That's where this article comes in. We are here to make things a little easier for beginners by pointing out some of the best IT certifications for those looking to launch a career in IT.
There are many courses available for people with little or no technology experience. A course, such as CompTIA Network+, is just about the best place to start for entry-level IT job seekers. In fact, those who hold entry-level CompTIA certifications have found jobs as help desk support technicians, junior network administrators and security analysts (the last particularly with the CompTIA Security+ course and certification under their belts).
Those starting out might also want to take a look at courses and certifications from major cloud providers AWS and Microsoft. Cisco, meanwhile, offers some good entry-level infrastructure networking and network security courses suitable for beginners.
Overall, the 10 entry-level courses we describe provide the foundational knowledge required to begin and advance a career in IT. And while students may have to start on the help desk or in some other computer support role, if they put in the time and keep learning, there's no telling how far they can go.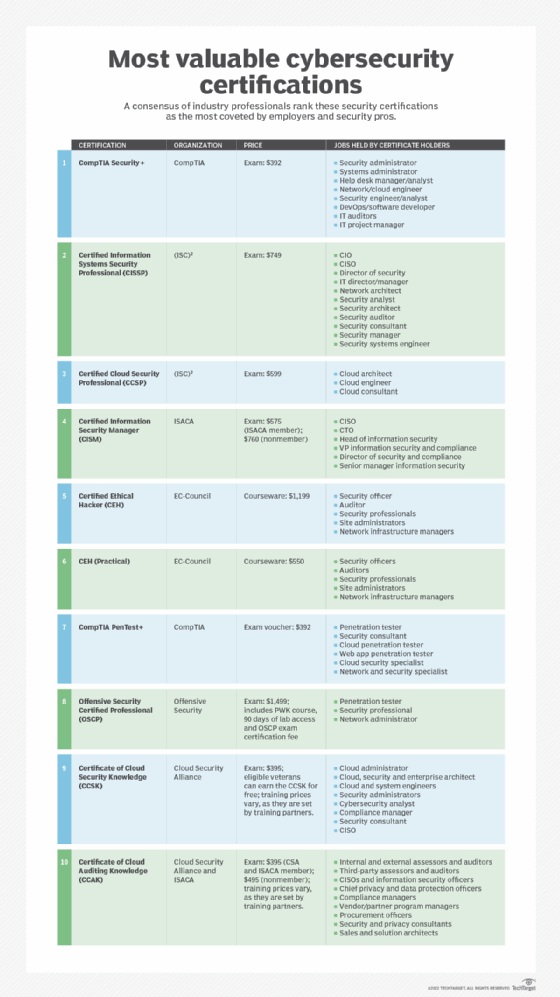 What are the best IT certifications to start with?
CompTIA IT Fundamentals
Course details: Skills covered in this course and IT certification exam include features and functions of common operating systems (OSes), as well as how to establish network connectivity, identify common software applications and their purpose, and use security and web browsing best practices.
Who should take this course: Geared toward advanced end users or those considering an IT career, this course is good for people who want to continue on to the CompTIA A+ certification.
Price: $126
Duration of the exam: 60 minutes
CompTIA A+ Core 1 (220-1001) and Core 2 (220-1002)
Course details: These two courses and exams teach students to troubleshoot, problem-solve and understand a wide variety of IT issues -- ranging from networking and OSes to mobile devices and security. The CompTIA A+ IT certification connects users to data they need to do their jobs, regardless of the devices they use. Core 1 covers mobile devices, networking technology, hardware, virtualization and cloud computing, and network troubleshooting. Core 2 covers installing and configuring OSes, expanded security, software troubleshooting and operational procedures.
Who should take these courses: Anyone looking for a solid background in IT and an entry-level position in computing should consider these courses.
The 10 entry-level courses we describe provide the foundational knowledge required to begin and advance a career in IT.
Price: $232 per exam; candidates must pass both exams to earn certification
Duration of each exam: 90 minutes
Delve further into CompTIA Fundamentals and A+ plus nine additional courses and certifications suitable for those looking enter a career enterprise IT trough a role in IT operations.
CompTIA Network+
Course details: This course and certification cover the configuration, management and troubleshooting of common wired and wireless networks. CompTIA Network+ focuses on specific areas, such as critical security concepts, key cloud computing best practices and typical service models. It also covers newer hardware and virtualization techniques and concepts to give students the combination of skills they need to help keep networks resilient.
Who should take this course: This course is designed for anyone looking to break into IT, but has a special interest in networks and networking.
Price: $329
Duration of the exam: 90 minutes
CompTIA Security+
Course details: CompTIA designed this course to give students baseline skills to perform core security functions and prepare them for a career in IT security.
Who should take this course: IT administrators and those interested in a career in security should consider taking this course.
Price: Basic Bundle is $499 and includes exam voucher, one exam retake and the Official CompTIA Security+ Study Guide eBook
Duration of the exam: 90 minutes
Learn more about CompTIA Security+ and other leading cybersecurity certifications to boost your career.
AWS Certified Cloud Practitioner
Course details: This credential helps students learn the fundamentals of the AWS Cloud, including its primary benefits, pricing models and core AWS services. It features a logical progression of digital training, classroom courses, videos, white papers and certifications.
Who should take this course: Anyone new to the cloud, regardless of their role in an organization, should consider the AWS Certified Cloud Practitioner examination.
Price: $100
Duration of the exam: 90 minutes
Start your AWS cloud certification exam prep with this useful guide.
Microsoft Azure Fundamentals
Course details: This course is considered the first step on the path to associate-level and expert-level Azure certifications. Although it is an optional step, validating foundational knowledge, Microsoft Azure Fundamentals certification benefits students in the long run. While not mandatory, the associated AZ 900 exam can be considered an entry point for all other associate and expert-level Azure certifications. The course includes basic cloud concepts and core Azure services, as well as security, compliance, privacy and trust. It also describes Azure pricing, service-level agreements and lifecycles.
Who should take this course: This exam doesn't require experienced cloud professionals or prior programming experience. It is excellent for those already involved in the purchasing and selling of cloud services, even if they are from a non-technical background. The exam will also help people who want to validate their basic knowledge in cloud services or solutions. While not a requirement, it's useful if the exam candidate has some general IT experience or knowledge before starting official AZ-900 exam preparation.
Price: $99
Duration of the exam: 85 minutes
Explore requirements and exams associated with Azure administrator roles and positions.
Microsoft 365 Certified: Fundamentals
Course basics: This course teaches foundational-level knowledge on the considerations and benefits of adopting cloud services and the software-as-a-service cloud model.
Who should take this course: Candidates who already have some knowledge of available options and benefits gained by implementing Microsoft 365 cloud service offerings should consider this course.
Price: $99
Duration of the exam: 60 minutes
Check out some of the latest Microsoft 365 enterprise features and a dozen security best practices for the cloud-based productivity suite.
Cisco Certified CyberOps Associate
Course details: This course provides the day-today, tactical knowledge and skills that security operations center (SOC) teams need to detect and respond to cybersecurity threats. The Cisco Certified CyberOps Associate credential validates the fundamentals needed for associate-level job roles, with one exam and one training course to help students prepare. The exam and training cover knowledge and skills related to security concepts, security monitoring, host-based analysis, network intrusion analysis, and security policies and procedures.
Who should take this course: The target audience are those who want to get into cybersecurity, especially to become SOC analysts. These include college graduates with one to three years of experience who want to start a career in cybersecurity or mid-career IT professionals who want to switch to security.
Price: $300
Duration of the exam: 2 hours
Cisco Certified Technician Supporting Cisco Supporting Cisco Routing and Switching Network Devices
Course details: This course and IT certification encompasses the skills and knowledge required to perform on-site support and maintenance of Cisco routers, switches and OSes. It also helps prepare students to work with Cisco's Technical Assurance Center to troubleshoot and address issues in configuration and operation.
Who should take this course: This course is designed for anyone who is interested in learning the basics of routing and switching, and networking fundamentals.
Price: $299
Duration of the exam: 90 minutes
Explore additional Cisco IT courses and certifications.
Oracle Certified Associate Java SE Programmer I
Course details: Learn Java basics, as well as how to work with Java data types, using operators and decision constructs and create and use arrays through this Oracle Certified Associate Java course and certification. It also teaches handling exceptions and working with selected classes in the Java API.
Who should take this course: This is one of the best ways for programmers who want to learn the basics of Java programming to get started.
Price: $245
Duration of the exam: 150 minutes
Learn about Oracle's cloud certifications and how the company is trying to attract developers to its cloud platform through a certification for Oracle Cloud Infrastructure.