svetazi - stock.adobe.com
How to prep for your AWS cloud certification exam
Use this guide to AWS certifications to start your exam prep. Let's make sense of all the exam resources out there.
AWS cloud certifications help IT professionals demonstrate competence, establish learning goals and earn basic bragging rights among their peers. Certifications also boost a candidate's earning potential.
The average salary of an AWS-certified professional is $129,868, according to a 2019 survey by Global Knowledge. And that average increases as you achieve higher certification levels. For example, an IT specialist with the Professional-level Solutions Architect certification averages an annual salary of $148,456.
To cash in on this opportunity, IT professionals must find the AWS certification path that best fits their skill sets. Then they need to put in the work to ace the test. Review some AWS certification basics and learn how to prepare for the test itself.
AWS cloud certification paths, at a glance
There are 12 AWS cloud certifications -- or badges -- broken into four levels of expertise: Foundational, Associate, Professional and Specialty.
There's one Foundational certification -- the Cloud Practitioner badge. It requires six hours of training and is suitable for anyone who works with cloud technology, such as sales reps and technical business managers. AWS recommends that you have six months of AWS cloud experience before starting the certification process.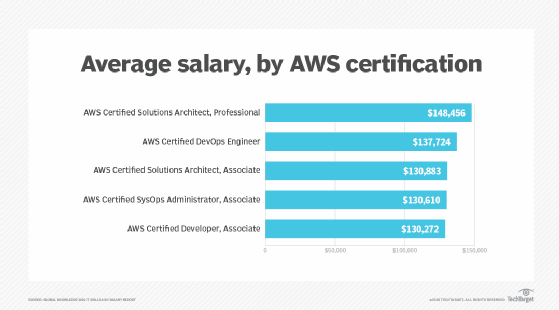 Professional developers and sysadmins often start at the Associate level, with the Developer or SysOps Administrator badges. AWS recommends one year of cloud experience for Associate badges. Developers and sysadmins could then progress to the Professional DevOps Engineer badge. Solutions architects similarly start at the Associate level and then progress to the Professional Solutions Architect badge. AWS recommends two years of AWS cloud experience for the Professional level. Both the Associate- and Professional-level certifications can require up to 120 hours of training.
Finally, the Specialty certifications cover competencies in six separate areas:
Alexa
Advanced Networking
Machine Learning
Databases
Data Analytics (formerly Big Data)
AWS certification costs and resources
The only mandatory cost for each certification is the testing fee -- $100 for Foundational, $150 for Associate and $300 for Professional and Specialty. AWS provides plenty of free digital training, along with a recommended reading list. You can also buy a sample test directly from Amazon for $20 to $40. You may also want to invest in supplementary training focused on each certification from various third parties.
Here are a few other AWS cloud certification elements to note:
Tests are administered by a third party, such as Pearson or Vue, and are available in-person or online as a proctored exam.
If you fail a test, you can take it again as often as you like, but you must wait at least 14 days and pay the full test fee each time.
If you pass a test, you are officially certified. However, certifications only last three years. After that, you will need to take a recertification test on the services AWS has added to this area -- for a smaller fee.
Use the Cloud Practitioner badge as a practice run
Some experts recommend engineers jump straight to the higher-level certifications and leave the Cloud Practitioner badge to sales reps and business managers.
However, you might benefit from getting acclimated to the certification process before you move on to the higher certifications. Think of the Foundational badge as your minimum viable certification, like the minimum viable product in software delivery. You can master the material in as little as six hours of digital training, take the test and then use this same process for the more complicated certifications.
AWS Cloud Practitioner certification preparation
Let's walk through the strategy we just outlined. If you follow these steps, you'll put yourself in the best position to earn your Cloud Practitioner badge so you can confidently move on to the next level.
1. Download the exam guide
Each certification has an exam guide that provides a general overview of what is covered in the exam. For example, the Cloud Practitioner exam covers basic cloud concepts, security and compliance, technology, and billing and pricing.
2. Review the sample questions
Amazon also provides a set of sample questions and answers. Use this to get familiar with the general style and types of questions to expect. The tests are multiple choice, though some questions have more than one correct answer.
It might seem counterintuitive to start with the test before you train and take classes. However, a sample test can provide a baseline and assess what you already know, and what you need to focus on. There are hundreds of low-cost tests and exam simulators available from training services such as Udemy, GoCertify, Digital Cloud Training, Testpreptraining and Whizlabs.
3. Train
Amazon sells instructor-led training that is available in person or online. It also offers a free six-hour digital training that can be completed at your own pace. You can also try various third-party training services, such as offerings from Cloud Academy, Udemy and A Cloud Guru.
4. Read the white papers and FAQs
Amazon recommends a series of white papers relevant to each certification. For example, the Cloud Practitioner certification recommends four white papers that cover an overview of AWS best practices, pricing and support plans.
5. Take a practice exam
Amazon has a simulated practice exam for the Cloud Practitioner certification. As noted above, there are several alternative sites offering tests, which are sometimes delivered in a simulated testing environment.
6. Schedule a live exam
Once you feel confident, schedule the exam. In the wave of COVID-19, Amazon's partners began offering the exams online in a proctored environment. This provides additional scheduling flexibility since it's often possible to schedule the exam for the same day.
7. Take the test
It's the big day. Regardless of how or where you take the test, you are not allowed to reference any devices or ask for help.
Online proctoring essentially means you must take the test in a private room and remain in the view of a webcam throughout the process. The exam is invalidated if anyone else enters the room, if you open another tab on your computer, or if you look anything up on a phone or a book. Make sure to use the bathroom before it starts; you cannot leave the room during the test.
Advice for your next certification
Once you have passed this Foundational certification, you will be in a better position to repeat the process for the other, more difficult certifications.
However, resist the urge to complete multiple types of certifications in quick succession. Remember, each one expires after three years and you can't predict how much free time you'll have when it comes time to get recertified.
Focus on the certifications that are most critical to your current role or your career aspirations and go from there.