osorioartist - Fotolia
How will Microsoft role-based certifications affect admins?
IT administrators should already know that the only constant for Microsoft products is change. Certifications are the next thing to get an overhaul.
The cloud platform product family comprises the first wave of Microsoft's role-based certifications changes. Before you start to stress that you wasted time and money on certifications, it's important to understand what the evolving Microsoft certification path means for you and the future of Windows Server and Exchange certifications.
If you're a Windows Server or Exchange Server administrator interested in certifying your expertise, you probably planned to pursue one or both of Microsoft's certification credentials. For Windows Server specialists, the company offers the Microsoft Certified Solutions Expert (MCSE): Core Infrastructure certification. For Exchange specialists, Microsoft offers the MCSE: Productivity certification.
But Microsoft's shift toward role-based certifications shouldn't affect your current MCSE study path. And although Microsoft will retire MCSE certifications in favor of new role-based ones, your transcript will still reflect your expertise in expired exam topics. It's worthwhile to continue studying for MCSE titles even with changes on the horizon.
No sign of change for Windows Server and Exchange certifications
Microsoft has not announced any plans for role-based certifications for Windows Server and Exchange yet, nor has the company developed a timeline. As of spring 2019, if you are completing or interested in MCSE certifications, you should stay the course.
Microsoft has not yet slated those MCSE titles for retirement. Enough active exams exist within the certification requirements to offer flexibility for how you certify as an MCSE. Your MCSE will remain on your transcript, regardless of whether it's listed under active or history, and you can still claim you are an MCSE in Exchange, Windows Server or both.
Transcripts still reflect expired exam certifications
Microsoft role-based certifications represent the way forward for all future Microsoft certifications.
Even though Microsoft has set a new direction for certifications, the ones you have now can still prove to employers that you have specific skills, even though they aren't current. Individual Microsoft certification exams expire, but Microsoft often offers other elective exams to earn your MCSE.
For example, the Core Infrastructure MCSE program requires you to pass at least one exam in addition to earning your MCSA: Windows Server 2012 and MCSA: Windows Server 2016, but Microsoft has multiple exams to choose from.
The Microsoft Certification Official Transcript keeps track of your exams and certifications in several sections. As of spring 2019, the sections on a transcript include active certifications, exams and certification history.
Figure 1 shows your active certifications. You can see MCSEs in Productivity and Server Infrastructure, now renamed Core Infrastructure, along with the achievement dates. Under the exams section, you can see every Microsoft exam you've passed, as well as the achievement date. Note that the exams do not show active or retired status.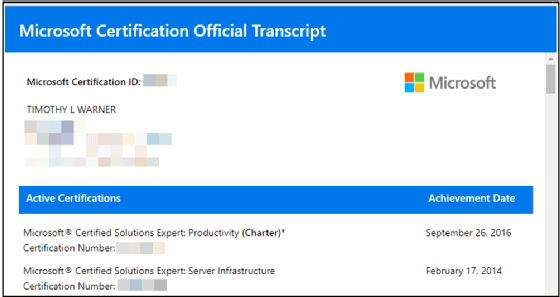 The Certification History lists certifications that are inactive by virtue of their exams being retired. For example, Figure 2 shows that Microsoft retired the old Microsoft Certified IT Professional certification for Windows Server 2008.

The new Microsoft role-based certifications have a formal two-year validity period. Microsoft Learning has not yet published the recertification requirements. To keep track of the requirements, check on the Microsoft Learning website for retiring exams and certifications, and check the community blog. If Microsoft Learning publishes role-based badges for Windows Server and Exchange, it will announce the additions on the community blog first.
Why is Microsoft changing its certifications?
Until late 2018, the MCSE in Cloud Platform and Infrastructure validated Microsoft Azure expertise. To earn it, you had to pass three now-retired exams that covered Azure administration, development and architecture.
It's unusual to have expertise in any two of the above, much less all three. As a response to this rarity, Microsoft created several entry-, associate- and expert-level certifications that distinguish between job roles starting with the cloud platform products, such as Azure, Office 365 and Dynamics 365.
For example, an Azure administrator could pass the AZ-103 exam to earn an associate-level Microsoft Certified Azure Administrator badge. Microsoft Learning partnered with Credly, a digital badge vendor, to distribute shareable, validated badges.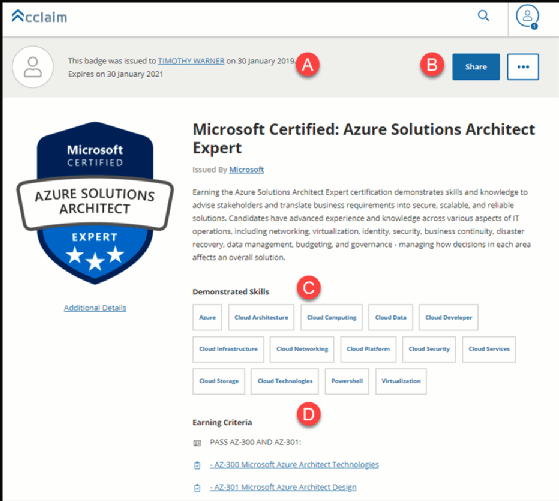 In Figure 3, you can see the benefits of the new digital badge delivery method, such as:
The shareable badge page lists when you earned the certification and when it expires.
Credly provides code to make it easy to embed your badge on your website or in your social media profiles.
The people you share your badge with can see what skills the credential validates.
The badge page lists the earning requirements for the badge. Click an individual exam to reach that test's badge page, which is personalized with your own metadata.
The new Microsoft certification path captures the scope of particular job roles and uses a digital badge to make sharing and verification simple. Microsoft role-based certifications represent the way forward for all future Microsoft certifications.
Dig Deeper on Microsoft messaging and collaboration