svetazi - stock.adobe.com
A roundup of the Cisco certification changes in 2020
The network industry is changing and so are required network engineer skills. Here's how Cisco redesigned its certification programs to keep up with industry goals.
As network engineer skills become increasingly generalized, Cisco aims to match its certifications to the skills network engineers need in their daily lives.
Announced at Cisco Live 2019, the new Cisco certification changes rolled out on Feb. 24, 2020. Experts have touted the relevant material and the myriad topics Cisco's certifications cover with these changes and potential benefits for network engineers. With more focus on automation and software skills and less on infrequently used coding languages, Cisco aims to spring its certification tracks forward into the new decade.
The Cisco Certified Network Associate (CCNA), Cisco Certified Network Professional (CCNP) and Cisco Certified Internetwork Expert (CCIE) certifications all expanded the breadth of topics covered, yet all shrunk in size. Cisco also introduced new DevNet certifications among the other Cisco certification changes.
How did existing Cisco certifications change?
Cisco's standard certification tracks -- CCNA, CCNP and CCIE -- all added new material that aims to be more relevant to current job roles and help advance the careers of network engineers. In addition to new material, the certifications also include fewer track options than before.
Cisco Certified Network Associate. CCNA is an entry-level certification for network engineers early in their careers. Formerly, Cisco issued the Cisco Certified Entry Networking Technician (CCENT) certification, which was the step before CCNA. After CCENT, CCNA offered different certifications for various career tracks, including CCNA Routing and Switching and CCNA Collaboration.
Now, CCENT is gone, and the recent Cisco certification changes transformed the CCNA from 10 separate tracks into a single unified exam, apart from the CCNA CyberOps track. Cisco author Wendell Odom said most topics in the new CCNA exam come from the former CCNA Routing and Switching track, with about one-third of new material.
A CCNA certification isn't a prerequisite for higher certifications, yet it provides fundamental networking skills that network engineers require for current job roles.
Cisco Certified Network Professional. CCNP is an intermediate-level certification and a step up from CCNA. Similar to the CCNA changes, Cisco consolidated the CCNP certification tracks, although less drastically than with CCNA. Cisco cut CCNP from eight to five tracks, which, like CCNA, reflect holistic industry changes to bring more relevant material to Cisco's certifications.
According to Cisco, the new CCNP tracks -- which are also the new CCIE tracks -- are the following:
Enterprise
Security
Service Provider
Data Center
While these are the five core exams a network engineer can take, they must also take a concentration exam within the core topic to attain a CCNP certification. If a person solely takes the core exam and passes, she receives a Cisco Certified Specialist certification in that topic area.
Network engineers can take several core or concentration exams and receive a Cisco Certified Specialist certification upon passing, which can prove to employers the engineer has those specific skills.
Authors Brad Edgeworth and Jason Gooley said these changes didn't remove much material, but they added more width to the knowledge and skills network engineers should have in their careers.
Cisco Certified Internetwork Expert. CCIE is an expert-level certification and a step up from CCNP. The CCIE and CCNP tracks fall under the same umbrellas and shrunk to the aforementioned five tracks. To become CCIE-certified, network engineers must take and pass one core exam -- Enterprise, Security, etc. -- and that topic's corresponding lab.
Formerly, CCIE exams focused more on highly advanced skills and less on critical knowledge in areas such as network design skills. After the Cisco certification changes, the CCIE exams now include more practical knowledge for advanced network engineers.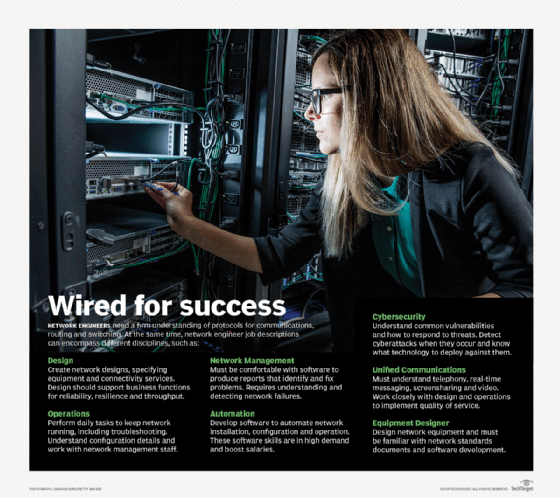 What are the new Cisco certifications?
In Cisco's new DevNet track, the company added three certifications that reflect the certification pyramid for standard Cisco certifications. The DevNet certifications are the following:
Cisco Certified DevNet Specialist
Cisco Certified DevNet Professional
The DevNet tracks encompass network automation, software and programmability skills that Cisco certifications previously lacked and that the industry has deemed increasingly important.
While DevNet lacks a CCIE-equivalent track, the requirements for a DevNet certification reflect those of its equivalent in Cisco's standard certifications. For example, a person must pass one core and one concentration exam to receive a Cisco Certified DevNet Professional certification.
The DevNet track's goal is to give network engineers a certification path for skills the industry says they need and help them adapt to newer, advanced technologies -- such as network automation -- that employers increasingly seek out. And, as the industry continues to change, so will Cisco's certifications.
Dig Deeper on Networking careers and certifications