J.J.Brown - Fotolia
Software drives changes in network engineer skills, certifications
Learn what network analysts think about network engineer skills and certifications in the modern networking industry. Hint: Proprietary hardware is in the rearview mirror.
The networking industry is changing lanes, shifting from hardware to software. Meanwhile, network engineers must navigate a complicated career path without a clear map for guidance.
Each network engineer takes different career steps based on interests, environment and employer. While the journeys might vary, all engineers should develop some core network engineer skills. According to networking analysts, these skills include software knowledge, logical thought processes and cross-domain skills -- think Linux and Ansible.
While the term software networking may sound ambiguous, its main goal is to improve interoperability, customization and management by moving away from proprietary hardware. It encompasses open source software, open APIs, white box networking and software-defined networking concepts, among other strategies.
Hardware will still be necessary, but engineers should focus less on traditional hardware knowledge and familiarize themselves with software, according to John Fruehe, an independent analyst.
"Many of the modern products are becoming software-based or have a high reliance on software for operations," Fruehe said. Each company and network environment uses different tools, applications and services that require varying skills. But network engineers with a thorough understanding of software can gain an upper hand in modern networks.
What are the skills required for a network engineer?
With myriad software networking strategies, it can be difficult to determine which network engineer skills are necessary. This is where "cross-domain skills" become invaluable for network engineers, according to Andrew Lerner, a Gartner analyst.
Employers are increasingly looking for employees who know Linux, Python and Ansible, Lerner said, as well as tools like Git, Grafana, Jenkins and Jinja -- a web template engine for Python. These cross-domain skills should also include cloud networking knowledge, as most organizations run workloads with public cloud providers, like AWS, Microsoft and Google, he added.
Even with the need for updated skill sets and knowledge, Lerner noted how fundamental networking expertise will always remain valuable. "Knowing core protocols like TCP/IP, Border Gateway Protocol and Ethernet will never go out of style," Lerner said.
John Burke, principal analyst at Nemertes Research, based in Mokena, Ill., also stressed the importance of the fundamentals, noting the need for logical thinkers and the "ability to learn quickly from monitoring data, documentation and testing."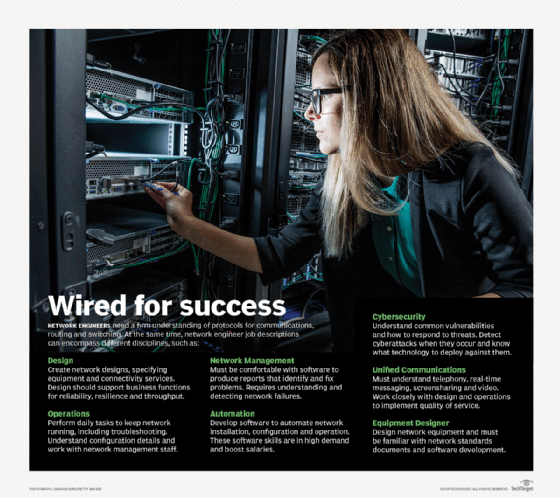 The question of networking certifications
The transition from proprietary hardware to software affects more than just network engineer skills, though. It extends to staff training, budgets, investments and the debate over networking certifications. While specific vendor certifications still have their place, the analysts agreed that many engineers can focus on more general certifications.
"Networking certifications are important, as they provide a minimum level of credibility," Lerner said. "That said, I believe traditional vendor-specific certifications are less critical than they were."
I believe traditional vendor-specific certifications are less critical than they were.

Andrew LernerGartner analyst
According to Fruehe, vendor- and product-specific certifications are more valuable for network engineers "making a significant long-term investment in particular hardware." These can include certifications catered specifically to Cisco's Application Centric Infrastructure product, Fruehe said.
Otherwise, universal certifications on networking concepts can help engineers target baseline networking skills. These can include CompTIA certifications and, to an extent, Cisco CCNA certification, he said.
The key for engineers considering networking certifications is to train only for the certifications relevant to what they do in the network, Burke said. That sounds obvious, but it can get complicated, especially if engineers' responsibilities are constantly shifting. But certifications can help them keep up with technology and product advances and "stack the deck in your favor" during the hiring process, Burke said.
Employers investing in networking certifications
Another complication around certifications is employer support and investment, Fruehe said.
"Many companies are loath to invest in certifications because they believe it will lead to employee defection for better jobs or demands for higher salary," he said. "Nothing says your company doesn't value you like seeing them not invest in your career." Employers can counteract this mindset by investing in employee certification to improve morale and retain valuable employees.
Ultimately, a networking certification provides network engineers with a level of credibility that can help jump-start or accelerate their careers, Lerner added.
"It's like a driver's license. It doesn't mean you're a great driver, or the best driver, or even a good driver, but it means you know how to drive and are familiar with the fundamentals of being on the road," Lerner said.
This was last published in
August 2019
Dig Deeper on Networking careers and certifications