.shock - Fotolia
Top enterprise network challenges include agility, product hype
Product hype and network agility are some of the primary network challenges for modern enterprises, according to networking experts. Read up on their insights and advice.
Enterprises face their fair share of challenges in the current networking climate. Bandwidth demands, network security concerns and management issues are only some of the potential network challenges.
Other challenges are less blatant. One of the most problematic issues that network teams face is the perception versus reality of enterprise networking products and their capabilities, according to John Fruehe, an independent analyst.
"There is nothing wrong with the current crop of enterprise products as is," Fruehe said. "The biggest challenge is squaring the products against what the vendors are claiming." Often, enterprises can only achieve the touted benefits of the products if they maintain a "pure single vendor environment," he added. But this type of environment is rare among enterprises.
To minimize disparities in product expectations and reality, Fruehe advised network teams to tailor their request for proposal (RFP) to get the most valuable information from the vendor.
"Companies need to ask more about the interoperability of new products with their environments and, specifically, passing on products that do not meet their standards," he said.
This means companies shouldn't hesitate to ask uncomfortable questions during the RFP process, Fruehe said. Network teams should ask about features, pricing and schedules for functionality updates, and they should know which of those three are most important for them. Further, they should request customer references that have experience with the specific product functionality, he added.
"Have the vendor find someone with an environment similar to yours, so you can get a truer idea of how things will really function," Fruehe said. This type of communication is especially valuable when enterprises are dealing with nascent technologies that are still maturing, like software-defined WAN.
Agility is a network challenge
While some enterprises struggle to wade through product and technology hype, others face the problem of creating and maintaining an agile network, according to Andrew Lerner, vice president at Gartner.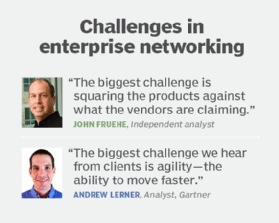 "The biggest challenge we hear from clients is agility -- the ability to move faster to support the business," Lerner said.
This network challenge largely stems from digital transformation, as organizations modernize their business strategies and technologies to better support customer needs. As companies embrace digital transformation, they need to move "at the pace of software, new apps, new clouds and new technologies," Lerner said.
Network teams are then required to simultaneously support and orchestrate multiple cloud, DevOps and Agile environments, all with high availability, Lerner said. The reality, however, is traditional networking often doesn't align with those requirements. Instead, networking moves at the slower pace of hardware, and network pros are held responsible for networks that fail, he added.
Lerner's advice for network teams looking to combat this issue and attain network agility is to embrace network automation in a way that doesn't focus solely on automation tools. While tools like Ansible, Salt, VMware NSX or Cisco Application Centric Infrastructure can benefit enterprises, Lerner emphasized the importance of investing in people and processes. One way to do this is to start with smaller strategies, like addressing how teams report and troubleshoot for Day Two network operations, he said.
Further, the industry needs to adapt how it manages risk in networking, Lerner said. Enterprises are strongly averse to risk, which causes network teams to approach networking innovation incrementally. Instead of making dramatic upgrades, they simply add a new appliance or overlay to the existing network, he added.
"We need to manage risk at an appropriate level versus avoiding it," Lerner said. "We need to encourage appropriate risk-taking. In the digital world, which moves at the pace of software, it can be riskier to be late than to be early with emerging network technologies."
But this kind of approach doesn't require radical upheaval. Network teams can take incremental steps by transitioning away from thinking of the network as one large entity. Instead, they can design and build out the network in smaller pods, which better enables agility, Lerner said.
This was last published in
August 2019