Sergej Khackimullin - Fotolia
Specialized network engineer skills deemed unnecessary by 2020
Common networking roles are shifting to keep up with network transformation and a changing industry. Challenges include new monitoring tools and increased complexity.
Network engineers are an invaluable part of any organization, but increased network complexity could make specialized networking skills superfluous by 2020.
Organizations now prefer generalized network engineer skills over specialized skills, according to a report conducted by Sapio Research on behalf of Teneo Inc., a technology integrator and consulting firm. Among those surveyed were 300 senior IT executives -- 200 from the U.S. and 100 from the U.K. -- from organizations with over 1,000 employees. The survey explored why network requirements transform to support digital transformation and networks in general.
Constant network transformation and a growing amount of network monitoring tools contributed to the decreased need for specialized skills, the report said. Organizations have difficulty keeping network teams up to date with new technologies and tools and even struggle to afford and balance these needs.
Network complexity leads to converging networking roles
By 2020, in-house network teams will likely take on a broader range of roles than they have in the past, according to 72% of survey respondents. With the growing amount of connectivity technologies -- such as software-defined WAN, carrier networks, MPLS and cloud-based applications -- network engineers need adaptable skills. Users expect networks to function quickly and smoothly, so network teams must understand and monitor various network technologies to meet user needs.
Specialized network engineer skills become less useful in a constantly changing network environment, respondents said, and keeping up with elaborate infrastructures is also difficult. Of those surveyed, 72% said they don't require network engineers to have specialized skills. This is a result of growing workloads, in addition to a burgeoning need for up-to-date skills.
The growing repertoire of network monitoring tools is also difficult for organizations to balance and maintain. Network teams need to use more and more monitoring tools to provide receptive and reliable operations for their network and organization, according to the survey. Keeping up with current management and monitoring tools and updating network engineer skills are major challenges for organizations.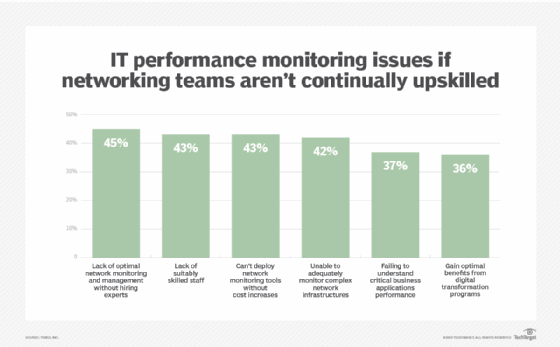 Constant network transformation overshadows network engineer skills
Of those surveyed, 26% of respondents said they want their network teams to also perform non-network roles -- for example, roles related to compliance and innovation. These converging roles can create difficulties for upskilling network teams. Upskilling is now less of a budgetary issue and more a challenge to ensure teams have up-to-date knowledge about complex network infrastructure and tools, according to the survey.
Increased network complexity forced 48% of those surveyed to dedicate most of their network teams' resources and budgets to staying updated with network monitoring tools. Therefore, upskilling received fewer resources. Also, too many monitoring tasks are put on IT teams, which can lead to inadequate monitoring and management and staff members without proper skills.
Other areas that network teams' resources and budgets go toward are personnel hiring and outsourcing to managed service providers. The growth in network monitoring tools caused such complex network transformation that network engineer skills -- specialized skills, in particular -- now toe the line of being more superfluous than beneficial.
The effect on network engineer skills globally
While U.S. and U.K. respondents generally had similar answers, the three main concerns for U.S. respondents were the following:
suboptimal network monitoring and management without new hires;
staffs lacking necessary or suitable skills; and
spending more on network monitoring tools.
Network teams could obstruct their understanding of the network's performance if they are unable to upskill their engineers. Overall, ensuring staffs are properly skilled weighed more heavily on global senior IT executives than other common concerns, such as understanding application performances.
This was last published in
April 2019