ThorstenSchmitt - Fotolia
Navigate your options for Oracle cloud certifications
Oracle certifications, including those for cloud, can build foundational knowledge or expand existing IT skills. The first challenge, though, is to find the right training path.
Like other industry achievements, Oracle cloud certifications can strengthen an IT pro's resume. But, given the...
Continue Reading This Article
Enjoy this article as well as all of our content, including E-Guides, news, tips and more.
breadth of the vendor's training portfolio, it's important to first chart a clear certification course.
One of the main goals of the Oracle certification program is to help credential holders demonstrate they possess the modern job skills to successfully implement Oracle products, including the latest cloud applications and technologies, said Eva Chase, senior global manager at Oracle University.
If you work primarily in an Oracle environment, it makes sense to get trained and certified to master that particular vendor's vocabulary and technology. However, when it comes to Oracle cloud certifications, there are many options for students to navigate, including those that are specific to cloud applications, such as enterprise performance management and supply chain, said Cushing Anderson, an analyst at IDC. The vendor also breaks out its certifications by role and cloud service category.
To start, IT pros need to determine the specific Oracle cloud technology they want to focus on, Chase said. Obviously, people's paths will differ based on whether they are just beginning to learn or already have a certification, but want to update their skills. Oracle cloud certifications are built on a progression of knowledge and skills, so individuals should make these decisions based upon prior training and experience.
Pick a path
To help people sift through all of their certification options, Oracle University recently introduced Oracle LaunchPad, a cloud education platform that provides free introductory training on Oracle cloud applications, Chase said.
The platform, which is available to current SaaS customers, contains two topics -- Overview of Oracle Certifications and Get Certified -- within the module, "Build Your Oracle Cloud Career: Get Certified," that will help individuals navigate the cloud certification program.
Chase said cloud certifications are also integrated into the Oracle Cloud Learning Subscriptions, which let you train and test on your own schedule. When you use Oracle Cloud Learning Subscriptions, Oracle certification exams are also free, Chase said.
The exams are divided into three broad categories: IaaS, PaaS and SaaS, noted Biju Thomas, principal application architect at OneNeck IT Solutions, a developer of hybrid IT services in Madison, Wis., and author for several Oracle database and SQL study guides published by Sybex and Wiley.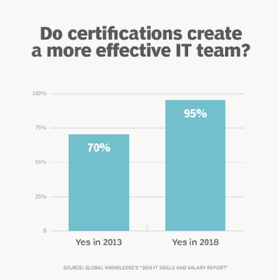 Again, given the wide range of Oracle cloud certification options, IT pros need to home in on a specific area of expertise. And they shouldn't assume their on-premises skill won't translate to cloud. In fact, the Oracle database certification levels of Oracle Certified Associate and Oracle Certified Professional are required to earn the Oracle Database Cloud Administrator Certified Associate or Oracle Database Cloud Administrator Certified Professional certifications.
"A few SaaS certifications, especially the enterprise resource planning certifications, help to achieve the equivalent cloud certification," he said.
In the future, it would be good for Oracle to refocus its certification exams to help individuals transition from their current role into another, such as cloud admin, architect or developer, Thomas added.
A mix of cloud certifications and experience
According to IDC's Anderson, the value of cloud certifications, in general, is twofold: They make job candidates more desirable to hiring managers and incentivize supervisors to train employees.
"If a candidate wants to be influential and involved in interesting projects and helping to make important decisions, being certified is a way to boost credibility and influence," he said.
It's a combination of training and experience that helps a candidate stay relevant and pass a certification exam, Chase said. Therefore, the best approach for those seeking a certification is to assess their current skills along with their career goals, identify the certification that will help them be more competitive and then get relevant training so they can pass the exam.
Another helpful tip is to know what your boss -- and the boss of your boss -- has in mind for an IT strategy, Anderson said. This will ensure the certifications and experience you gain will align with those goals.
"Maybe even get their advice and encouragement so you know you are making a good choice," he said.