What is leadership?
Leadership is the ability of an individual or a group of people to influence and guide followers or members of an organization, society or team. Leadership often is an attribute tied to a person's title, seniority or ranking in a hierarchy. However, it's an attribute anyone can have or attain, even those without leadership positions. It's a developable skill that can be improved over time.
Leaders are found and required in most aspects of society, including business, politics, religion and social- and community-based organizations. Leaders are seen as people who make sound and sometimes difficult decisions. They articulate a clear vision, establish achievable goals and provide followers with the knowledge and tools necessary to achieve those goals.
An effective leader has the following characteristics: self-confidence, strong communication and management skills, creative and innovative thinking, perseverance, willingness to take risks, open to change, levelheaded and reactiveness in times of crisis.
In business, individuals who exhibit leadership traits can ascend to executive management or C-level positions, such as chief executive officer (CEO), chief information officer (CIO) and president. Individuals who have exhibited strong leadership in the technology industry include Apple founder Steve Jobs, Microsoft founder Bill Gates and Amazon CEO Jeff Bezos.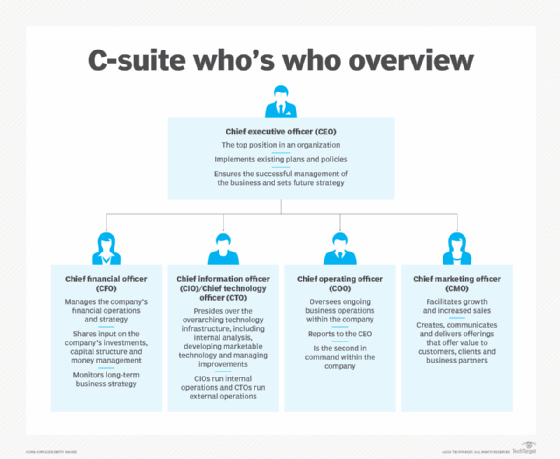 Why is leadership important?
Leadership plays a central role in the success and direction of a business. Organizations depend on successful leaders to communicate its mission, vision and goals, unite team members around those goals and then achieve them. These capabilities are especially important in times of crisis.
Hard decision-making is often required for the success and evolution of a business. Businesses often depend on leaders with high competencies and emotional intelligence to make tough decisions and solve problems. This level of trust and success often leads to positive, productive work environments that encourage teamwork, employee well-being and strong work cultures that are attractive to top talent.
Strong leadership is critical to an organization's competitiveness because it drives change and innovation. The best leaders keep an eye on changing directions in their industry, promote new ideas from within their company and bring in innovative thinkers.
Leadership theory
How people become leaders and what makes a great leader have been the subject of study for centuries. The 19th century was dominated by the Great Man Theory, which stressed that leadership is a unique, natural skill and that great leaders are born to the task.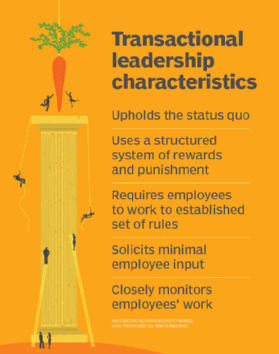 The following are some of the many leadership theories advanced in the 20th century:
Trait theory dates to the mid-20th century and it centers on the idea that some people are born with certain personality traits that make them great leaders, such as integrity and self-confidence.
Situational leadership is where the leadership style is adjusted based on the readiness or skill-level of followers in a given situation.
Contingency theory posits that effective leadership depends on having the right leader for the right situation.
Transactional leadership is an approach where leaders reward or punish followers to achieve results.
Transformational leadership is where leaders appeal to followers' values and emotions to transform the way they think and approach their work or life.
Behaviorist theory encompasses a person's leadership skills are developed and trained as products of their environment.
Behavioral theory is where a leader models certain behaviors, setting a good example for others to follow.
Functional theory is leadership based on a collection of people's behaviors and group dynamics, not individuals.
Path goal theory is where leaders set goals and smooth the path to those goals to motivate and drive performance.
Leadership vs. management
The terms leadership and management are used interchangeably, but they aren't the same concept. Leadership roles involve creating and articulating a vision and inspiring others to want to work toward that vision. But leaders might not be skilled at or involved with the day-to-day management of the work needed to turn that vision into a reality.
Management is the oversight of the tactical steps required to complete the work and achieve the objectives. Good managers excel at articulating the steps required to complete tasks and holding people accountable for doing assigned work. Leaders can be good managers and good managers can be good leaders. Very often, managers are put into positions where they need to exhibit leadership characteristics, such as motivating and aligning employees to goals. Likewise, leaders often must take on management tasks, such as holding employees accountable for an organization's goals and vision.
Some specific differences between leaders and managers include the following:
| | |
| --- | --- |
| Leaders | Managers |
| Establish a long-term vision, goals and objectives | Achieve organization's vision, goals and objectives |
| Motivate and align employees to goals | Assign tasks to employees and hold them accountable |
| Ask long-term, big picture analytical questions, such as "what" and "why" | Ask process questions focused on achieving short-term objectives, such as "how" and "when" |
| Can have any title, though often part of the C-suite; their positions and responsibilities aren't always executive | Have specific job titles and fixed responsibilities |
What makes a great leader?
Several attributes separate good leadership from great leadership, including the following:
Strong, realistic visions.
Clear and effective communication.
Adaptability, flexibility and creativity.
Honesty.
Patience.
Resiliency.
Emotional intelligence and empathy.
Integrity.
Collaboration.
Passion.
Fairness.
Cultural awareness.
Intelligence and expertise.
Strategic and visionary decision-making.
Persuade, motivate, empower and inspire.
Great leaders inspire people, motivating them to do what it takes to achieve the leader's and organization's goals. Former U.S. President Dwight D. Eisenhower articulated this idea when he said, "Leadership is the art of getting someone else to do something you want done because he wants to do it."
Leadership styles
The following leadership styles are among the many commonly seen in business and other organizations: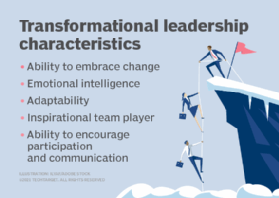 Affiliative leaders foster positive group dynamics.
Authoritative leaders provide clear direction and require compliance.
Autocratic leaders maintain complete control and decision-making powers.
Charismatic leaders use sociable and charming personality traits to persuade followers.
Coaching leaders teach and motivate others to reach goals.
Coercive leaders force people to follow instructions whether they want to or not.
Command and control, also called bureaucratic, leaders establish strict rules and regulations.
Democratic leaders focus on compromise and group consensus; they include others in decision-making.
Innovative leaders foster creativity and adaptability.
Laissez-faire leaders take a hands-off approach.
Pacesetter leaders use emotional-leadership styles to drive employees to achieve goals at a high rate.
Transactional leaders use a system of rewards and punishment.
Servant leaders focus on serving the needs of the group and the greater good.
Situational leaders adapt their style to different situations and people.
Strategic leaders focuses use different management styles to develop adaptable strategies.
Transformational leaders motivate others to grow both professionally and personally.
How to become a better leader
The workplace has changed dramatically over the last few years, with the increase of remote work and the growing importance placed on employee touchpoints, such as diversity, equity and inclusion. There are several leadership qualities that can be refined to help individuals become better leaders:
Become more self-aware. Great leaders know their strengths, weaknesses and effects on the people they lead. They set a good example and model good behavior. One way to become more self-aware is to seek feedback from those people.
Refine communication skills. Leaders should be effective and clear in their communication; they must also be good listeners. Communication should be based in openness, honesty and transparency. This involves setting clear goals and expectations and giving regular feedback to employees.
Connect with team members. Connections build trust, understanding and bonds that are critical for successful leadership. The best leaders should get to know the personalities and capabilities of their team members.
Encourage growth. The best leaders encourage their own, their colleagues' and their employees' or followers' personal and professional growth. Encouraging growth strengthens bonds and trust between leaders and team members, and increases what teams can accomplish.
Be open to change. Change is inevitable in business; being open to it and encouraging new ideas and perspectives from team members can help leaders become more effective.
Develop positive attitudes. Responding to negative situations and problems with positive approaches and encouragement is a great way to model and improve problem-solving skills.
Seek out growth opportunities. Great leaders look for opportunities for continuous improvement and education. This can involve attending conferences, finding a mentor and reading books on leadership.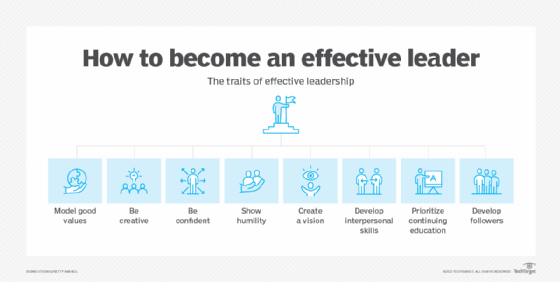 Leadership training and development
Many individuals inherently possess some leadership traits, but most people must develop many of the characteristics associated with leadership. The following are some of the leadership training and development programs available:
Ariel Group.
Center for Creative Leadership Development Program.
Columbia Business School's Executive Education Program.
Dale Carnegie.
Global Knowledge.
Harvard Business School's Executive Education Programs.
INSEAD.
The Ken Blanchard Companies.
Maxwell Leadership.
Mind Tools.
MIT OpenCourseWare.
MIT Sloan School of Management's Executive Education Program.
OpenLearn.
Skillsoft.
Stanford Graduate School of Business Leadership.
Leadership in hybrid and remote environments
According to the United States Census Bureau, the number of remote workers tripled between 2019 and 2021. This shift to hybrid and remote environments has made leadership skills, such as flexibility, adaptability, communication and empathy, even more important.
With more employees working from home, it's important to focus on employee well-being and engagement. Leaders must develop a culture that includes virtual culture-building programs, such as book clubs, townhalls, mentorship programs and other events.
Leaders should also adapt their communication skills to hybrid and remote environments. This includes virtual check-ins, team meetings and workshops to ensure everyone has a clear understanding of goals and projects. Additionally, leaders must trust that their employees are productive in their remote or hybrid environments and hold employees accountable without violating that trust.
Leadership is a critical skill in the C-suite. Learn the 10 skills CIOs and IT leaders need.
This was last updated in
March 2023
Continue Reading About leadership