beawolf - Fotolia
Mendix tweaks low-code, no-code platform with AI, mobile
The latest version of Mendix's low-code platform aims to empower both professional developers and citizen developers to build apps easily.
Mendix has added tools to its low-code platform that enable citizen developers to create apps, in a bid to help enterprises meet the rising demand for software as they undergo digital transformations.
The Mendix Summer '19 release, now generally available, adds productivity tools that enable citizen developers to create apps. The low-code, no-code platform incorporates the Mendix Studio and Mendix Studio Pro development environments, the Mendix Assist AI-based developer tool, and the Mendix Native Mobile platform to build native iOS and Android apps.
Mendix Studio is a visual, no-code development environment for non-programmers or citizen developers. Mendix Studio Pro, a visual low-code tool for professional developers, automates processes of low to moderate complexity, which frees them up to write business logic for applications.
The Mendix Assist AI-powered development tool recommends actions developers should perform next while they write code, and acts as a "pair programmer" that double checks a developer's work. This shortens the learning curve for new developers and helps professional developers accelerate repetitive tasks, avoid errors and improve software quality, according to the company. To develop the algorithm for Mendix Assist, the company trained a machine learning model on data culled from five million application models drawn from 15 industries over 10 years, said Derek Roos, co-founder and CEO of Mendix. The tool has demonstrated 95% accuracy, he said.
The overall goal with the Mendix Summer '19 release is to foster collaboration between business analysts, citizen developers and professional developers. Those developers also can use Mendix to create reusable components with which the non-programmers can build apps.
Mendix, which Siemens acquired last year for $730 milllion, plays in an increasingly competitive field of low-code platform providers that seek to not only assist professional coders but also empower so-called citizen developers through a drag-and-drop UI. Perennial leaders in the eyes of analyst firms Gartner and Forrester include OutSystems, Salesforce, and a hard-charging Microsoft that has made headway with its PowerApps product, the low-code tool in the Microsoft Power Platform. Other key players in the low-code space include ServiceNow, Appian, Kony (recently acquired by Temenos), Oracle, Pegasystems, Betty Blocks and Zoho.
Pricing for the Mendix platform starts at $107.50 per user, per month for a professional license and $156.50 for an enterprise license, both of which cover an unlimited number of applications, or $37.50 per user, per month for a single application. All are a "representative monthly cost" based on a three-year contract and tiered levels.
Low-code, no-code combo targets enterprise app demand
Many enterprises struggle to meet demand for new applications, and Mendix's move to target non-programmers will enable enterprises to empower their citizen developers to create apps to match that demand, said Holger Mueller, an analyst at Constellation Research in San Francisco.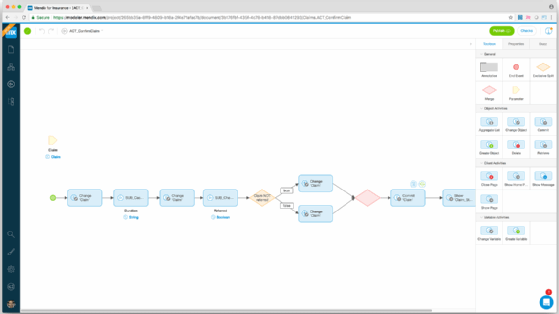 EXp Realty, a cloud-based residential real estate brokerage based in Bellingham, Wash., with more than 20, 000 agents and brokers in the U.S. and Canada, employs the Mendix low-code platform for its professional developers. It is interested in adopting the no-code tools in the Mendix Summer '19 release to empower its citizen developers, said Steve Ledwith, vice president of engineering at the company.
"We have a vision of having citizen developers create apps for us. We've been thinking about it for more than a year," Ledwith said. "This could make things so much easier."
EXp has sought to implement a suite of tools that help developers to both write apps faster and get the data they need to build applications, and the Mendix platform helps with this, Ledwith said.
Many of eXp's developers use Mendix for prototyping, and the platform has helped them to be more productive, Ledwith said. For example, the company revamped its onboarding process for new agents.
"By using Mendix, we were able to take that process from about 18 steps down to nine," he said. "So we're able to onboard a tremendous number of people per day."
Information updated after publication.
Dig Deeper on Software design and development