Definition
Google Transfer Appliance
Google Transfer Appliance is a high-capacity storage server that enables enterprises to transport large volumes of data to Google Cloud Storage.
The physical device is designed to reduce the lengthy transfer times, and potential security risks, that come with migrating data over the internet and into the public cloud. To use Transfer Appliance, a customer requests the appliance from Google, who then ships it to the customer's location. The customer then transfers their data onto the appliance and ships it back to Google, who uploads that data into its Google cloud storage service.
After the process is complete, Google wipes the appliance.
The Google Transfer Appliance is available in two sizes: 100 TB and 480 TB. Each appliance can potentially store up to 200 TB and 1 PB, respectively, depending on the deduplication and compression ratio of the customer's data. Enterprises can choose between a rackable or standalone appliance.
Google recommends that enterprises use Transfer Appliance in cases where it would take them over a week to upload data to the cloud via the internet, or when an enterprise needs to migrate over 60 TB of data.
Preparing data for Google Transfer Appliance
When customers receive the Transfer Appliance from Google, they must appropriately configure and connect it to their network. Data must be accessible as a file in a POSIX-compliant file system to work with the appliance.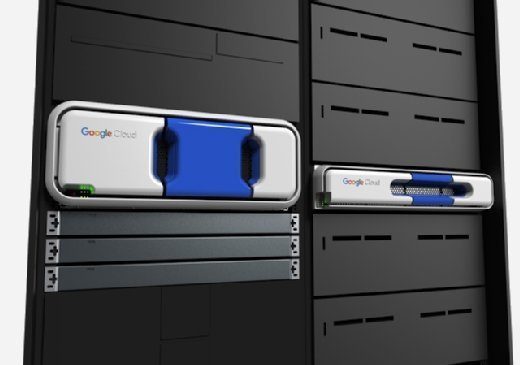 Before enterprises can store data on the device, that data needs to be deduplicated, compressed and encrypted with an AES 256 algorithm. In addition, enterprises need to create a password and passphrase that they will need later to unencrypt, uncompress and reconstruct their data – a process Google calls data "rehydration" -- once it's on Google Cloud Platform.
Google Transfer Appliance pricing
Customers can pay $300 to use the 100 TB appliance for 10 days, or $1,800 to use the 480 TB appliance for 25 days. If customers keep either appliance longer than those respective time periods, they are charged a late fee for every day it is overdue. The customer is also responsible for the shipping fees, which vary depending on location and carrier.
Other off-line data migration services similar to Google Transfer Appliance include AWS Snowball, Azure Import/Export and IBM Cloud Mass Data Migration.
This was last updated in
February 2018
Continue Reading About Google Transfer Appliance
Dig Deeper on Cloud infrastructure design and management