pressmaster - Fotolia
Know these edge computing challenges before you invest
Public clouds are hubs for edge and IoT workloads, but they're still limited in terms of cost, connectivity and security. See what you need to know before you start an IoT project.
IT activity at edge locations should only increase in the 2020s, but cloud providers' efforts to meet those demands remains a work in progress.
In 2018, approximately 10% of enterprise-generated data was created and processed outside of either a traditional data center or a public cloud facility. By 2025 that figure could rise to 75%, according to Gartner. In anticipation of this shift, cloud vendors have expanded their edge capabilities with tools and services such as AWS Lambda@Edge, AWS Local Zones, Microsoft Azure IoT and Google Cloud Edge Tensor Processing Units (TPUs).
The broad range of offerings from the big cloud providers are not silver bullets but they do materially help organizations meet their needs at the edge, said Melanie Posey, vice president and general manager of Voice of the Enterprise at 451 Research. The cloud providers' strategies all start with the same core capability -- a managed service that acts as the hub for communications between devices and the myriad services available on their respective public clouds. From there, however, their approaches diverge.
For example, AWS and Microsoft have prioritized edge and IoT investments more than Google, as they have recognized that these investments are extensions of their value rather than a displacement, said James Staten, vice president and principal analyst at Forrester Research.
"Microsoft decided to not only allow customers to do edge calculations but that almost all Azure services should be available at the edge, including Excel and AI, for example," Staten said. And Microsoft's move is now pushing AWS to put out some additional edge services, he said.
Despite these efforts, developers and admins that use these edge and IoT offerings encounter a few common pain points that still need to be addressed in this emerging space. We'll highlight some of those challenges and explore some examples of how the major cloud vendors have attempted to address them. We'll also look at ways enterprises and their IT teams can better position themselves to take advantage of some of the edge and IoT tools available on AWS, Azure and Google Cloud.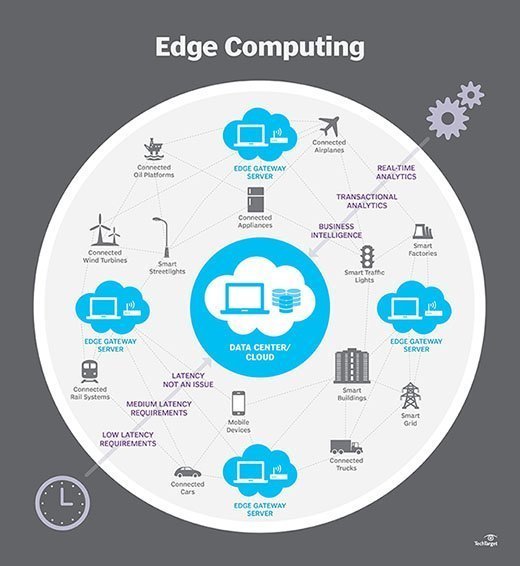 IoT and edge computing challenges in the cloud
Simplicity. Edge and IoT devices, by design, can't reproduce all the capabilities found in public clouds. Those facilities are made up of massive networks of data centers with near limitless IT infrastructure and a multitude of analytics and developer tools layered on top. Conversely, IoT and edge devices have lightweight OSes and limited compute and storage capabilities intended for narrow, specific tasks.
Take Lambda@Edge, for example. This content delivery network (CDN) feature within Amazon CloudFront carries significant benefits -- in terms of speed and cost -- by pushing code closer to users through limited edge compute executions. The ability to put compute at the CDN level with Lambda@Edge is a significant advancement over the idea of CDNs as simply static content caches, James Sanders, an analyst with the cloud transformation team at 451 Research said.
However, compared to a traditional Lambda function, Lambda@Edge is more restrictive with the amount of memory that can be allocated, the total code size and execution timeouts, said Avi Wilensky, founder of Up Hail, a taxi and rideshare comparison engine.
"Developers that use a significant amount of dependencies in their application may be out of luck when trying to deploy it to Lambda@Edge," Wilensky said.
Cost and connectivity. While there are potential for savings -- like with the Lambda@Edge example -- overall, cost has been one of the significant edge computing challenges. "We have seen more organizations that have been doing IoT proofs of concept over the last several years and find that the cost in each city where they need to work is just too high to be feasible," Staten said.
That's one of the factors that has driven the increase in edge cloud tools and managed services. Compared to distributed IoT sensors and devices, edge devices are often larger and can pack more infrastructure capabilities inside. As a result, more tasks can be handled locally, so less data traverses to and from the cloud. But connectivity has always been a problem, whether reaching out to an on-premises data center or the cloud. "Designers have felt that 4G is too slow and have been waiting for 5G before moving ahead," Staten said.
AWS Wavelength could be beneficial for these 5G-connected IoT devices. AWS has also partnered with Verizon, Vodafone, KDDI and SK Telecom to bring AWS compute and storage resources inside telecom facilities.
AWS Local Zones is another substantial edge investment meant to boost connectivity. These are miniature availability zones within standard AWS Regions that enable latency-sensitive operations to run in close geographic proximity. The first Local Zone is available in Los Angeles to support the needs of the media industry, which has a significant footprint in that area.
For its part, Microsoft is partnering with AT&T to create 5G, cloud and edge computing services to drive enterprise capabilities. Specifically, the companies have provided some availability for what they call Network Edge Compute technology, which builds Microsoft Azure into AT&T network edge locations.
Google has also expanded it edge capabilities. Its Cloud TPUs have been supplemented by the development of Edge TPUs, which support AI models run at the edge. Another initiative is Google Coral, which Google is positioning as an ecosystem of products that can help developers build their own AI systems at the edge, without the cloud.
Security. Cloud users run into more edge computing challenges when they try to ensure IoT and edge devices are deployed securely throughout the lifespan of the device, Sanders said.
The main IoT platforms from the Big Three -- AWS IoT Core, Azure IoT Hub and Google Cloud IoT Core -- provide secure communications between devices and the cloud. They also offer the visibility needed to maintain security across a cloud environment and fleets of connected devices. However, much of the responsibility still falls on internal IT teams -- or the manufacturer if it's a pre-built offering -- to install patches and other updates in response to the latest security vulnerabilities.
Internal alignment. At a higher level, the main factors that limit adoption are often organizational rather than technological, Sanders said. This could include lack of internal skillsets, limited capacity within IT to deal with IoT and edge computing or trouble justifying a business use case. "Perceivable benefit, and sufficient return on investment are major considerations for these initiatives," he said.
Organizations can address this by retraining information and operational technology staff, hiring new talent to fill that gap or partnering with third-party providers to manage IoT deployments.