Fotolia
Hybrid cloud providers offer different architecture types
Hybrid cloud means different things to different vendors; some set aside part of the public cloud for private cloud purposes and others simply support an on-premises private cloud.
The term hybrid cloud provider can be a misnomer depending on your definition.
A hybrid cloud is normally defined as an integration between an on-premises private cloud and at least one third-party public cloud. It can be awkward to refer to hybrid cloud providers because it implies that those providers offer both on-premises and third-party clouds.
The typical meaning of hybrid cloud providers is providers with the potential to deliver a hybrid cloud where the private cloud portion of the hybrid environment is hosted rather than it being deployed on premises. This is the domain of major public cloud providers, such as AWS.
Amazon Virtual Private Cloud
For example, Amazon Virtual Private Cloud (VPC) provides customers with a dedicated portion of the AWS public cloud. Customers can make exclusive use of that VPC, including IP address management, routing table and network gateway configuration, and subnet management. Once it is established, customers can invoke AWS services and deploy workloads on the VPC.
Customers can still deploy workloads and use services in the conventional AWS public cloud, which enables the creation of a secure and scalable hybrid cloud. If customers opt to create a hardware virtual private network between the local data center and VPC, they can even link the local data center to the hosted private cloud and AWS public cloud. This extends the organization's deployment options even further.
The typical meaning of hybrid cloud providers is providers with the potential to deliver a hybrid cloud where the private cloud portion of the hybrid environment is hosted rather than it being deployed on premises.
An AWS VPC offers versatile connectivity options to deploy workloads and construct a hybrid cloud. For example, AWS VPC can connect directly to the public internet, which makes workloads publically available and enables users to connect through private subnets to keep workloads private. They can also connect directly to workloads in the private data center, which merges public and hosted private clouds with local data center resources and services.
As another example, AWS provides AWS PrivateLink, which enables customers to access AWS services, such as the Amazon Elastic Compute Cloud (EC2) API, the Elastic Load Balancing API, Kinesis Data Streams and AWS Systems Manager, yet keep all of the traffic secured within the AWS network. This allows AWS VPC customers who want to create a hosted private cloud to access AWS public cloud services without exchanging traffic across public IPs. This helps hide sensitive or secure network traffic between the private and public clouds.
VMware Cloud on AWS
Major public cloud providers, such as AWS, can function as hybrid cloud providers because they support well-established private cloud infrastructures, as well.
For example, VMware Cloud on AWS provides a fully managed VMware environment on the AWS cloud. Customers can employ the hosted VMware environment to build a private cloud using mature VMware capabilities, such as vSphere, vSAN, NSX and familiar VMware vCenter Server management. But that hosted infrastructure can also integrate seamlessly with other AWS services, including compute, storage, database, analytics, mobile and internet of things services.
Getting the most out of a hybrid cloud
Understand the different use cases of hybrid clouds and private clouds, the benefits of a hybrid cloud, and the limitations of a private cloud.
Navigate hybrid cloud advantages and disadvantages, and thoroughly evaluate flexibility, cost, complexity, integration and management before implementation.
Overcome common hybrid cloud deployment challenges by outlining your business goals, hiring additional IT staff if necessary and starting with a small migration.
A data center that uses a VMware software infrastructure can integrate seamlessly with VMware Cloud on AWS to provide a seamless integration between the local VMware environment and the VMware environment established within AWS. Such a collaboration opens numerous potential use cases. For example, a data center can shift workloads to and from AWS to meet bursts in demand, such as temporary or seasonal resource spikes. In addition, a VMware shop can readily use VMware Cloud on AWS for test and dev work, yet maintain the familiar VMware tools and management across both environments.
Open hybrid cloud providers: Cisco and Google Cloud
The VMware and AWS partnership isn't the only hosted hybrid cloud provider. Cisco has also established a partnership with Google Cloud Platform (GCP) to deliver an open hybrid cloud that can support combinations of on-premises, cloud-native and hybrid cloud computing.
One noteworthy difference with the Cisco/GCP partnership is the emphasis on container and microservices support through an open source networking technology called Istio. The Istio platform enables customers to employ policies that can discover, connect, control, scale and secure the connections between local and GCP services.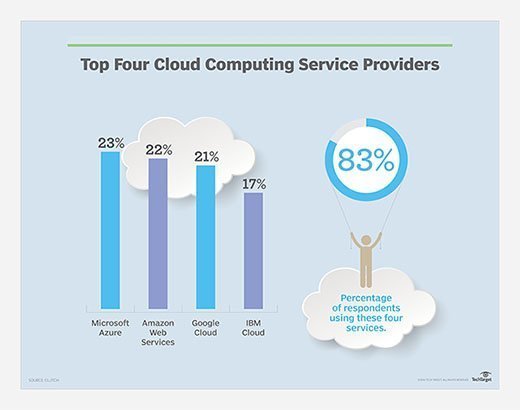 A local data center that runs traditional workloads or services can connect to and use GCP services through Istio. Similarly, cloud applications based on Docker that run in local private clouds on Cisco hyper-converged infrastructure platforms can use Istio to access the Google Kubernetes Engine for container orchestration and management in GCP.
Microsoft Azure Stack
These hybrid cloud providers focus on hosting the private cloud portion of the hybrid cloud. But you can also create a hybrid cloud by moving the public cloud provider to the private cloud.
One example of this is Azure Stack, which is a feature of Microsoft's Azure public cloud. Azure Stack can be deployed in on-premises as an appliance, which allows organizations to deliver Azure services from the local data center.
The potential danger is vendor lock-in. Remember that these types of hybrid cloud providers address all of the challenging integration work for you, such as integrating VMware with AWS. The advantage is speed -- the integration is already done -- but you're also limited to the available offerings. For example, an organization that uses Azure Stack has committed to Azure, and it can find it extremely difficult to explore multi-cloud environments, such as AWS or GCP.
Another potential concern is service availability. For example, VMware Cloud on AWS is currently available in three regions; AWS US East (Northern Virginia), AWS US West (Oregon), and AWS EU (London). Customers that operate in other global regions might not easily be able to use those particular services. In addition, any change to service availability can be highly disruptive for businesses. For example, a service such as VMware Cloud on AWS could be discontinued -- if AWS or VMware were to terminate the relationship -- or network connectivity problems or malicious activity could disrupt access to the service. These concerns shouldn't prohibit the use of hosted hybrid clouds, but it's important for adopters to consider and plan for such eventualities.
Dig Deeper on Cloud deployment and architecture