alotofpeople - stock.adobe.com
IBM, CTA: Apprenticeships key to bridging IT skills gap
Apprenticeships might help to cut the shortage of skilled IT workers and help companies keep pace with demands for new apps and services for their employees and customers.
Apprenticeships are common in many trades, but not in the IT sector. But organizations, such as IBM and the Consumer Technology Association, think there is opportunity to use apprenticeships to address the so-called IT skills gap.
As companies have increased their dependency on software and require more IT support, there is a corresponding increase in demand and competition for a limited pool of skilled IT staff. Code.org estimates that there are nearly 500,000 computing jobs open right now, yet only about 50,000 computer science graduates entered the workforce last year.
Meanwhile, the Computing Technology Industry Association (CompTIA) estimates that there will be more than one million unfilled U.S. tech jobs by 2024, which includes an estimated 800,000 looming IT worker retirements.
To shrink the IT skills gap, the industry must create technology career pathways and build a lasting pipeline to grow the workforce over the long term, said Todd Thibodeaux, president and CEO of CompTIA, in Downers Grove, Ill.
IBM, CTA iron out plan for 'new collar' jobs
At the 2019 Consumer Electronics Show in early January, IBM and Consumer Technology Association (CTA) launched the CTA Apprenticeship Coalition, a collection of 18 companies across 20 states that hopes to create thousands of IT apprenticeships. IBM has pledged to provide at least 450 apprenticeships over the next five years. Members of the CTA Apprenticeship Coalition include Bosch, Canon U.S.A., Ford Motor Company, SoftBank Robotics, Sprint, Toyota and Walmart.
The coalition's model comes from the IBM apprenticeship program, which the company launched in 2017, according to Jennifer Taylor, vice president of U.S. Jobs at CTA, who heads up the coalition effort.
IBM created 15 different types of apprenticeships across software engineering, data science and analytics, cybersecurity, mainframe system administration, creative design and program management.
Working together with IBM and sharing IBM's playbook ... member companies are going to come out of the gate a little faster, which means more jobs being made available faster.

Jennifer Taylorvice president of U.S. Jobs, CTA
Big Blue needed more talent to create and maintain its vast line of IT products, as well as work in its services business. The apprenticeship program is part of IBM's New Collar jobs initiative that waive a four-year college degree requirement and seeks to train and hire skilled workers faster.
IBM approached CTA to offer its apprenticeship approach and assets, and share them with other CTA members, Taylor said.
"Working together with IBM and sharing IBM's playbook ... member companies are going to come out of the gate a little faster, which means more jobs being made available faster," she said.
Programs such as the IBM-CTA model can help both employers and employees, said Charles King, principal analyst at Pund-IT, in Hayward, Calif. First, they offer an avenue to obtain training in areas people are passionate about, and that could secure their financial and professional futures. Second, the programs should help address the IT skills gap and expand the workforce in areas of need for enterprise IT and consumer electronics vendors.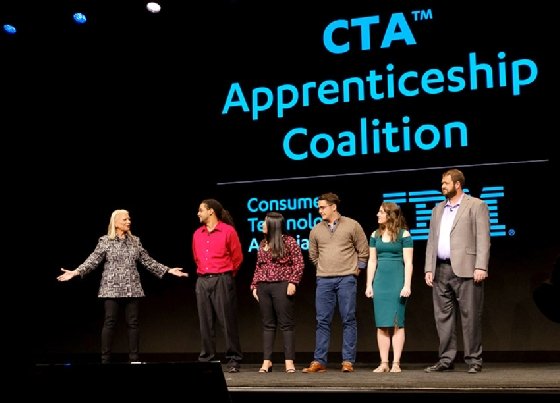 IBM filling software development needs
Like so many companies that face the IT skills gap, IBM particularly wanted software engineering and application development talent, so its first cohort of apprentices focuses on software engineering. To date IBM has brought in more than 180 apprentices, said Kelli Jordan, talent leader for IBM's New Collar Initiative.
Apprentices must prove competency in a variety of skills related to their chosen specialty. For a developer, these skills could include private cloud, hybrid cloud, front-end development, back-end development, DevOps and more.
IBM projects that each apprenticeship should take about one year to complete, and even longer for more complex roles in mainframes (about 18 months) and data science (about two years), Jordan said. IBM was expected to enroll its first class of data science apprentices by the end of January 2019.
Ages range from 18 to 59 and are recruited from IBM's Pathways in Technology Early College High School (P-TECH) program, community colleges, veterans groups and people looking to change careers to find apprenticeships.
A software engineering apprentice
Ryan Reed, an IBM software engineer apprentice in Research Triangle Park, N.C., is a former firefighter and paramedic who left the field after job-related injuries and surgeries took a toll. However, a passion for technology since high school and a desire to learn made him jump at the IBM apprenticeship opportunity, and he feels right at home.
Now, five months into the program, he evenly splits his time learning and working on software development projects -- one of which is a Node.js project with Angular on the front end and another is an Angular front end with Go server on the back end, he said. If he gets stuck or wants to learn something new like TypeScript, he can access any of the IBM online resources or simply ask one of the IBM pros for help, he said.
"I loved firefighting, but I love this just as much as I liked going into the station every day," Reed said.
The program's diversity also is part of its appeal, as CTA believes that an increasingly diverse workplace drives more innovation. Another benefit to the program? Apprentices don't take on debt as they might if they take on a college degree. Here, they earn a salary.
Dig Deeper on Software development team structure and skills