olly - Fotolia
IT training flaws compound DevOps skills shortage
Before investing in an online course to learn new IT skills, heed this warning from brain scientists: there is a big difference between knowing what to do and knowing how to do it.
Hi, my name is Beth, and I am trained in DevOps.
Let me clarify that: as you can see by my certificate of completion, I took a 4.5 hour "Learn DevOps" course via online learning platform Udemy.com, for which I paid $10.99 (a sale price -- the regular price is $39.99). I watched -- or, most accurately, my computer played -- all 76 video segments included in the course. I also passed two multiple-choice quizzes.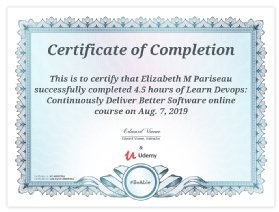 There is no prior knowledge needed for the course, but a DevOps, cloud, Linux and networks background helps, according to the description. With 14 years of experience as an IT journalist, I have plenty of knowledge. In fact, there was little difference between my everyday work and this course – concepts were dictated, I took notes, and fed that knowledge back in to my computer via keyboard.
The course, taught by an experienced enterprise engineer, exhaustively detailed DevOps tools through lectures and demos that included Git, Ansible, Chef, Jenkins, Docker and Kubernetes. It filled in details I was shaky on previously -- such as just what the difference is between git commit and git push, and the finer points of Ansible's approach to infrastructure as code through SSH vs. Chef's client-server architecture. It also included a perfect architectural diagram of Kubernetes, which I screen-captured and saved for later reference.
But knowledge is different than know-how, and I assume perfect quiz scores don't mean an enterprise wants me anywhere near their test/dev infrastructure, let alone production. For all my informational knowledge, I was stumped by the very first question on the optional labs section found at devopschallenge.co, which even a novice sys admin could probably do in his or her sleep.
Dig Deeper on IT operations careers and skills