Evaluate
Weigh the pros and cons of technologies, products and projects you are considering.
HCI vs. SAN: How to choose between them
There are many factors to consider when deciding between a SAN and hyper-converged system. Learn how they differ, which might be best for your organization and more.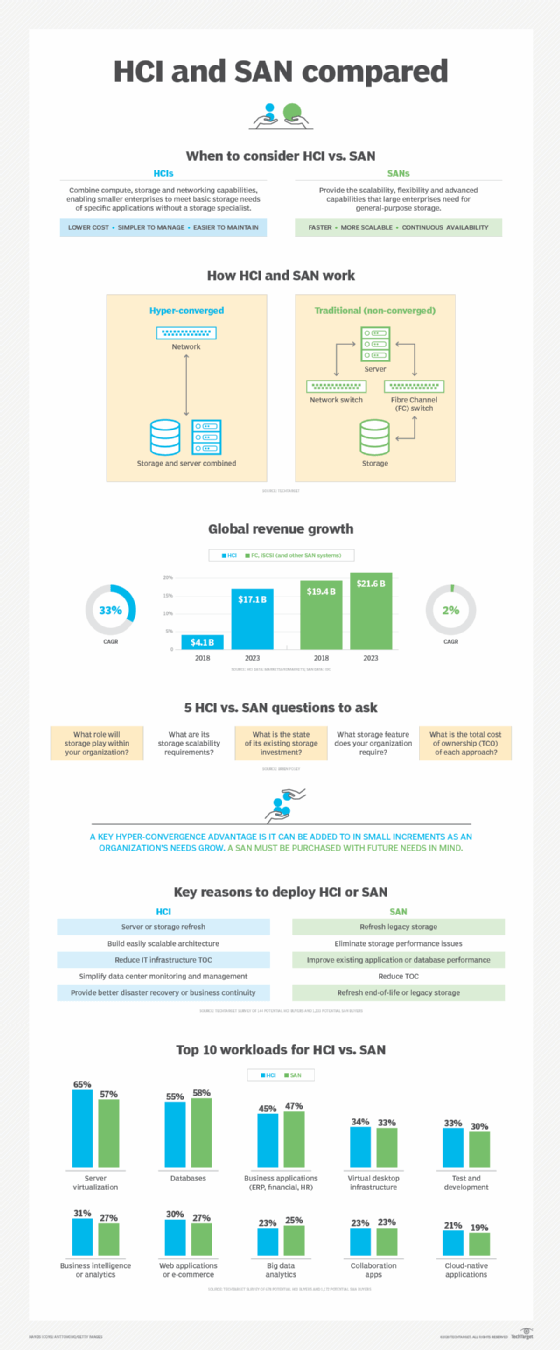 Deciding whether to keep a traditional SAN or move to a hyper-converged infrastructure system involves many decisions. The HCI vs. SAN debate isn't easy to parse.
When you go the SAN route, you get to piece together the exact storage, compute and networking products your organization needs. You can use products from a variety of vendors, but there are many reasons to go with fewer vendors when putting together traditional IT infrastructure.
Hyper-converged infrastructure integrates compute, storage and virtualization capabilities. An HCI system can be software that's installed on existing hardware or an HCI appliance. The integrated components make up a hyper-converged node, and the system can be expanded by adding nodes to form a centrally managed HCI cluster. Disaggregated hyper-convergence enables compute and storage to be expanded independently.
HCI vs. SAN isn't an all-or-nothing equation. Larger enterprises may keep their SAN while branching off into HCI systems for specific applications, for example. Regardless of the approach you take, you'll want to know the strengths of each and how they compare.